Since mid-July, Google (NASDAQ:GOOG) has rallied almost 20% to levels it hasn't seen since late 2007. The search giant has continued to churn out sequential quarterly revenue growth, topping 30% y/y growth in its Q2 report. Valuation also seems quite reasonable, as the company is trading around 20x earnings. In fact, as the chart below shows, Google's multiple has been trending down for years, working its way towards value territory as the company has grown into its market valuation.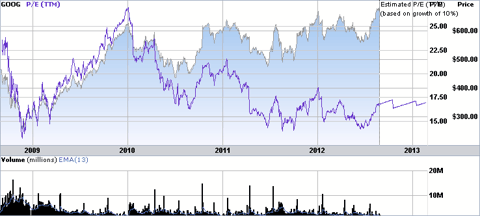 Click to enlarge
With a strong recent uptrend and reasonable valuation, why would I suggest that Google's stock price may be cresting here? As is usually the case for me, it starts with the chart. Over the last 5 years, Google has hit a trendline that I've drawn four times... and failed each time.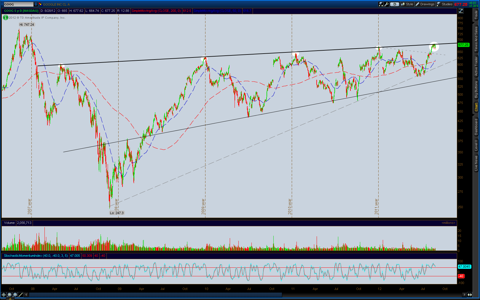 Click to enlarge
With Google coming off a strong two-month run and at multi-year highs, why would the stock reverse here?
Recent court rulings in San Jose and Seoul have put the Android universe on alert, and called Google's recent acquisition of Motorola Mobility into question. Google countered the verdict by stating that the Samsung court loss didn't pertain to a "core" part of the Android system.
But the chart was suggesting GOOG may be cresting before those rulings ever came down. Court rulings aren't the only red flag for Google at the moment. Despite strong revenue growth, earnings have been less than stellar, growing less than 10% over the previous year in Q2. Decreasing cost-per-click is eating into their earnings. Operating earnings have contracted for two consecutive quarters. Revenue growth is great, but at the end of the day, they've got to convert those revenues into earnings. With the Android OS being given away, the new Nexus 7 selling at a very slim margin, and the move to mobile threatening Google's traditional online ad revenue model, Google has yet to prove it can rejuvenate its earnings growth in this increasingly mobile world.
But back to the chart, since that reflection of investor sentiment is the indicator I consider most useful. The resistance shown on the chart looks quite formidable, but trends are made to be broken. Google could power through the trendline that has provided unbroken resistance over the last five years, but until it does, I'd rather be on the other side of the trade - either selling a long position or opening a short position.
As I see it, a move (and sustain) into the $690s would qualify as a breakout, and an indication that GOOG bulls are likely to push the stock higher. $690 is less than 2% above the current levels (around $677), making a short here relatively low-risk. A rising support trendline from the 2009 lows is around $600, offering an 11% reward should the stock retreat to that support area.
A look at the broader market environment offers reason for concern. My favorite technical analyst, Chris Kimble, notes that Nasdaq has rallied to the 50% Fibonacci retracement of its 2000 high. Consumer confidence continues to erode, and as Chris Street recently pointed out, eroding consumer confidence concurrent to rising equity prices can be a pretty good hint that a downside reversal is forthcoming.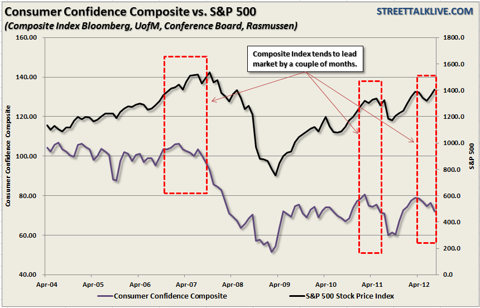 Click to enlarge
The wild card in the macro-economic landscape is what Central Banks will do in the coming weeks. The consensus view is that significant monetary stimulus is about to be injected. Markets are priced accordingly. Only time will tell how action and expectation relate. With that unknown in the offing, we can only trade what we know... and it sure looks to me like Google's stock price is facing significant resistance at its current levels.
Disclosure: I am short GOOG. I wrote this article myself, and it expresses my own opinions. I am not receiving compensation for it (other than from Seeking Alpha). I have no business relationship with any company whose stock is mentioned in this article.