Acquisitions are a fast way for companies to grow, acquire new product lines, enter new markets and enhance shareholder value. But they don't always work, especially when pursued by shortsighted CEOs anxious to catch up with the completion and lead a larger organization.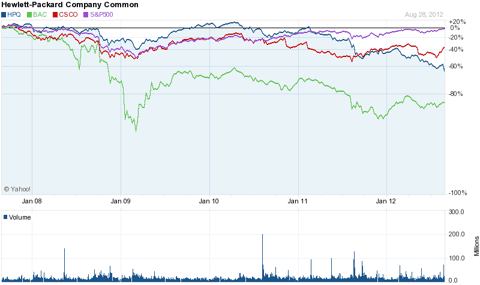 Click to enlarge
(Click to enlarge)
Hewlett Packard (NYSE:HPQ) is a case in point. In 2001, Hewlett-Packard made the first reckless acquisition, the purchase of Compaq Computer that was supposed to provide the company with the scale advantage in the PC market to compete effectively against Dell Computer (NASDAQ:DELL), IBM (NYSE:IBM), and all sorts of emerging Asian competitors. The problem, however, is that the PC market was already saturated and ravaged by price wars as the PC was turning into a "commodity." Besides, Compaq Computer itself didn't have an internal innovation system but relied on external acquisitions to expand its product portfolio (buying up Tandem Computer, and Digital Equipment Corporation).
In April 2010, Hewlett-Packard made the second reckless acquisition, the purchase of near-bankrupt Palm that was supposed to help the company enter the fast growing market for mobile devices that began to replace PCs. The problem, however, was that Hewlett-Packard was a follower rather than a leader in this market, going against Apple (NASDAQ:AAPL), which enjoyed the first-mover advantage in this market.
In 2012, Hewlett-Packard is about to make the third mistake, announcing the acquisition of enterprise software maker Autonomy (OTC:AUTNF) (at a hefty price of $10.3 billion), as this move will pit the company against three major competitors, Salesforce.com (NYSE:CRM), Oracle (NASDAQ:ORCL), and IBM.
Bank of America's (NYSE:BAC) acquisitions are another case in point. Back in the middle of the subprime crisis, Bank of America made two reckless acquisitions that ended up costing the bank dearly: the purchase of Countrywide Financial and the purchase of Merrill Lynch.
The purchase of fast-growing mortgage company Countrywide Financial was supposed to be the quick ticket into the mortgage market, a natural area to expand for a bank with plenty of funds to lend. As it turned out, the purchase of Countrywide Financial was the "poison pill" for bank of America, as the finance company was the poster child of the excess in the mortgage market during the preceding years -- not to mention that the price paid was too high for a company with such huge liabilities.
The purchase of legendary Merrill Lynch was supposed to be the quick ticket for expanding in another market: investment banking. Again, another natural area for a bank to expand in the era of financial deregulation. As it turned out, this movement wasn't terribly good either. Merrill Lynch had its own liabilities and its own aggressive culture that it didn't blend well with Bank of America's conservative culture.
Cisco's (NASDAQ:CSCO) acquisition spree is a third case in point. Over the period of 1993-2000, Cisco acquired 70 companies, including Cresendo Communications (1993), Newport Systems Solutions (1994), Network Translation (1995), Netsys Technologies (1996), Net Speed (1998), and Growth Networks (1999), etc. The problem with this strategy, however, is that it isn't sustainable, as the owners of these smaller companies demand higher and higher premium to compensate them for the risks they assume. Cisco ended up paying top prices for Net Speed and Growth Networks acquired at the peak of the high-tech bubble. Strategic acquisitions further ended up being dilutive to existing stockholders when paid with the issuing of new stock -- that's how Cisco ended up with 5.5 billion shares -- trading close to 70 percent below its all time high.
The bottom line: Investors should be aware of CEOs when they go on an acquisition spree to catch up with competition or rein in a larger organization.
Disclosure: I am long BAC. I wrote this article myself, and it expresses my own opinions. I am not receiving compensation for it (other than from Seeking Alpha). I have no business relationship with any company whose stock is mentioned in this article.