In this article we will take a look at what many investors consider to be the "lost decade" for the S&P 500 Index. Despite a massive rally off the March 2009 lows, the S&P 500 is still below not only its 2008 peak, but also its 2000 high mark set 12 long years ago. Also in this article, we will learn a bit about Darvas Box Theory and the man behind it. Some have written the market off as dead money, but I assure you the S&P 500 has only been sleeping.
A look at historic market valuation can be seen in the chart I created below.
Click to enlarge images.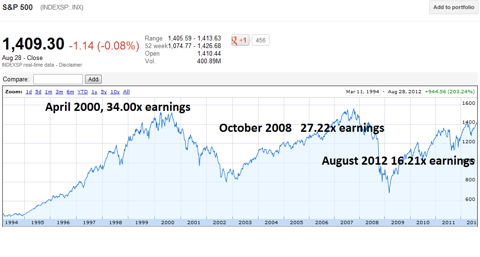 Three massive tops are visible, while the price-to-earnings multiple churns steadily lower. In the interest of full disclosure, although I have been taking profits over the last few days ahead of the Jackson Hole meeting, the long-term growth and value story of the S&P 500 appears intact. Earnings have doubled, and the macro environment is improving (albeit slowly); a major breakout may only be a year or two away.
Enter the Darvas Box Theory.
Darvas Box Theory is named after its inventor Nicolas Darvas, a world-renowned ballroom dancer and millionaire investor. Born in 1920s Hungary, Darvas went on to study economics at the University of Budapest before fleeing the destruction caused by World War II in 1943.
The central idea of Box Theory is to buy a stock with strong underlying fundamentals as it breaks out of its "box," or range. Darvas would identify stocks bouncing along in a defined range and wait months or even years to make his investment. At the age of 39, Darvas published his book, How I Made 2,000,000 In The Stock Market. The book outlines key aspects of his strategy such as quality, growth, insider buying, and heavy volume on the breakout.
I prefer to take the process one step further and look for sizable P/E multiple compression. A good example is Google (NASDAQ:GOOG). The stock traded essentially flat for five years, and the multiple slowly came down from 40x earnings to just over 17x. I recommended the shares be bought at $600, and after earnings the multiple just could not go any lower and the shares shot up to $670.
Below are a few recent examples of strong companies making Darvas Box breakouts.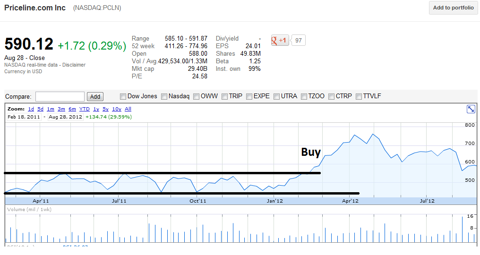 Priceline.com (NASDAQ:PCLN)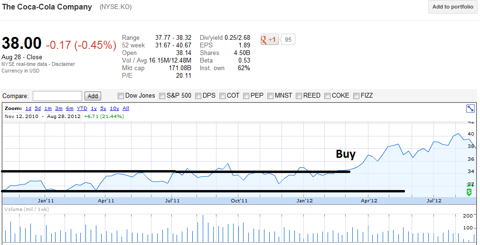 Coca-Cola (NYSE:KO)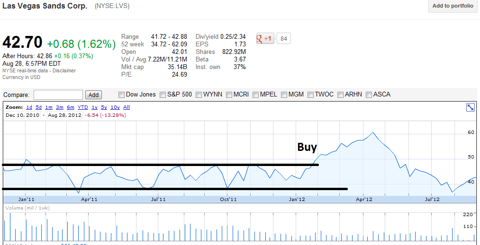 Las Vegas Sands (NYSE:LVS)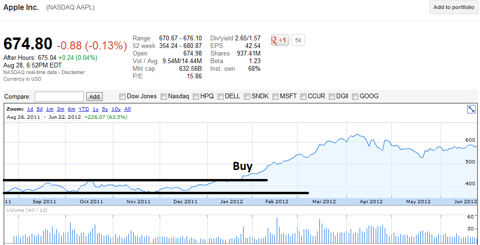 Apple (NASDAQ:AAPL)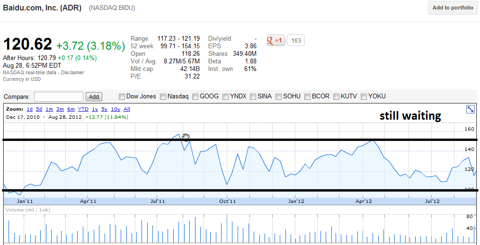 Baidu.com (NASDAQ:BIDU)
I have been watching Baidu for six months. Patience is key. The earnings multiple has come down from 50x to 31x, but with the stock still rangebound and no signs of life in the China 25 Index ETF (NYSEARCA:FXI), I will stay on the sidelines in the near future.
What if Darvas were to look at the S&P 500 as a whole today?
The below chart illustrates a compelling picture for long-term investors -- the largest Darvas Box of my lifetime. Now, I am not saying to rush in and buy the market tomorrow, but eventually the S&P 500 will break out of its decade-long range.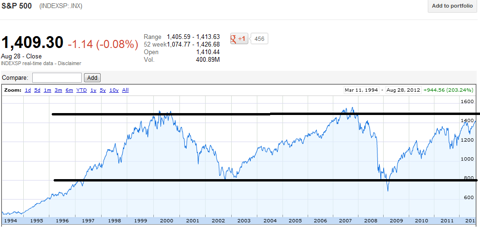 $2,000,000 in 1959 would be like making $15,600,000 today.
Disclosure: I have no positions in any stocks mentioned, but may initiate a long position in LVS over the next 72 hours. I wrote this article myself, and it expresses my own opinions. I am not receiving compensation for it (other than from Seeking Alpha). I have no business relationship with any company whose stock is mentioned in this article.