In our two-tiered economy, there is a subset of people that are thriving. They have plenty of money to spend on discretionary luxuries like high-end groceries. There's another group of out-of work or underemployed people living on SNAP payments and unemployment benefits.
I'm guessing that the second group is not the driving force behind the recently strong performances of Whole Foods Market (NASDAQ:WFM) and The Fresh Market (NASDAQ:TFM). However, those who have learned from history realize that these high-end food purveyors are not immune from bad economic times.
As the housing balloon deflated from 2007 to 2009; WFM saw its EPS drop significantly. FY 2006 earnings of $1.41 went sequentially to $1.29, $0.82 and $0.85 before truly recovering in 2010.
WFM's share price overreacted by plunging (- 91.2%) from its 2005 peak of $79.90 to just $7 in late 2008. Whole Foods had been grossly overpriced before the drop, at 67.1x trailing and 56.7x what turned out to be forward EPS that would not be duplicated until four years later.
Those who jumped in near 2008's low paid under 9x depressed earnings and have made fortunes if they held on. They did extraordinarily well because the earnings tripled while the P/E expanded from single digits to 38.5x estimates for the FY ending September 2013.
WFM is a wonderful company at a less-than-wonderful valuation. For me it is a SELL. History shows you'll likely get a chance to buy back in much cheaper if you simply put it on your watch list and show some patience.
Any combination of earnings disappointments or signs of recession could send WFM down to $60 - $80. Morningstar's analysts agree…

The Fresh Market has a similar target demographic, and is increasingly going head-to-head with WFM in some areas of the country. It has a short history as a public company. In the 21 months since its IPO, shares of The Fresh Market have traded as low as 29x trailing earnings, but never any higher than today's 47.4x projected FY 2012 estimates of about $1.36 for the year ending January 30, 2013.
This is also a SELL for me due strictly to valuation. TFM fell 33% (from $46.79 to $30.90), along with the broad market from March through August in 2011. It is vulnerable to a similar magnitude setback for the same reasons I listed when discussing Whole Foods Market.
Even If you love these stocks; consider taking profits now while they are hot. You'll almost certainly be able to get back in much cheaper. You're getting no yield from TFM and a minimal 0.6% with WFM.
Momentum stocks work only until they don't. If you wait for everyone to be bailing out at the same time; the shares tend to fall very quickly.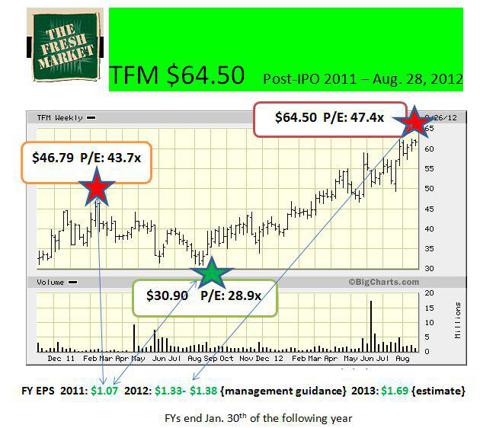 Disclosure: I have no positions in any stocks mentioned, and no plans to initiate any positions within the next 72 hours. I wrote this article myself, and it expresses my own opinions. I am not receiving compensation for it (other than from Seeking Alpha). I have no business relationship with any company whose stock is mentioned in this article.