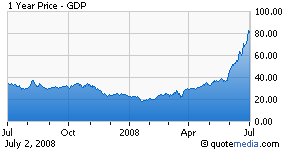 With natural gas prices lagging oil, it looks like the run is not over. The only thing that may hurt pricing will come from Europe, since they are ready to hike rates, possibly. Horizontal shale drilling has given the US a feasible method of obtaining energy, while still making a profit as natural gas demand is up along with pricing. There is plenty of excitement surrounding these shales as their reserves could be huge. This, in turn, could make smaller companies into much bigger ones overnight.

Goodrich Petroleum (GDP) looks good going forward with respect to growth. Since no one knows how high the price of natural gas will go, it is better to follow, than buck the trend. With stocks that have risen this much you need an exit plan - the most important aspect of any investment. Don't marry the stock, just date it, as for every up cycle there is a down cycle.

This company is centered out of Houston, Texas and has ample exposure to the Haynesville shale. The news with Petrohawk Energy (NYSE:HK) that their horizontal well that is now producing a large amount of natural gas has given other companies in this area momentum. This is a pure exploration and production company. They are centered in the Cotton Valley Trend of Eastern Texas. At the end of last year they had 358 Bcfe of proven reserves. Of their current 305 wells in the Trend, over 99% of them were a success. They had 15% sequential growth for the first quarter of this year with respect to production. They estimated for 5%-9% for the second quarter. Their expectations are better margins going forward on higher prices and reduced costs.

The Cotton Valley Trend is seeing accelerated development of acreage by GDP. This is increasing reserves and production. Estimated production life for these areas are over twenty years, and they are very low risk holes. Management believes this area could sustain over 2000 probable and possible wells with proper spacing. To date, this area's wells are averaging 1800 Mcf per day, to give an idea of possible production. Production volume with respect to average net daily Mcfe was 550 in the third quarter of 2004. That number has increased to 58,000 in the first quarter of this year and this quarter it is estimated to be at 62,000. Proven reserves in 2004 were 101 Bcfe, as opposed to 358 Bcfe at the end of last year. Cotton Valley Trend gross acres have increased from 45,000 in 2004 to 187,000 at the end of last year. Cotton Valley Trend well count in 2004 was 14 while there were 267 at then end of 2007. Reserve replacement ratio in 2004 was 785% to 1150% in 2007.

When compared to their resource peer group, GDP seems to be somewhat undervalued. When we look at EV over daily production only HK and (NYSE:KWK) are a better value. The same equation with respect to reserves shows a different story with it looking a little overvalued. KWK, (UPL), (NYSE:RRC), (DPTR) are all better valued from this standpoint.

The main reasons to invest in this company are their natural gas potential, although oil is a factor with this company it is a much smaller percentage, and their specialty with respect to horizontal drilling. Their margins are improving. Share growth as probable and possible reserves are converted to proven. Inside ownership is 42%, so they have an interest in the company.
Disclosure: None.