As the eurozone's debt and banking crises wear on, Germany is wearing thin and not just in terms of patience. Increasingly, the crisis is eroding the German economy. According to Eurostat, Germany's economy grew at just .3% in the second quarter and increasingly, Germany's fate is converging with that of the rest of the EMU. Consider the following chart from JPMorgan which shows the all-industry PMI for Germany and that for the rest of the EMU ex-Germany: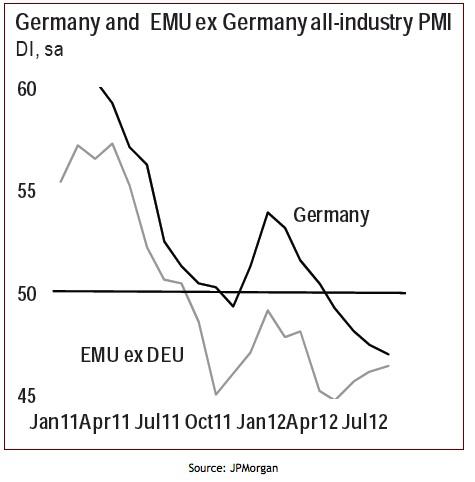 In the note that accompanies the chart above, JPMorgan points out that PMIs are actually improving in the periphery while German PMIs are coming in rather weak. In August for example, Germany's composite PMI printed at 47, down slightly from July, but notably, services came in below expectations at 48.3 down from 50.3 last month and now well into contraction territory. Markit's chief economist Rob Dobson thinks the numbers point to an inevitable contraction in Q3 GDP setting Germany up to (possibly) fall into recession as early as Q4 of this year.
On Monday, the IFO Institute reported that German business confidence (based on an index derived from a survey of some 7,000 executives) sank to 102.3, its fourth straight monthly decline and the lowest level in 28 months. Worse, the IFO said executives' expectations hit their lowest level in over three years. Specifically, most firms see exports falling going forward as, according to Reuters,
"orders from abroad for Germany's manufacturing goods, a mainstay for the economy, fell [in August] at the fastest rate since April 2009."
Germany's PMI export orders printed at just 39.5 in August, and if the past is indicative of the future, one has to be concerned about GDP going forward given the weakness in exports as the following chart demonstrates: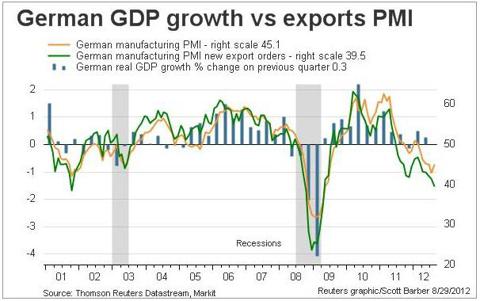 Having said all of this, a weaker euro does help exports by making products cheaper, so a deteriorating euro can contribute to an appetite for German products even if economic headwinds persist.
Nonetheless the consensus is that the German economy is losing its footing. This is bad news for the periphery. Sentiment regarding bailouts is waning as a survey conducted by Spiegel in July shows 54% of Germans believe Germany should not fight to save the euro if it means more bailouts and 74% believe that eurozone countries should be subjected to the will of a Eurozone finance minister with "full fiscal control":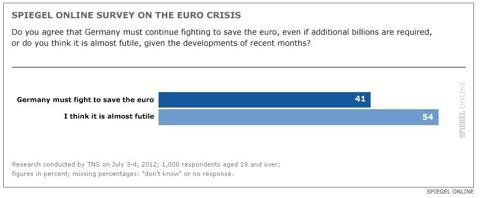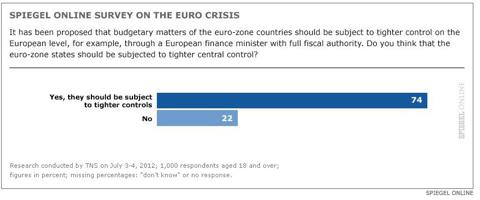 A protracted economic downturn in Germany could add fuel to an anti-euro fire just when the euro needs Germany most.
In sum, there seems to be a rather obvious trade here. The iShares MSCI Germany Index ETF (NYSEARCA:EWG) is up around 11% over the past month alone. I wouldn't expect this to continue going forward. Alternatively, investors can certainly bet against the euro (NYSEARCA:FXE) as it certainly seems as though parity with the dollar is inevitable given the fragility of the situation.
Disclosure: I have no positions in any stocks mentioned, and no plans to initiate any positions within the next 72 hours. I wrote this article myself, and it expresses my own opinions. I am not receiving compensation for it (other than from Seeking Alpha). I have no business relationship with any company whose stock is mentioned in this article.