With gas prices setting a record for the 3rd week of August and the heartland experiencing its worse drought since 1956, food and energy bills are going to be steep this winter. While the weekly gas record foreshadows the pain we'll feel at the pump during the invernal months, we've not yet had a taste of the high prices we'll pay for food as a result of the historic drought. As you can see from the following chart, food prices have actually leveled off after having risen steadily in the wake of the Fed's QE programs and Operation Twist.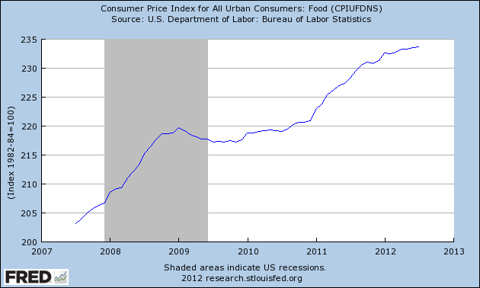 Click to enlarge
But the stabilization of food prices will only be temporary. As a result of the drought, supplies of two stapes of the American diet, corn and soybeans, are down more than 50% from last year. Starchy foods and all foods containing corn syrup will be the first to rise, then meat -- especially beef (pdf) -- as feed corn supplies run low in the winter. (Too bad cotton isn't edible.)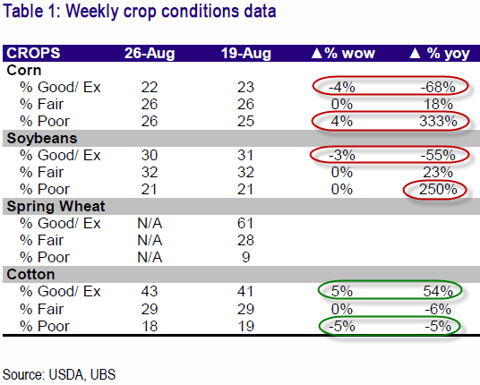 Click to enlarge
Heavy rains in the heartland from remnants of Hurricane Isaac won't help one bit. Or any other weather system for that matter. It's too late to save corn and soybean crops. Prepare yourselves, and invest accordingly.
Disclosure: I have no positions in any stocks mentioned, and no plans to initiate any positions within the next 72 hours. I wrote this article myself, and it expresses my own opinions. I am not receiving compensation for it. I have no business relationship with any company whose stock is mentioned in this article.