Background: The Numbers
Back before the tech bubble burst, lots of tech companies seemed to trade at nosebleed prices. A look at Cisco (NASDAQ:CSCO) and Microsoft (NASDAQ:MSFT) -- both bellwether tech companies with solid track records of selling strongly into business enterprise -- shows that even the mighty can stumble: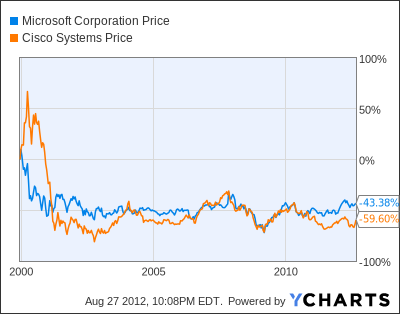 These price collapses can be viewed in part as rationalization of P/E ratios: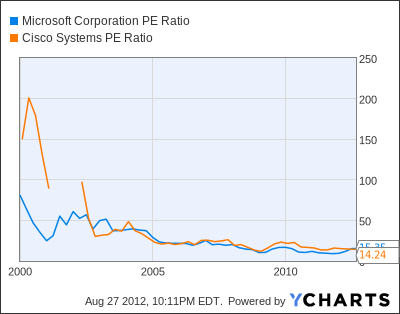 With that in mind, let's look at similar charts for Apple (NASDAQ:AAPL) -- from the same Dec. 15, 1999, (pre-tech crash) to the present -- for a view on whether Apple appears to be a frightening bubble at present prices: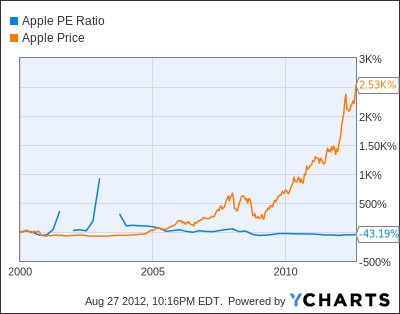 While the price has certainly headed to the moon -- and the P/E has in the past soared into nerve-jangling territory -- Apple's P/E is both distinctly lower than it has previously been, and at about 16 is in the same ballpark as either Cisco or Microsoft. On the theory that Apple's competitive advantages derive largely from software -- rather than it being a commodity vendor like Dell (NASDAQ:DELL) -- I offer a chart from mid-2008 (pre-meltdown) depicting the P/E ratios of several companies whose software supports the bulk of their business: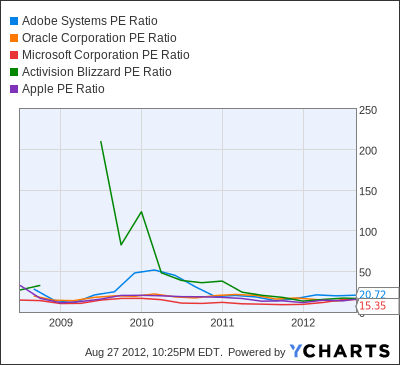 During the period of mid-2008 to the present, Apple has demonstrated a price seemingly much in line with the earnings multiple assigned by the markets to other competitors in the field of software. Its current P/E is undistinguished -- and certainly no apparent basis for panic.
The Big Picture
In comparing Apple to hardware vendors like Research In Motion (RIMM) (including as the short leg of a long/short) and Nokia (NYSE:NOK), I have previously noted that only Samsung seems to compete with Apple at a profit. Samsung is the only competitor that appears to have anything like the vertical integration Apple has achieved with its network of competing third-party vendors, which virtually partners Apple's tightly controlled manufacturing partners with Apple's growing global mobile device juggernaut. Samsung thus should be expected to benefit from both the product integration and the volumes of scale Apple has managed.
Not every competitive advantage is durable.
So, why should Apple command more than half the profit in the entire cell phone market instead of being relegated to the low-margin commodity segment of the market that has swallowed one-time leader Nokia? And the answer is Apple's durable competitive advantage. As demonstrated by the recent mobile device jury verdict against Samsung in Apple's favor (link is to the verdict sheet itself, with model-by-model jury findings), Apple has intellectual property that can be infringed only at the peril of billion-dollar verdicts. (Or $3B+ verdicts; under 35 U.S.C. §284, the finding of violation gives the judge the discretion to triple the $1.05B verdict; the finding of knowing violation could support the award attorney's fees.) Merely fighting an intellectual property battle of that scale with Apple costs tens of millions of dollars in legal fees and litigation expenses (those plane flights, depositions, expert fees, and so forth tend to add up over the years).
Given the margins on cellular handsets sold by anyone but Apple, is this a battle worth fighting? The possibility that Apple might end up with licensing revenue from handsets sold by competitors -- including higher-volume handsets sold into market segments in which Apple is not a significant competitor - raises the possibility of revenue streams Apple has not previously enjoyed. After all, some of the intellectual property in the Apple litigation involved things like pinch-to-zoom, tap-to-autozoom text, inertial scrolling behavior that includes a "bounce" at the end of a page, and other features consumers have come to expect in a quality phone -- even one running Google's (NASDAQ:GOOG) Android or Microsoft's latest iteration of Windows Phone. Some of the trade-dress complaints could be equally aimed at competitors other than Samsung -- it's just that nobody else actually make any money copying Apple's mobile device ideas.
But new revenue streams aren't necessary for Apple's profits to grow. Apple's brand strength and product differentiation combine to allow Apple to price products so as to command industry-leading gross margins: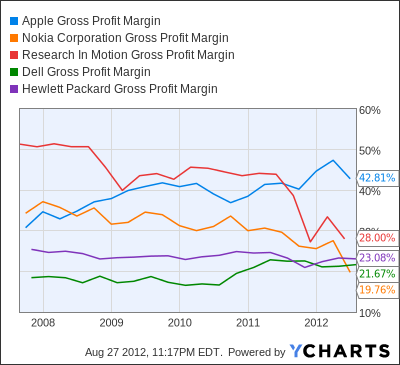 Apple's huge and growing margins mean Apple will yield outsized profits: Apple's profit share exceeds its market share. As indicated by the previous link, Apple and Samsung together held 99% of cell phone profits at the end of 2011, leaving the rest of the market to share 1% or lose money. And Samsung's profits may end up affected by the recent verdict.
Growth
Apple's growth in China has recently included an 84% growth in comparable-quarter iPad sales (in some geographies, triple-digit growth), including tripling sales to Fortune 500 customers and selling to education more iPads than Macs; 25% growth in Asia-Pacific, including 48% growth in China from the year-ago quarter before the newest iPad was even launched; iPhones in China more than doubled in unit sales from the year-ago quarter; Apple sold 4 million AppleTV devices in the quarter, which is a $99 HDTV-capable tool to connect media centers to Macs, iPads, iPhones, and Apple properties; and demand for Apple's unannounced but expected new phone is "off the charts."
Conclusion
Between Apple's astronomical margins and its recession-defying growth, Apple's profit will continue upward. Assuming Apple's P/E remains stable -- that is, that it continues to be priced like a stable software vendor rather than being priced as the growth story it appears to be -- share price growth should mimic earnings growth. With recent overall comparable-quarter growth exceeding 20%, that's not a bad growth to enjoy. News stories that confuse the importance of market share with the bottom-line driving measures of margins and unit sales growth will surely stir volatility, as will news about future legal action and appellate results as Apple defends its intellectual property from interlopers hoping to profit in the market segments Apple has created. That volatility aside, the overall story for the foreseeable future will be one of strong growth. Apple hasn't reached its apogee.
Disclosure: I am long AAPL. I wrote this article myself, and it expresses my own opinions. I am not receiving compensation for it (other than from Seeking Alpha). I have no business relationship with any company whose stock is mentioned in this article.