Investors have been piling into the PIMCO Total Return ETF (NYSEARCA:BOND) as the ETF shares outperformed the mutual fund version over the initial months. However, the performance disparity has diminished, and investors should not bet on the ETF to always beat its mutual fund counterpart, according to reports.
The BOND ETF has gained 7.6% since it launched on March 1, almost twice that of the A-shares PIMCO Total Return Fund (MUTF:PTTAX) with a 3% return through Aug. 27, reports Jason Kephart for InvestmentNews.
Nevertheless, the outperformance was largely experienced in the first three months -- between March 1 to May 29, the ETF beat the mutual fund by 4.0%. Since May 29, BOND has gained 2.8%, compared to the 2.1% rise in PTTAX.
Morningstar analyst Timothy Strauts believes the difference in performance is due to their size -- the smaller ETF version may trade more nimbly than the $270 billion mutual fund, as the ETF only holds 300 securities, compared to the mutual fund's 18,000 securities, reports Stan Luxenberg for Wealth Management.
"With the ETF, you are getting a fund run by Bill Gross, and you are getting a smaller portfolio," Strauts said in the article.
Douglas Hodge, chief operating officer at PIMCO, said the firm anticipated the two investments to closely track one another, attributing the earlier outperformance to timing, as the order at which the bonds were purchased and market volatility affected prices.
"We're completely agnostic when it comes to which vehicle investors choose," said Mr. Hodge. "We've had tremendous flows into both the ETF and the mutual fund. We think they can grow together."
Nevertheless, there are differences between investing in the BOND ETF and the Total Return mutual fund. BOND has a 0.55% expense ratio and a 1.94% 30-day SEC yield, whereas PTTAX has a 0.85% expense ratio and a 1.65% 30-day SEC yield. Additionally, the ETF version trades daily, has no $1,000 minimum investment and no load fees.
However, the BOND ETF may not use derivatives, whereas the flagship fund may utilize credit default swaps and options to take on additional positions.
While some have argued that the transparency in the actively managed ETF may encourage front-running, Strauts believes that it will have little or no effect, as many in the industry are already in the know.
"All the big bond desks know what PIMCO is doing," Strauts added.
PIMCO Total Return ETF
(click image to enlarge)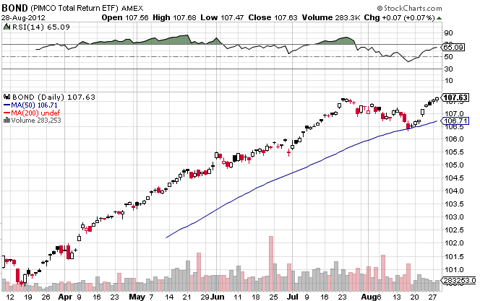 Max Chen contributed to this article.
Disclosure: I have no positions in any stocks mentioned, and no plans to initiate any positions within the next 72 hours. I wrote this article myself, and it expresses my own opinions. I am not receiving compensation for it. I have no business relationship with any company whose stock is mentioned in this article.