The recent low volume in major global financial markets has contributed to large disruptions in market correlations. Over the past couple of weeks, we have seen stocks stagnant / falter as precious metals, the euro, and bonds have actually rallied significantly. It is of my opinion that this lackluster performance in stocks is simply due to hesitation and large positioning in U.S. equities to the long side, in anticipation of coordinated central bank action around the globe. The failure of the Fed and ECB to confirm any implemented easing program is causing what I would call a "rotational inter-market effect." In other words, market participants still believe that central bank accommodation is warranted, yet are spreading out their views in different markets. Essentially, we are seeing investors "rotate" out of U.S. equities, and into more "depressed" markets (gold and euros have largely underperformed stocks) that are offering more potential than stocks sitting at highs.
The chart below expresses this "rotational" activity in major financial markets. The rally in gold (NYSEARCA:GLD), bonds (NYSEARCA:TLT), and euros (NYSEARCA:FXE) is essentially defining the market participant's view of expected Federal Reserve action. On the other hand, these views are being funded by the simultaneous selling (profit-taking) of U.S. stocks (NYSEARCA:SPY), which typically is not observed (in most circumstances, U.S. equities are affected the most through Fed easing, as proven by the rallies we have seen over the past four years on QE1 & 2).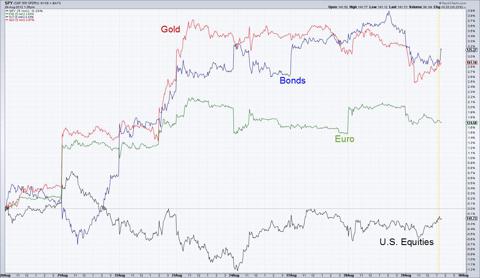 (Chart Courtesy of stockcharts.com)
You will clearly see how over the past two weeks or so, gold, bonds and euros have greatly outperformed stocks, whereas stocks are actually lower in that time-period.
Bottom Line
This rotational market shift that we are observing is in my opinion likely to continue in the low volume environment we are currently in today. Market participants are basically acknowledging their profits in equities, and are shifting their positions into cheaper places in expectation of central bank action this September. However, this disruption in market correlations cannot continue for a long period of time, and I strongly believe that at some point these markets will have to catch up to each other. This will occur either through an explosive rally in stocks to new highs, or through a failure of central banks to deliver, thus depressing gold and euro prices.
Disclosure: I am long SPY, GLD, TLT, FXE. I wrote this article myself, and it expresses my own opinions. I am not receiving compensation for it (other than from Seeking Alpha). I have no business relationship with any company whose stock is mentioned in this article.