We're going to examine Bank of America (NYSE:BAC), a money center bank. We'll evaluate Bank of America as an equity investment. We'll analyze the industry, valuation, and financial performance and position. The price/sales ratio is up 55% the last few months and is ahead of the fundamental reality: There is a dislocation between the fundamentals and the share price.
Industry
Revenue and earnings are strongly correlated with the economic cycle, making the firm cyclical. The money center bank industry is in the mature life-cycle stage. Currently, macroeconomic weakness is a contributing factor to revenue declines at money center banks. Further, the regulatory environment of increasing capital buffers is weighing on industry financial performance.
Bank of America does face some threat of substitute products as some financial institutions may be more socially preferable. Further, the firm's customers and suppliers don't have much, if any, bargaining power. Also, the threat of new entrants is low and there isn't much rivalry in the banking industry. In other words, the barriers to industry entry are high and the industry is concentrated.
Generally, industry conditions aren't favorable for investors. Financials are typically early cycle leaders and are currently performing poorly.
Rating System
Buy -- Be long
Neutral -- No Position
Sell -- Be short
(The ratings, research, and analysis in this article should be considered as starting point for further research.)
Bank of America -- Neutral or Sell
Investment Thesis
Bank of America is one of the worst financial firms. Long-term investors don't want to be buyers. Short-term investors want to wait for a good opportunity to short sell. The price/sales ratio is up about 55%. When we get a broad market decline, this is a great enterprise to short sell.
Financial Performance and Position
Bank interest income in the second quarter declined 17.9%, compared to the year-ago quarter, to $13.99 billion. Net interest income after loan loss provision declined 2.7% to $7.78. The net interest income after loan loss provision margin increased from 46.9 to 55.6. The loan loss provision declined 45.5%. Net income increased from a loss of $8.83 billion to income of $2.46 billion.
Total assets increased 1.5%, in 2012's second quarter compared to 2011's fourth quarter, to $2.16 trillion while net loans declined 3.4% to $862 billion. Total short-term borrowings increased 29.7% to $324.9 billion. Total liabilities increased 1.4% to $1.92 trillion. Long-term debt to equity decreased from 1.62 to 1.28. Debt to equity decreased from 2.71 to 2.66. Total debt declined from 9.25 to 9.16: An 11% to 12% decline in assets wipes out equity holders.
In the first six months of 2012, earnings weren't high quality. Cash flow from operating and financing activities was enough to cover cash used in investing activities. The firm retired $68 billion of debt. The cash balance increased $3.62 billion. The debt coverage ratio is 0.004 and the debt payment ratio is 0.04.
Segment Data
Performance was poor across business segments. However, the performance of the consumer real estate services segment improved substantially, which lead to an overall improvement in segment results. Revenue from the largest operating segment, consumer and business banking, declined 15.6% to $7.33 billion.
Litigation
The firm is involved in a substantial amount of litigation. The matters to be resolved include Libor, Countrywide Financial, Merrill Lynch, and mortgage-backed securities lawsuits. Ongoing litigation could have a short-term adverse material impact on earnings and cash flows.
Company Vs. Industry (TTM)
Return on Assets: 0.51 vs. 0.45
Return on Investment: -- vs. 0.0
Return on Equity: 4.67 vs. 6.21
(The company vs. industry data is courtesy of Reuters.)
Click to enlarge all images.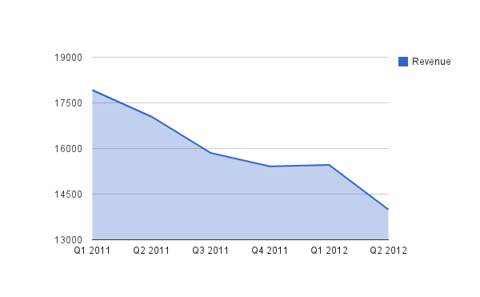 Click to enlarge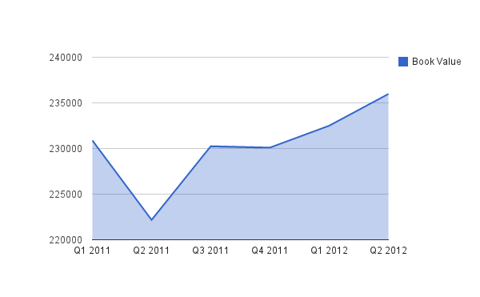 Click to enlarge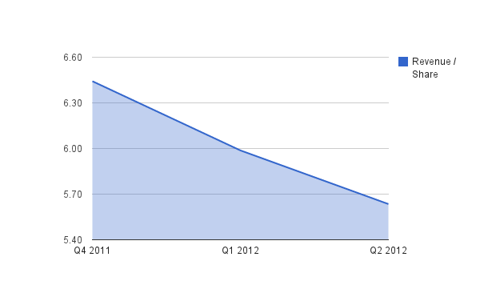 Click to enlarge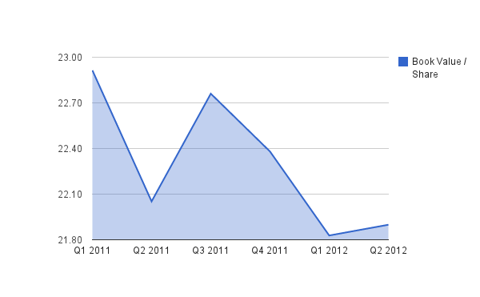 Click to enlarge
Bank of America increased the shares outstanding, which caused book value/share to decline. Revenue is declining and revenue/share is declining. In other words, Bank of America is a fundamentally weak issue.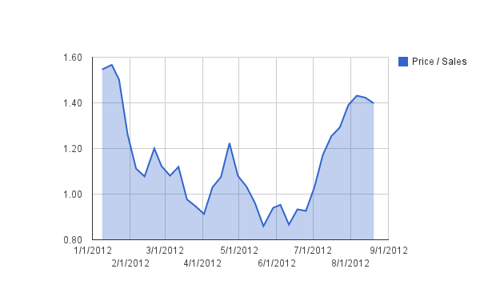 Click to enlarge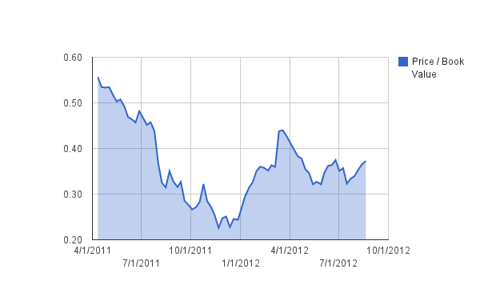 Click to enlarge
On a price/sales basis, Bank of America is overvalued. The price/book value ratio suggests investors don't believe the growth prospects of the firm are favorable.

Disclosure: I have no positions in any stocks mentioned, and no plans to initiate any positions within the next 72 hours. I wrote this article myself, and it expresses my own opinions. I am not receiving compensation for it (other than from Seeking Alpha). I have no business relationship with any company whose stock is mentioned in this article.
Disclaimer: This article is not meant to establish or continue an investment advisory relationship. Before investing, readers should consult their financial advisor. Christopher Grosvenor does not know your financial situation and ability to bear risk and thus his opinions may not be suitable for all investors.