We are bullish on Baidu (NASDAQ:BIDU) because it has registered high margins and asserted its dominance in China's search engine market. High growth rates for the next five years are expected by the market. The company's strong performance is reflected in its top and bottom lines. Catalysts that can move Baidu's stock are Internet penetration in China and growth in the SME market and online revenue advertising.
Baidu is a Chinese web service company that has dominated the Chinese search engine market in the last several years. Its dominance in the Chinese market has been increasing over the years; its market share by the end of Q2 2012 was around 78.6%, followed by Google (NASDAQ:GOOG) with 16%.
Click to enlarge image.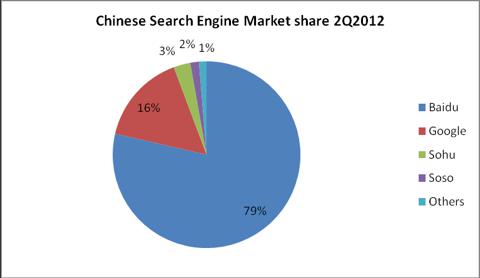 Source: Techinasia.com.
The Chinese search engine market in Q2 2012 grew by 26% quarter over quarter and 62% year over year. Along with the overall growth in the Chinese market, Baidu has also been able to grow its market share over the years. In the last five years, sales and earnings have grown by 77% and 85% per annum, respectively.
Market Share Over the Years
| | | | | |
| --- | --- | --- | --- | --- |
| | Q1 2009 | Q1 2010 | Q2 2011 | Q2 2012 |
| Baidu | 62.3% | 67.8% | 75.81% | 78.6% |
| Google | 33% | 29.5% | 19.23% | 16% |
| Sohu.com (NASDAQ:SOHU) | 1.2% | 1% | 1.55% | 3% |
| Soso | 1.5% | 0.8% | 0.85% | 1% |
Source: Techinasia.com.
Baidu has a history of beating market estimates. The Earnings surprise for Q2 2012 was around 11.5%, and ~1% for the last two quarters of 2011 and the first quarter of 2012. Total revenues in Q2 2012 for the company were up by 60% year over year. Active online marketing customers for the company were nearly 252,000 in the second quarter of 2012, representing a quarterly increase of 9.7% and a yearly increase of 18%. The company is investing in its mobile application services, which are at an early stage and will offer growth in the years to come. It has an innovated voice search application, which can be used by users to get local information and search the web by speaking through their phones. Mobile application service users displayed a significant growth for the quarter, up from 9 million users in Q1 2012 to almost 20 million by the end of June this year.
Recently, the company has spent aggressively in research and development to improve its customer base and infrastructure. Research and development expenditure for the company were up by 83% over the corresponding period in 2011. Despite a sharp increase in its R&D expenditure, the company was able to display attractive margins in the recent quarter. Q2 2012 operating and net profits were up by 51.5% and 70%, respectively, over 2011. The guidance for Q3 2012 was in line with estimates, and revenue is expected to increase to 54% year over year.
Baidu is expected to grow at a rate of 40% per year for the next five years as compared to the industry average of 20%. The company is improving upon its SME customer services. In Q2 2012, the company launched its marketing campaign nationwide to attract SME customers. In addition, Baidu is partnering with local governments to encourage SME's to use online marketing services. It is also offering tools and applications to help SMEs launch mobile websites. Internet users in China are expected to grow at a rate of 20% per annum to 718 million users by 2013, resulting in an internet penetration rate of more than 50%. As Internet penetration increases over the years, advertising revenues, mobile search and social applications will help the company grow in the long term.
Due to the fear of a slowdown in China, and pressure on consumer spending, the company has plans to target traditional food and beverages in the marketing campaign to boost advertising revenues. It has improved its contextual ad technology, which allows customers to target a more focused market based on demographics and consumer behavior.
There are few risk factors that can affect the company's growth target. Qihoo (NYSE:QIHU) has entered the search engine market by abounding the Google search engine for its own, and the company will compete with Baidu. The share of Baidu in the search engine market might experience a fall, as Qihoo is likely to increase its share. Also, a slowdown in the Chinese economy can adversely affect revenue growth for the company. A comeback for Google in the Chinese search market can also affect Baidu's future growth prospects.
Baidu's margins and PEG ratio, compared to its competitors, make it a desirable stock to hold. Its PEG of 0.62 reflects cheap growth offered by the company. Its forward P/E of 19x is slightly above Google's 14x, but is supported by its high margins and growth rate for the future.
| | | | |
| --- | --- | --- | --- |
| | Operating Margin | Profit Margin | PEG |
| Baidu | 52% | 47% | 0.62 |
| Google | 31% | 25% | 1.02 |
| SINA Corp. (NASDAQ:SINA) | -1% | -61% | 15.43 |
| Sohu.com | 27% | 11% | 3.05 |
| Qihoo | 20% | 19% | 0.65 |
Source: Yahoo Finance.
Baidu is expected to maintain its dominant position in the market with a share of 75%-80%. It is expected to grow at a higher rate as compared to its competitors and industry average, and it is expected to maintain healthy margins in the coming years. Based on these forecasts, we recommend Baidu as a buy.
Disclosure: I have no positions in any stocks mentioned, and no plans to initiate any positions within the next 72 hours.
Business relationship disclosure: The article has been written by Qineqt's Technology Analyst. Qineqt is not receiving compensation for it (other than from Seeking Alpha). Qineqt has no business relationship with any company whose stock is mentioned in this article.