Market Recap:
It was a decent day in the market as data came out strongly for GDP, Pending Home Sales, and Beige Book. GDP ticked up to 1.7% vs. 1.6% earlier readings, showing the economy grew gradually in the last month. That commentary was also apparent in the Fed Beige Book, and Pending Home Sales were quite strong at 2.4% growth vs. 0.0% expectations. The market's reaction was good but muted, as we expected the market to act into Jackson Hole. The GDP number and Beige Book commentary, to us, reads like QE3 is off the table for now. At the same time, we cannot be sure what will come out on Friday, but we do know it will move the market.
Going into tomorrow, we have another slate of data to move on, as well as one day closer to the Jackson Hole meeting speech, so we may start to see some more volatility/movement in the market. Still, we do not expect the big moves until Friday.

Stocks To Trade:
Today, we are looking at earnings trade in Crocs (NASDAQ:CROX), longs in Juniper (NYSE:JNPR) and Whirlpool (NYSE:WHR), and shorts in Perrigo (NASDAQ:PRGO) and First Solar (NASDAQ:FSLR).
For an earnings trade, we like the looks of Crocs. The company is very solid looking right now after its last earnings came in strong. In 2007-2008, Crocs were the hottest thing since sliced bread, but like most fads, its star died out. The stock went below $5, and it lost interest with everyone. Since then, CROX has done a great job of improving nearly everything -- balance sheet, management, and its product lineup. The company has found a niche market with children, swimming apparel, and beachwear. The company has started to turn some nice profits again, improved margins, and looks to be much better at slowly increasing its sales in smarter fashions. We have a Buy rating with $28 PT. We think the company will move to $18-$20 before its next earnings report. We like selling the $16/$15 bull put spread for 25% gain.
For longs, we like the looks of Juniper and Whirlpool. Juniper looks ready to breakout over 18.50, as the company has formed a nice reversal after gapping up on earnings. The company looks very close to a breakout of a near-term downward channel, and has put in a nice bottom over the last couple sessions despite a lack of market strength. The stock has great value, and if it can get some market help, it looks poised to move.
Whirlpool is definitely a very safe company to trade/invest during uncertain times, and it has built an amazing base at $74 after some very nice earnings in July. The stock has had heavy resistance at $75, though. We would definitely be a fan of selling a bull put spread at the $75 level if the stock can break above it, because we believe it is primed for a great breakout above that level.
For shorts, we like Perrigo and First Solar. Perrigo is a stock that is definitely shortable right now. The company had very weak earnings in its last report, missing revenue estimates and guiding in line with estimates. That announcement was not taken well after the stock had moved a solid 10% in the prior two months. The company rebounded after the gap down, but it was rejected strongly at its 20-day MA today for what appears to be a dead cat bear flag. We see this as a shorting point, and until it breaks that 20-day MA, it is a nice stock to short, as it does not look strong right now.
On the other hand, First Solar has made quite a move over the past month from $15-$25. The catalyst? Decent earnings, good value, and takeover chatter. None of it, though, really changes the fact that First Solar is struggling. First Solar completely removed business from Europe as it basically reset the company, and profits may be a long ways off in any great capacity. Today, the stock got rejected at its 200-day MA, as Pacific Crest cut estimates. With recent strength, we like a bear call spread for Sep22 at $25 and higher.
(click images to enlarge)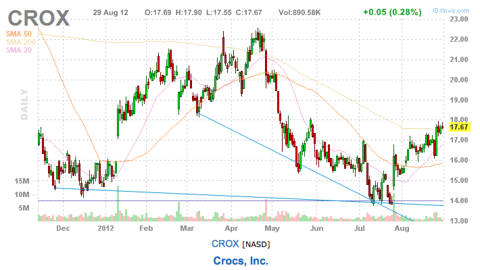 Click to enlarge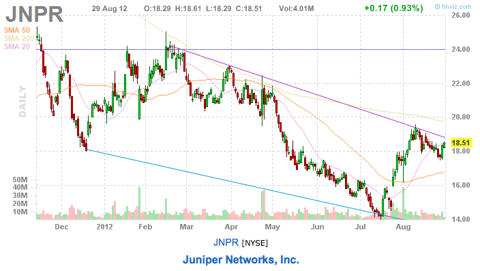 Click to enlarge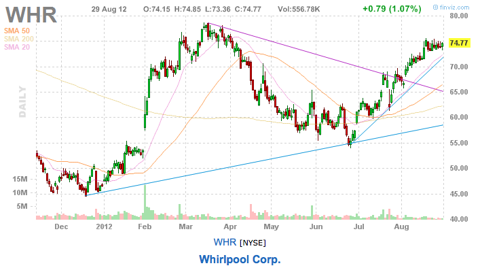 Click to enlarge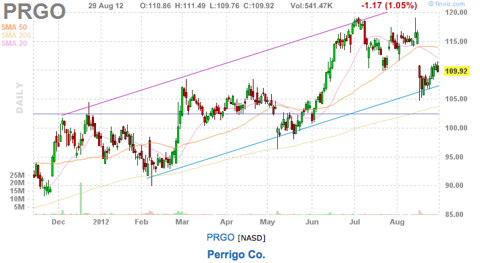 Click to enlarge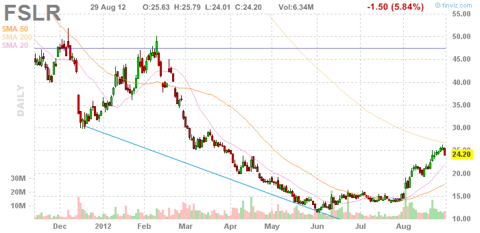 Tomorrow's Outlook:
The market has another quiet day in the cards for tomorrow as we await Jackson Hole, but we do get some news to react to here at home and overseas that can definitely move different sectors, as well as give the market some legs. We will get jobless claims as well as Personal Spending/Income. The personal spending report is always an important one to the market. Overseas, we get some important information from Germany with its Unemployment Rate and joblessness data. Additionally, we get eurozone Consumer Confidence data. Those reports could attract some attention back to Europe from the U.S., but it's doubtful that it will have a very bullish impact on the market. With the speculation now that the Fed will do nothing, we would expect some slight weakness, unless spending and jobless claims shock the market in a good way.
Oxen Group Moves/Holdings:
We had a nice day in the market, as we were able to take some gains off from our long F5 (NASDAQ:FFIV), short AmBev (ABV) pair trade for 1.5% gain. We closed our Amgen (NASDAQ:AMGN) long at our entry though for the second half to net a small gain. We added a pair trade long Juniper, short Perrigo, as well as added the CROX bull put spread discussed above.
We have the following positions:
In our Short-Term Equity Portfolio, we are long Hershey (NYSE:HSY), F5, Juniper. We are short AmBev and Perrigo.
In our Options Portfolio, we are long Whole Foods Market (NASDAQ:WFM), Priceline.com (NASDAQ:PCLN), Google (NASDAQ:GOOG), Yum! Brands (NYSE:YUM). We are short Gamestop (NYSE:GME), Safeway (NYSE:SWY) and Coach (NYSE:COH).
In our Earnings Alpha Portfolio, we are long Crocs, Discover Financial (NYSE:DFS), Smith & Wesson (NASDAQ:SWHC), Lennar (NYSE:LEN), Ulta (NASDAQ:ULTA), Francesca's (NASDAQ:FRAN). We are short RedHat (NYSE:RHT). We have a reverse iron condor in Abercrombie & Fitch (NYSE:ANF).
In our Goldman Sachs Up/Down Paper Portfolio, we have no current positions.
Charts courtesy of finviz.com.
Disclosure: The Oxen Group's positions are disclosed above. I wrote this article myself, and it expresses my own opinions. I am not receiving compensation for it (other than from Seeking Alpha). I have no business relationship with any company whose stock is mentioned in this article.