Novartis (NYSE:NVS) has registered an above industry average dividend yield and profit margin; the company has aggressively and successfully engaged in acquisitions and product innovations. In the last three months (i.e. since June 1, 2012), the company's stock has appreciated nearly 14%. Based on these reasons, and others given below, we recommend Novartis as a buy.
The company, which is well diversified, has been involved in spinoffs and acquisitions in the past. The recent acquisition of Alcon helped the company grow and capture the eye-care products market.
Novartis operates in five divisions, namely Pharmaceuticals, Alcon, Sandoz, Vaccines and Diagnostic, and Consumer Health. The Pharmaceutical division has the highest share in the company's total revenue, contributing nearly 57%, followed by Alcon with 19%, Sandoz with 15%, Vaccines and Diagnostic with 2.4% and Consumer Health with 6.5%. Pharmaceuticals is the best performing division with the highest operating income margin of 33% as of 2Q2012, whereas Vaccines and Diagnostic is struggling with an operating income margin of -27% as of 2Q2012.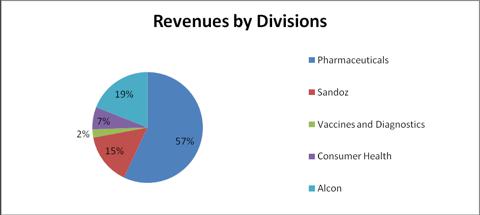 Source: Sec.gov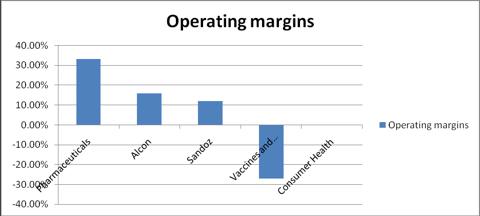 Source: Sec.gov
2Q2012 revenues and earnings were in line with consensus estimates; they grew by 1% and 4%, respectively, on a constant currency basis, as compared to 2Q2011. Novartis experienced a growth of 8% in products launched in 2007, and now these products comprise 29% of the company s total revenues. The company's drug, Diovan, contributed significantly to revenues in the past, but its patent for Europe recently expired. The decline in revenues due to Diovan was offset by recently launched products and the acquisition of Alcon. Patents for two of the company's products, Zometa and Gleevec, will expire in 2013 and 2015 respectively. NVS is expected to make up for the lost revenue due to patent expirations from recent product approvals in the Pharmaceuticals division. The company has planned to make regulatory filings through 2015 for over 60 new drugs.
Sec.gov came from emerging markets in 2Q2012. Emerging markets' revenues grew by 6% in the second quarter. The highest revenue growth in emerging markets for the quarter was witnessed in China (23%). To grow further in China, Novartis acquired majority stakes in Zheijiang Tianyuan Bio Pharmaceutical, a vaccination company operating in the country.
The company has historically performed better than the industry. This is evident from its past five-years average revenue growth rate of 11.1% and EPS growth rate of 5.6%, which have been above the industry average of 10.8% and 4.5%. Novartis offers an attractive dividend yield of 4.1%, above the industry average. Average dividend yield for the last five years is 3.7%. Cash flow yield has remained well above dividend yield in the recent past; this relationship displays that the company will be able to maintain its dividends without any problem in the future as well.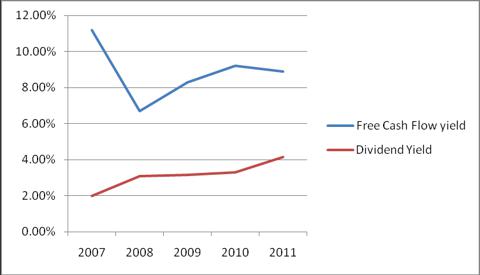 Source: Bloomberg and Qineqt estimates
The company's long term debt-to-equity of 35% is better than its industry average of 106%. Interest coverage of 16x for the company indicates it is comfortably covering its interest expense. Novartis' high profit margin and dividend yield, as compared to its competitors, make it a desirable stock for investors.
| | | |
| --- | --- | --- |
|   | Profit Margin | Dividend Yield |
| Novartis | 15% | 4.1% |
| Pfizer Inc. (NYSE:PFE) | 15.7% | 3.7% |
| Johnson & Johnson (NYSE:JNJ) | 13.5% | 3.6% |
| Abbott Laboratories (NYSE:ABT) | 12.3 | 3.1% |
| Merck & Co. Inc. (NYSE:MRK) | 14% | 3.9% |
Source: Yahoo Finance.
Investors should be on the lookout for developments that could adversely impact the company's performance and stock price. An appreciation of the dollar, relative to other major currencies of the world, can affect the company's revenue growth and earnings in coming years. Secondly, the approval of upcoming drugs is critical for revenue growth, as Diovan's patent has expired for Europe, and Zometa's and Gleevec's patents will expire in 2013 and 2015 respectively.
Novartis is trading at a discount relative to its competitors, based on its valuations. Its P/E of 17x is below those of its competitors as well as the industry average. Based on its competitors' average P/E ratio, the stock will have a value of $72,~16% lower than its current market price.
| | | | |
| --- | --- | --- | --- |
|   | P/E | P/S | P/B |
| Novartis | 17x | 2.5x | 2.2x |
| Pfizer Inc. | 18x | 2.8x | 2.2x |
| Johnson & Johnson | 22x | 2.9x | 3.1x |
| Abbott Laboratories | 21.5x | 2.7x | 4x |
| Merck & Co. Inc. | 20x | 2.7x | 2.4 |
| Average | 20x | 2.8x | 2.9x |
Source: Yahoo Finance.
NVS' shares are cheap, as reflected by its multiples. P/E of 17x, P/S of 2.5x and P/B of 2.2x are at discounts to their competitors' averages of 20x, 2.8x and 2.9x, respectively. Based on potential growth opportunities, the trend in emerging markets, recent successful acquisitions, and product launches, we recommend the stock as a buy.
Disclosure: I have no positions in any stocks mentioned, and no plans to initiate any positions within the next 72 hours.
Business relationship disclosure: The article has been written by Qineqt's Healthcare Analyst. Qineqt is not receiving compensation for it (other than from Seeking Alpha). Qineqt has no business relationship with any company whose stock is mentioned in this article.