If you are looking for a low-cost value play in pharmaceuticals that has growth potential, check out Pfizer (NYSE:PFE). The pharmaceutical giant has been making some interesting moves that might help it grow its revenue in the face of industry changes, such as austerity measures and the growing popularity of generic pharmaceuticals.
Pfizer and generic drug specialist Mylan (NASDAQ:MYL) have entered into a deal that will enable Pfizer to market 350 generic drugs under its label in Japan. Mylan will make the drugs and take care of logistics. Unfortunately, the financial terms of the deal were not revealed, but it might let Pfizer continue to make money on drugs that have lost patent protection. News reports did not reveal which of Pfizer's drugs will be sold as generics, but it might be any for which the company has lost patent protection.
Japan is the third largest drug market in the world after the U.S. and the European Union. So this deal might increase revenue and serve as a template for expansion into other markets. Pfizer has similar deals with Strides Arcolab (NYSE:STR), a generic drug maker in Bangalore, India, and Laboratorio Teuto Brasileiro S.A. in Brazil. The deals allow the companies to make generic versions of some of its products.
Pfizer needs to find other ways to break into the generic drug business because a federal court in New Jersey ruled that its attempt to give exclusive rights to make a generic version of Effexor XR to Teva Pharmaceutical Industries (NYSE:TEVA) was illegal. That means other companies will be able to manufacture generic versions of Effexor XR. Making deals to sell its own generics seems like a better strategy for Pfizer than playing fast and loose with the law.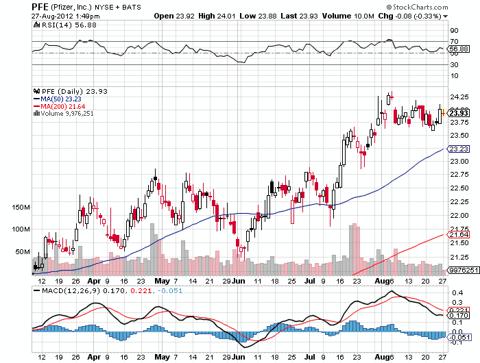 Pfizer's margin price went up from a low of $21.64 on July 23rd to $23.91 on August 27th. This indicates that there is some growth potential at Pfizer and that pharmaceutical houses can survive the loss of drug patents. Pfizer has become increasingly creative in its efforts to do just that. In addition to entering the generic-drug business, Pfizer is testing some new discounting strategies, including coupons.
Will Coupons Help Pfizer Make Money?
Pfizer has been offering customers coupons for some of its popular medications, including Lipitor. The current strategy allows people to buy Lipitor for as little as $4 a month. Since more than 3.5 million people in the U.S. take Lipitor, this might translate into quite a bit of revenue. Pfizer will take in $14 million a month, or $168 million a year, if all the Lipitor patients used the coupons. The $4 is only for patients with private insurance; uninsured patients get a flat $75 off of Lipitor with the coupons.
Pfizer estimates that around 750,000 people have participated in the Lipitor for you coupon program. The coupons' existence did not stop around two thirds of Lipitor users from switching to generics. Pfizer's Lipitor sales in the second quarter of 2012 were $300 million - a $900 million drop from $1.2 billion in sales in the second quarter of 2011.
Pfizer CEO, Ian Read, recently told the press that the strategy has brought in hundreds of millions of dollars in additional profit. Unfortunately, Read did not provide an additional figure for the profits. Coupons might actually lead to increased revenues for companies like Pfizer. The Pharmaceutical Care Association estimates that copay coupons might increase prescription spending by $32 billion in the next ten years.
The health insurance industry opposes the coupons because they discourage patients from switching to cheaper generics. Patients using government programs, such as Medicare, are barred from using coupons. Pfizer has expanded the coupon program to include Effexor XR, Geodon, Revatio, and Caduet.
Pfizer has been able to survive the loss of the patent on its best-selling drug and figured out ways to generate additional revenue. The company has proved that it can survive and still make money in an increasingly complex and difficult pharmaceutical industry. Therefore, it is safe to assume that Pfizer will see increases in share value in coming months.
Pfizer's coupon strategy has been so successful that Novartis (NYSE:NVS) and Bristol-Myers Squibb (NYSE:BMY) have copied it. Novartis is offering Diovan and Diovan HCT for $4 per month, and Bristol-Myers Squibb is offering a Plavix coupon.
Pfizer's biggest asset may not be its portfolio of drugs but its creativity. It has found new ways to generate revenue and preserve its stock value in the face of the generic drug challenge. Pfizer has even found a way to turn Mylan, a company that might have become an aggressive competitor, into a valuable ally and generate additional revenue in the process.
Pfizer is well-positioned for growth despite the loss of the Lipitor patent. At around $23, Pfizer is a bargain. That makes it an interesting value play in pharmaceuticals right now.
Disclosure: I have no positions in any stocks mentioned, and no plans to initiate any positions within the next 72 hours. I wrote this article myself, and it expresses my own opinions. I am not receiving compensation for it (other than from Seeking Alpha). I have no business relationship with any company whose stock is mentioned in this article.