Platinum is one of the rarest metals in the earth's crust, and it has a multitude of uses. The metal has experienced low demand lately as a result of macroeconomic depression in Europe and weak economic growth in China. The market was also suffering from oversupply concerns before industrial unrest at South Africa's platinum mines, which has resulted in an increase in the metal's price in August of more than 9%.
In addition, rising electricity and labor costs are compounding the problems of the platinum industry. In this scenario, we recommend staying away from platinum equities until the current situation improves. However, we would advise short-term investors to take long positions in ETFS Platinum Trust (NYSEARCA:PPLT), E-TRACS UBS Long Platinum ETN (NYSEARCA:PTM), and iPath DOW Jones - UBS Platinum SubIndex Total Return ETN (NYSEARCA:PGM). Long-term investors should avoid investing in platinum ETFs because the current hike in metal prices doesn't seem like it will last long.
Platinum Group Metals
There are six platinum group metals (PGMs): platinum, palladium, iridium, rhodium, ruthenium, and osmium. PGMs have diverse uses, from anti-cancer drugs and catalytic converters to ceramic glasses and mobile phones, etc. Their importance can be judged from the fact that almost 25% of the total goods manufactured today either have PGMs or use them as raw materials. Their recyclability and environmental friendliness make them all the more useful. The following note pinpoints industry dynamics and suggests trading ideas for one of these PGMs -- platinum.
Platinum -- Industry Supply and Production
Platinum has three supply channels: mine production, auto-catalyst scrap, and old jewelry scrap. The following table shows the breakdown of the total metal supply.
| | | |
| --- | --- | --- |
| (000 oz) | 2011 | % |
| Mine Production | 6401 | 80% |
| Auto-Catalyst Scrap | 978 | 12% |
| Old Jewelry Scrap | 589 | 7% |
| Total Supply | 7968 | 100% |
South Africa accounts for almost 80% of the global platinum production, and hence has a major role to play in the platinum market. Recently, Lonmin PLC (OTC:LNMIF) -- the world's third largest platinum producer -- had to suspend most of its production at its South African mine as a result of fierce clashes between rival labor unions. The death toll reached 44 this month after South African police opened fire and killed 34 striking workers last week. Previously, a six-week strike at Impala Platinum Holdings Limited (OTCQX:IMPUY) in February and an armed attack at Aquarius Platinum Limited (OTCPK:AQPTY) earlier this month also resulted in production losses. Meanwhile, the electricity shortage, the nationalization debate, and the fact that labor costs are increasing at a higher rate than the country's inflation have added to the problems of the platinum mining sector in South Africa.
According to Reuters, Anglo American Platinum -- the world's largest platinum producer -- said on Friday that a 100 workers had refused to go underground at one of its South African mines, which is "a sign that simmering discontent in the sector has not been contained."
Platinum -- Industry Demand
Platinum has four major end markets: auto-catalyst, industrial, jewelry, and retail investment. According to Thomson Reuters GFMS, the metal's demand breakdown for FY 2011 is as depicted in the following chart:
Click to enlarge images.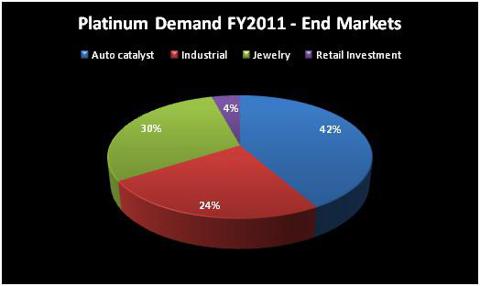 The Platinum and Palladium Survey 2012 by Thomson Reuters GFMS highlights some of the following key insights regarding each of the end markets of platinum:
Auto-Catalyst and Industrial
About 60% of platinum's demand comes from the Automotive Industry, with around 37% used in catalytic converters (where the metal is used as an auto-catalyst) and the remaining 23% accounting for other industrial applications like in the manufacture of chemicals, petroleum, electronics, and glass. Given the fact that in Europe, a higher proportion of cars have diesel engines, a higher-than-expected growth in Europe can propel industrial demand of the metal. However, the sluggish recovery in Europe's auto markets due to the prevailing sovereign debt crisis, along with Japanese natural disasters and substitution losses in gasoline and light diesel, have limited the realizable gains in the auto-catalyst market. Still, if global vehicle production keeps its upward incline and platinum's heavy duty diesel applications (accounting for 10% of its auto-catalyst demand in 2011) continue its robust performance, the demand will keep on improving.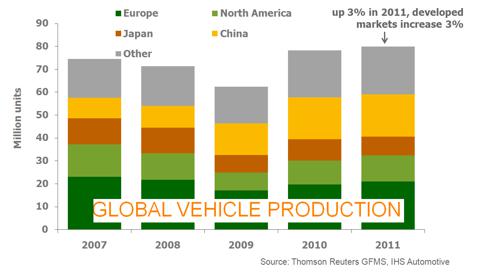 Jewelry
The platinum jewelry demand in 2011 surged by 2% on a year-over-year basis as metal prices declined, both in terms of absolute values and relative to gold. This increase in demand helped manufacturers cope with the problems of tighter credit and incrementing labor costs, and helped them to increase margins simultaneously. However, Europe saw a demand dip in the entire year due to a lackluster economic performance and high metal prices. Japan also saw a temporary glitch in Q2 in terms of demand, but came back sharply in H2 due to low prices and a successful marketing campaign.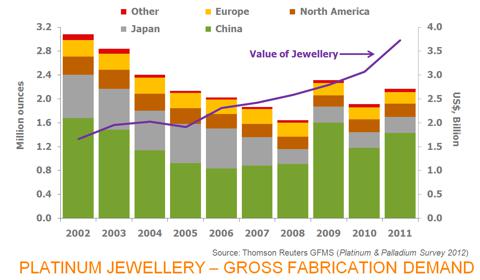 Platinum Price
Almost 75% of the world's platinum supply comes from South Africa, where violent clashes at three of its four main mines have decreased supply and underpinned metal prices, which had previously remained at low levels due to oversupply and weak demand. Consequently, platinum prices have surged by more than 9% in August.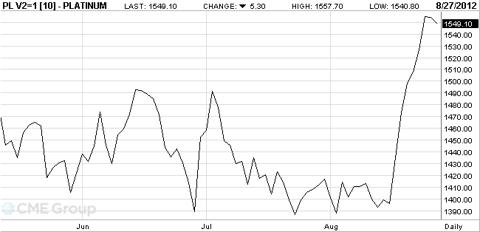 Platinum ETFs
Although platinum has already surged a lot this month, we still see some upside as labor strife returns To South Africa's platinum belt. As a way to play this increase in platinum prices, one can take long positions in the following ETFs, listed in decreasing order of preference.
1. ETFS Platinum Trust
PPLT allows investors to gain exposure to physical platinum in a convenient and cost-effective manner. The fund reflects platinum's price adjusted for expenses of the Trust's operations. The expense ratio for the ETF is 0.6%.
2. E-TRACS UBS Long Platinum ETN
PTM is an ETN that tracks the performance of the underlying index, the UBS Bloomberg CMCI Platinum Total Return Index; and based upon that, it provides investors with cash payment at early redemption or scheduled maturity.
3. iPath Dow Jones - UBS Platinum SubIndex Total Return ETN
Like PTM, PGM provides cash payment at or before maturity based on the performance of another index, the Dow Jones - UBS Platinum Total Return Sub-Index. The following graph shows the performance of these three ETFs vs. the S&P 500 Index.

Source: Google Finance.

Let's use Impala Platinum Holdings (OTCQX:IMPUY) as a platinum stock example. This name is an ADR listed in the United States. The holding company, Impala Platinum Holdings Ltd. (Implats), is located in South Africa and is the world's second-largest platinum producer.
Earlier this year, the company had to shut the world's biggest platinum mine (Rustenburg) for six weeks, as a result of a labor dispute that resulted in four deaths. Consequently, the company's production for the full year was slashed by 21% and its unit costs increased by 24%. Coupled with low metal prices, the company was forced to sharply cut its dividend to 195 cents per share from 570 cents per share. The company's headline earnings also reduced by 38% on a year-over-year basis. As a result, Impala has implemented cash preservation strategies and is continually assessing its operations so as to ensure profitability. It is done with a detailed review of capital expenditures, and expenditure for FY 2013 has been reduced from FY 2012's levels.
Impala's cash from operations has decreased from R8.3 billion to R5 billion, and its total borrowings increased by R1.2 billion, resulting in a net borrowed position for the company at the year-end. Its capital expenditure has increased by 24% to R5.3 billion, but its major portion was spent on new development projects.
Given the uncertainties surrounding platinum equities in general, and the volatility of platinum prices, we recommend investors stay away from platinum stocks, including Impala Platinum Holdings.
Disclosure: I have no positions in any stocks mentioned, and no plans to initiate any positions within the next 72 hours.
Business relationship disclosure: The article has been written by Qineqt's Basic Materials Analyst. Qineqt is not receiving compensation for it (other than from Seeking Alpha). Qineqt has no business relationship with any company whose stock is mentioned in this article.