Rail, trucking and package delivery are among key indicators of business activity in the United States. The recent relative performance of transportation stocks and the S&P 500 suggests that stocks overall might be somewhat ahead of themselves, or perhaps set up for a correction.
RELATIVE PERFORMANCE and ABSOLUTE PERFORMANCE of the S&P 500 AND TRANSPORTATION INDEXES
These three charts plot the ratio of the price level of each of several transportation indexes versus the S&P 500.
5 Years Monthly Relative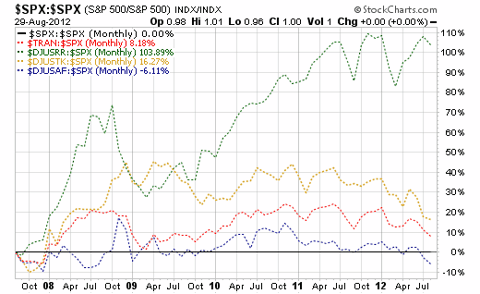 Click to enlarge
5-Year Monthly Absolute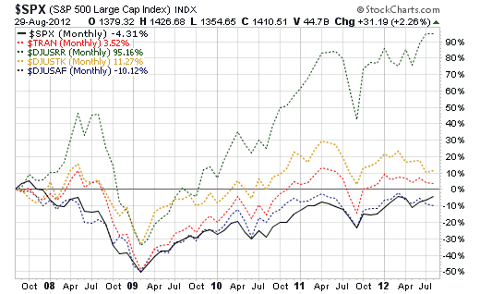 Click to enlarge
The 5-year chart generally is outperforming the S&P 500 since the market bottom in 2009 until mid-2011, when it was basically flat with the broad index, and then under-performing in 2012.
1 Year Weekly Relative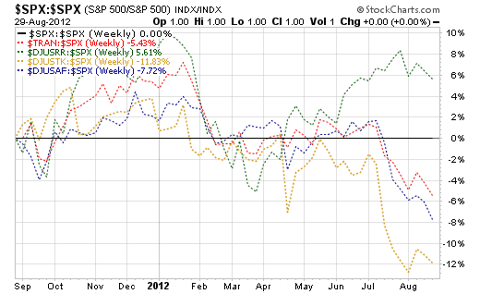 Click to enlarge
1-Year Weekly Absolute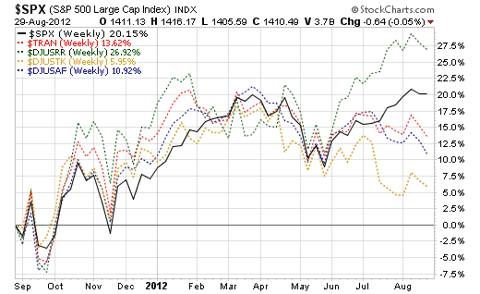 Click to enlarge
The 1-year chart more clearly shows the turn to negative relative performance in 2012 for all but railroads - and they too have turn down on a relative basis recently.
3 Months Daily Relative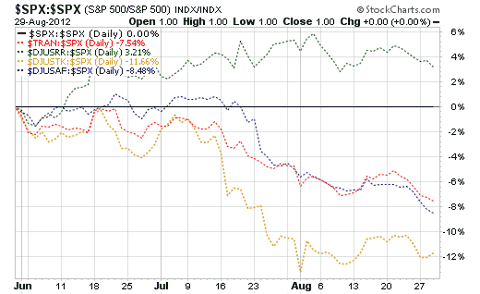 Click to enlarge
3-Months Daily Absolute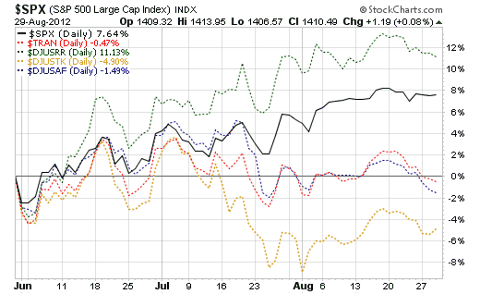 Click to enlarge
The 3 month chart clearly shows that over the past month, the overall transports and railroad, trucking and delivery services components are in a down movement. That probably as a lot to do with the flattening of the S&P 500 in the same period.
Disclosure: QVM has positions in SPY and NSC as of the creation date of this article (August 29, 2012).
Disclaimer: StopAlerts.com is a service of QVM Group LLC, a registered investment advisor. This article provides opinions and information, but does not contain recommendations or personal investment advice to any specific person for any particular purpose. Do your own research or obtain suitable personal advice. You are responsible for your own investment decisions. This article is presented subject to our full disclaimer found on the QVM site available here.