Green Mountain Coffee Roasters, Inc. (NASDAQ:GMCR) has taken a tumble from its 52 week high of $115 down to a low of $17 before rising to its current price of $24. This was caused by a combination of factors: the stock was overvalued with a PE ratio over 70, investor's fears stemming from the SEC investigation into GMCR's accounting practices, and the expiring patent on the company's K-Cups.
If we look purely at the financials, Green Mountain looks like a strong buy at current levels. The stock is undervalued with a forward PE ratio of 9.97, a PEG ratio of 0.39, and a price to book ratio of 1.76. The company reported a 20% increase in revenue and a 30% increase in earnings for Q3 2012. The company has grown earnings annually at approximately 95% for the past five years.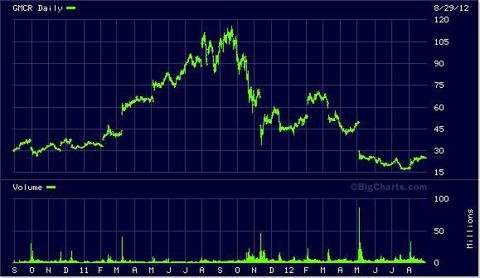 Click to enlarge
Green Mountain is expected to grow earnings annually at 28.73% for the next five years. It looks like the increased competition of single-serve coffee cups is baked into the stock price and the current projected growth rate. Without any negative catalysts, this rate should allow the stock to rise to about $85 in five years, giving investors a total gain of over 250%.
Despite these stellar figures, there is more information that must be known. The primary issue that needs to be resolved before investing in Green Mountain is a resolution of the SEC investigation.
The SEC investigation has taken place over the course of the past 20 months. Green Mountain has disclosed that it has been probed by the SEC about its business dealings with M. Block and Sons, a company that handles the warehousing and distribution of GMCR's products. Green Mountain said that regulators have asked about the company's procedures for recording revenues from sales. Green Mountain's head of investor relations, Suzanne DuLong stated that the accounting practices that the company uses for products stored on GMCR's or M. Block's property are appropriate.
What is not known is the outcome of the SEC investigation. What if a major fraud is discovered in Green Mountain's accounting practices that would cause further selling in the stock? This is a risk that many investors would prefer to avoid, including myself. On the other hand, there are those who would prefer to purchase the stock at current prices, betting that nothing negative results from the investigation. This is what makes a market. Investors need to ask themselves whether they are willing to take on this risk. Some of the best short-term gains are made on the information that is not currently known. When that information comes to light, investors on the right side of the trade are usually rewarded.
In my opinion, I would not purchase Green Mountain until the complete results from the investigation are disclosed by the SEC. If a significant negative outcome arises, I would expect the stock to fall below its book value of $14.24. For now, I will wait and see.
Disclosure: I have no positions in any stocks mentioned, and no plans to initiate any positions within the next 72 hours. I wrote this article myself, and it expresses my own opinions. I am not receiving compensation for it (other than from Seeking Alpha). I have no business relationship with any company whose stock is mentioned in this article.