From the very start of market maker implied stock price forecasts for Facebook (NASDAQ:FB) on May 29 to the present time three months later (Aug. 28), expectations have held to an unusually tight format.
Early on, the market pros protected themselves against a pattern of twice as much upside prospect as likely downside exposure. Then their forecast range was from a low of $26 to a high of $34.63. From an end-of-day price of $28.84, it was an upside of +20% to a downside of -10%.
Now the outlook is much lower, but still in the same pattern, from $17.64 to $22.90, on a closing price of $19.34. That is an upside potential of +18% and a drawdown exposure of -9%, still a ratio of twice as much upside as downside. As pointed out in our Aug. 15 article "Market-Makers' Price Forecast For New Unlocked Facebook Shares," those same range proportions persisted -- even during the two-day late July drop of -19%, and its continuation in a fall worse than -31% for one week.
Here is how their daily ranges have progressed through the period:
Click to enlarge images.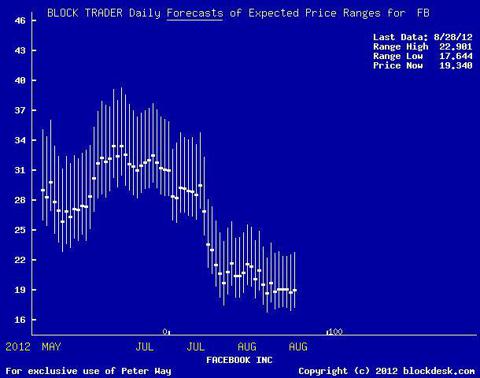 Typically, price forecasts tend to move more slowly than market quotes. This is seen in an example of ProShares UltraPro Dow 30 (NYSEARCA:UDOW), a (3x) levered ETF tracking the Dow Jones Industrials.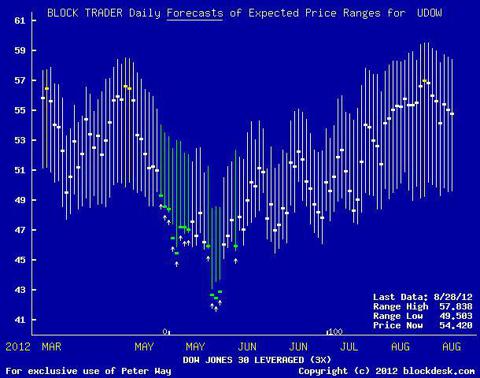 There, the end-of-day price heavy dot moves across the vertical price range forecast bars as the market quotes rise and fall. The difference is more easily seen when prices for each are stated as Range Indexes, where each low forecast = 0 and each high =100.
In the picture below, the blues dots represent Facebook, and the tan dots represent UDOW on the same dates.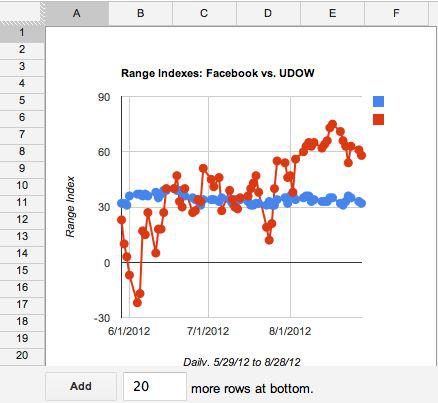 The difference is explained by the principal players in each game, their potential for erratic behavior, and the surroundings in which they are operating.
The participants in UDOW are believed to be importantly professional speculators who seek leveraged, relatively shorter-term bets against this well-known, most extensively seasoned measure of big-cap equity investment values. Furthermore, the average daily value of UDOW trading is well within the ability of players to influence, at least temporarily, but only to a limited extent. With but 175,000 shares traded daily that total value is less than $10 million. Total assets under management in the ETF are around $50 million, indicating a five-day turnover of total investments
Still, the DJIA itself is subjected to several arbitraging instruments, and while its component stocks are relatively few (and easy to model), they have a market cap value of over one-fourth of the more than $12 trillion entire value of equities traded. So the DJIA index is not easily influenced by trivial amounts. Instead, turning the proposition around, UDOW becomes a remarkably sensitive indicator of DJIA prospects, at least as seen by professionals making markets in its volume trades.
Facebook, on the other hand, has a market setting dominated by individuals, most of whom have demonstrated their degree of investment sophistication by being drawn into an IPO that will long be regarded as one of the most flagrant, emotionally hyped Wall Street promotions of the century. Facebook's average daily trading value of over $700 million on a $41 billion market cap indicates an 11-week+ period of turnover although what part of that capitalization is at float is indeterminable and under potential major sudden and significant changes.
In short, Facebook's price is nearly impossible to forecast with any reliability. So the pros have done their best, with a continuing SWAG estimate some 30% wide, and kept twice as large on the high side as on the low. Compare that to what is seen in UDOW. There the entire forecast range is only 15% wide, and that reflects three times what is anticipated for the underlying index.
So the uncertainty level in Facebook is six times that of the DJIA, and everyone knows how hard it is to forecast the overall market.
Disclosure: I have no positions in any stocks mentioned, and no plans to initiate any positions within the next 72 hours. I wrote this article myself, and it expresses my own opinions. I am not receiving compensation for it (other than from Seeking Alpha). I have no business relationship with any company whose stock is mentioned in this article.