Gyrotron Technology's (GYTI.PK) meat decontamination technology could produce promise for the meat packing industry, which has been wrought with negative headlines and lawsuits. Most recently, the company announced that it has filed a provisional patent for its technology for the decontamination of meat carcasses, which has positive implications for the industry.
At the time of this writing, Gyrotron was trading around $0.51, which was within its 52-week trading range of $0.41 and $1.18. The company issued a 200% stock dividend on Aug. 10 in which each shareholder received two additional shares for every share they previously owned. In May, prior to the 3-for-1 stock split, Gyrotron's shares were trading as high as $3.54.
Gyrotron develops and markets industrial technologies to a multitude of industries, which include glass, solar cells, semiconductors, and the plastics industry. Primarily, the company's offerings utilize the Gyrotron, a unique device originally developed for use in physics to heat plasma for fusion reaction.
Globally, the heat-treating industry is expected to be approximately $75 billion in value added to the manufacturing process and around $20 billion to $22.5 billion in North America. It services more than 18,000 manufacturers and is a critical manufacturing technology in industrial segments such as automotive, semiconductor, and aerospace.
Meat Decontamination Application
Gyrotron recently announced that it has filed a provisional patent for its technology for the decontamination of meat carcasses.
In tests, the surface of the meat was heated for a brief fraction of second with a Gyrotron. Independent testing verified that the bacteria count on the meat surface was a reduced by a factor greater than 300,000. According to the test, the heating process occurred so rapidly within a targeted area and a depth, the color and texture of the carcass were not compromised.
This move could be a material catalyst for the company. According to the Centers for Disease Control and Prevention (NASDAQ:CDC), food borne pathogens are responsible for approximately 48 million cases of food borne illnesses in the U.S., resulting in 127,839 hospitalizations and 3,037 deaths. The cost to healthcare system is estimated to be $152 billion annually.
The company's application of Gyrotron technology aims to curb a significant portion of these illnesses by decontaminating meat with a brief burst of ultra rapid heating. Gyrotron's approach for meat decontamination uses high frequency microwaves to rapidly decontaminate the meat surface of pathogens without damaging or overheating the meat.
Meat Products Companies Benefit from Technology
With meat contamination being an issue and under the microscope with the U.S. Department of Agriculture (USDA), some of the top foods processing companies are seeking innovative, low-cost methods.
While some have implemented new techniques, opportunity for innovation still remains. Meat product companies such as Hormel Foods (NYSE:HRL), Tyson Foods (NYSE:TSN) and Smithfield Foods (NYSE:SFD) are among some of the top players that continue to monitor food safety requirements. Gyrotron's technology could improve the safety and cost in the meat packing industry.
The company has also applied for a grant for an initial meat decontamination research with the USDA. The goal of the grant will be to establish a proof of concept for the Gyrotron device in treating the surface of beef carcasses to eliminate pathogens without causing any tissue damage that would result in undesired color changes or oxidation.
The Problem: Meat Contamination an Ongoing Issue
Meat products are major sources of human infections. These infections are typically derived during the production process. It takes several steps to get food from the farm or fishery to the dining table. We call these steps the food production chain. Contamination can occur at any point along the chain-during production, processing, distribution, or preparation.
Figure: Food Production Chain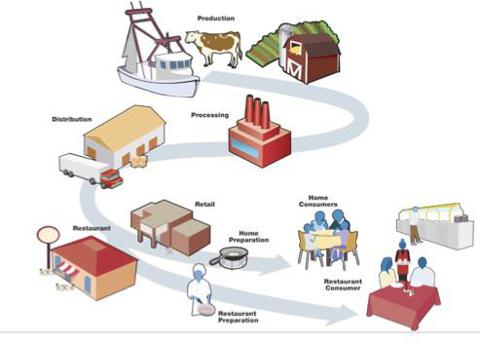 Big beef has always had big problems, most of them related to high volume production. E. coli and bovine spongiform encephalopathy (BSE) - "mad cow" disease - are the biggest of these problems.
Most of these pathogenic microorganisms are located on the surfaces of hides and carcasses. Methods used to decontaminate these carcasses include traditional and archaic methods such as steam pasteurization, trimming, hot water washes, steam vacuuming and sanitizing sprays. While marginally effective, these methods have other challenges associated with deviations in the color and texture of meats.
"52 percent of contaminated meats contain superbugs, bacteria resistant to multiple classes of antibiotics..."
Translational Genomics Research Institute
Current thermal and non-thermal decontamination, such as ultraviolet light pulse technologies in the market today, have been not been effective.
Large Market Opportunity for Gyrotron
The U.S. produces more than 30 million carcass weight equivalent (CWE) tons of cattle for beef production each year. Cleaning costs are estimated to be approximately $10 per beef carcass. It is estimated that the market for the Gyrotron's application of its technology for the application of beef carcass decontamination to be approximately $500 million in the U.S. and approximately $1 billion globally. When poultry, hog and fish are included, the market opportunity expands significantly above $1 billion.
Gyrotron has multiple applications for its technology and has recently successfully launched an initial project with a large manufacturer for the installation of its Gyrotron technology. While this is the inaugural installation for the unnamed, Fortune 500 manufacturer, the company anticipates additional orders from this customer going forward, both as it expands the current project by replacing multiple lines with a lesser number of Gyrotron based lines as well as by commencing additional projects.
Each installation yields both an installation fee and royalty or licensing revenue. A typical Gyrotron installation is expected to generate $150,000 in upfront fees and annual revenues of $150,000 to $300,000 for the company. A typical installation takes approximately 90 to 120 days and includes design, on-site launch and testing.
Why the Investment Today?
Investors should consider the risks in investing in Gyrotron, as the company is a pink sheet. Its business is in the early stages of development and has initially begun to commercialize its technology. This will expose it to concentration risks and top-line volatility. The company's revenue growth will not be linear and will be subjected to management's ability to execute plans to add new business each quarter.
Enterprise value to sales trading multiples for the 20 industrial machinery companies we reviewed range from 1.0x to 21.0x revenues. We believe that Gyrotron should trade at approximately 3.0x, which is the average trading multiple of its peer group.
Currently, Gyrotron trades at 0.68x its 2013 estimated revenues. When applying a 3.0x multiple to Gyrotron's 2013 sales of $5 million, the company implied value is at approximately $1.35 per share. The shares currently trade at $0.51 per share.
Gyrotron is the only player using this technology to decontaminate meat. It has a competitive advantage and its technology outperforms current methods that have been traditionally used. Although, Gyrotron is a micro-cap stock, its position as the sole player in this space makes it a worthy consideration for investment.
Disclosure: I have no positions in any stocks mentioned, and no plans to initiate any positions within the next 72 hours. I wrote this article myself, and it expresses my own opinions. I am not receiving compensation for it. I have no business relationship with any company whose stock is mentioned in this article.