Bucyrus International, Inc. (NASDAQ:BUCY), incorporated in 1927, designs and manufactures mining equipment for the extraction of coal, copper, oil sands, iron ore and other minerals in mining centers throughout the world
BUCY is a mixed sector company with presence in coal, copper, oil. It's not a company directly engaged in any production, but provides equipment instead. Therefore, it's not a simple analysis.
Let' take a quick look at the world coal production and consumption profiles to understand if BUCY has presence there. Looking at the chart below, it does seem to be the case (read the details on BUCY's business later in the post for BUCY's international presence):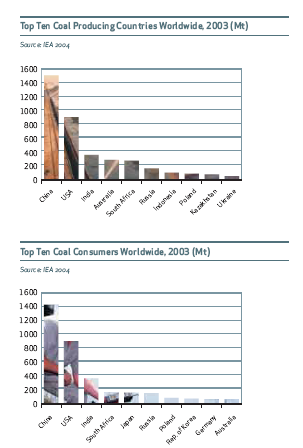 From Wikinvest:
Increase in commodities impacts the demand for mining equipment: Since 2002, copper prices more than quadrupled. However, oil, which traded at $18 per barrel in 2002, is now trading at $140.
Coal is key to BUCY's revenues: BUCY generates roughly 73% of its annual revenue from coal mining customers. Production of coal shifts with economic and political factors. As oil prices rise, alternative energy forms become more attractive. Coal power substitutes natural gas and oil consumption in some instances, and therefore, the coal price tends to move higher also. However, the 2007 World Energy Outlook expects increasing coal infrastructure and high oil prices to boost coal demand from 4.1 billion tons in 2005 to 5.8 billion tons in 2015. The world-wide use of coal to generate power is indicated in the chart below— using coal for power is not going to stop overnight, people. And in burgeoning new economies such as India and China, the increase in oil prices is going to further the dependence on coal. Given that 53% of BUCY's revenues come from outside of US, this business is shielded by any green laws that may be put in place in the US (click to enlarge images).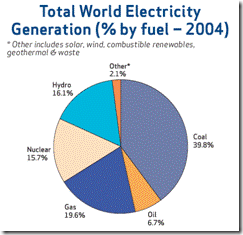 Copper: Copper mining is the second largest customer-base of BUCY (13%). Prices of copper increased rapidly from 80 cents per pound in 2003 to almost $4.00 in 2008. Copper is used in electronics, cookware, fixtures, plumbing, and a variety of other items. The strong rise in copper prices boosted extraction of the material by miners, benefiting BUCY, in turn.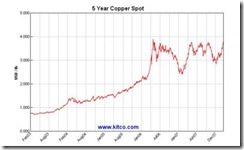 International markets. BUCY's international operations already account for more than 50% of BUCY's revenues. High infrastructure growth contributes to commodity demand in Russia, China, and other emerging markets..
BUCY has expanded its aftermarket services division. The volatility of new equipment influenced BUCY to promote maintenance, repair, assembly, and diagnostic testing for mining equipment. This move increases margins and decreases the nature of demand for new equipment, because mining companies need equipment serviced even during flat production growth. BUCY can therefore benefit from growing demand in two ways - equipment sales, and new service contracts for this equipment. Mining equipment breaks down over time, and repair parts and maintenance are necessary. Further, large mining producers are increasing their reliance on outsourcing maintenance. Contracts typically cover 3-5 years and have renewable and early termination clauses. Aftermarket sales accounted for 47.6%, or roughly $768.5 million, of total revenue in 2007.
BUCY's surface mining equipment is also used in mining oil from oil shales. Heavy oil is where the domestic US production may shift too, similar to what's currently going on in Alberta, Canada.
BUCY's Business
BUCY supplies system solutions for underground coal mining worldwide.
The original equipment and aftermarket parts are manufactured in Germany, the United States (Pennsylvania, Virginia and Alabama), and to a lesser extent, in Poland, China and Australia.
The two methods of underground mining are longwall, and room and pillar mining.
In addition to the manufacture of original equipment, BUCY also provides the aftermarket replacement parts and service for equipment.
BUCY's manufacturing facilities include Australia, China, Germany, Poland and the United States, and service and sales centers include Australia, Brazil, Canada, Chile, China, England, India, Mexico, Peru, Russia, South Africa and the United States
BUCY operates in two business segments: surface mining and underground mining.
BUCY's surface mining equipment includes draglines, electric mining shovels and rotary blasthole drills. In May 2007, BUCY completed the acquisition of DBT GmbH, a subsidiary of RAG Coal International AG. DBT GmbH is a designer, manufacturer and marketer of high technology system solutions for underground coal mining.
Along with BUCY's two main product groups, it offer solutions in the field of horizontal crushing equipment for coal and non-coal applications, such as aggregates typically used in road construction, potash and rock salt. The product range includes size reduction technology for primary crushing and scraper chain conveyors.
BUCY competes with Joy Global Inc. (JOYG) (P&H division), Atlas Copco AB (OTCPK:ATLKY) and Sandvik (OTCPK:SDVKY).
Market share (from Wikinvest):
| | | | | | | |
| --- | --- | --- | --- | --- | --- | --- |
| Company | Foreign Sales as % of Total | 2007 Sales | 2006 Sales | 2006-2007 Sales Growth | Main Industries | Global Mining Market Share |
| Bucyrus International (BUCY) | 53% | $1.6B | 738M | 119.00% | Mining | 9.04% |
| | 53% | $2.5B | $2.4B | 4.17% | Mining | 14.12% |
| CAT)" href="http://www.wikinvest.com/wiki/Caterpillar_%28CAT%29" onclick="javascript:pageTracker._trackPageview('/outbound/article/www.wikinvest.com');" rel="nofollow">Caterpillar (CAT) | 58% | $45B | $41.5B | 8.40% | Mining, Agriculture, Construction, Commercial | ^45.19% |
| DE)" href="http://www.wikinvest.com/wiki/Deere_%26_Company_%28DE%29" onclick="javascript:pageTracker._trackPageview('/outbound/article/www.wikinvest.com');" rel="nofollow">Deere & Company (DE) | 35% | $21.5B | 22.1B | -2.71% | Agriculture, Construction, Commercial |   |
| CNH)" href="http://www.wikinvest.com/wiki/CNH_Global_N.V._%28CNH%29" onclick="javascript:pageTracker._trackPageview('/outbound/article/www.wikinvest.com');" rel="nofollow">CNH Global N.V. (CNH) | 58% | $15B | $13B | 15.38% | Agriculture, Construction |   |
| KMT)" href="http://www.wikinvest.com/wiki/Kennametal_%28KMT%29" onclick="javascript:pageTracker._trackPageview('/outbound/article/www.wikinvest.com');" rel="nofollow">Kennametal (KMT) | 52% | $2.4B | $2.3B | 4.34% | Mining, Industrials | ^4.56% |
| MTW)" href="http://www.wikinvest.com/wiki/Manitowoc_Company_%28MTW%29" onclick="javascript:pageTracker._trackPageview('/outbound/article/www.wikinvest.com');" rel="nofollow">Manitowoc Company (MTW) | 48% | $4B | 2.9B | 37.90% | Construction |   |
| TEX)" href="http://www.wikinvest.com/wiki/Terex_%28TEX%29" onclick="javascript:pageTracker._trackPageview('/outbound/article/www.wikinvest.com');" rel="nofollow">Terex (TEX) | 70% | $9.1B | 7.6B | 19.73% | Mining, Construction | 11.82% |
| AG)" href="http://www.wikinvest.com/wiki/AGCO_%28AG%29" onclick="javascript:pageTracker._trackPageview('/outbound/article/www.wikinvest.com');" rel="nofollow">AGCO (AG) | 78% | $6.8B | $5.4B | 25.93% | Agriculture |   |
The financials for BUCY (again from Wikinvest) are as follows: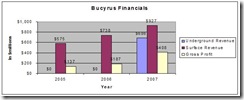 BUCY's explosive growth in 2007 was due to increased sales in underground mining equipment. The world-wide sales distribution for BUCY were as follows. 53% of BUCY's sales are to international customers.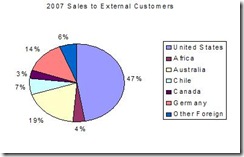 Company
Industry
Sector
S&P 500

Gross Margin [TTM]

25.66

4.40

8.95

35.31

Gross Margin - 5 Yr. Avg.

24.16

36.43

24.11

36.16

 
EBITD Margin [TTM]
14.23
–
–
–
EBITD - 5 Yr. Avg
13.70
20.97
13.01
19.52
 

Operating Margin [TTM]

10.83

1.64

3.16

–

Operating Margin - 5 Yr. Avg.

8.96

18.49

8.53

17.94

 
Pre-Tax Margin [TTM]
9.33
1.57
4.40
15.88
Pre-Tax Margin - 5 Yr. Avg.
8.88
19.77
9.24
17.71
 

Net Profit Margin [TTM]

8.21

1.08

3.17

11.28

Net Profit Margin - 5 Yr. Avg.

7.06

12.42

5.86

12.43

 
Effective Tax Rate [TTM]
11.93
3.58
14.84
26.49
Effecitve Tax Rate - 5 Yr. Avg.
20.47
37.32
39.49
30.49
The ownership information for BUCY is as follows
Shares Outstanding 75.00 Mil

Institutional Ownership (%) 103.95

Top 10 Institutions (%) 45.30

Mutual Fund Ownership (%) 2.74

5%/Insider Ownership (%) .90

Float (%) 99.10
A few things about BUCY:
Its operating margin has been much lower than the rest of the industry over the past 5 years. However, seems like it's been much better YTD. Do note, BUCY employs around 6000 people. An indicator here is BUCY's main US competitor, Joy Global: while its revenues are growing its margins are shrinking - a year ago they were 33.2% this quarter, and this year its at 26.4%. This indicates that it takes more spending to derive the same income—shrinking margins!
It's profit margins have been < 10% the past 5 years and YTD. This is a sign of shrinking margins due to increase in the cost of steel (a key component for machinery and equipment)
Its debt to equity ratio is on the higher side at 60%
It's less than 1% insider owned—for a company which has been around 81 years and is only 5.5B in market value, this is a low, indicating it may not grow as aggressively—just a personal belief
My analysis shows that a realistic value of the stock should be between $45-50. However, the intrinsic value of the stock,  comes to $106. Somehow this all doesn't fit together—does it? What this implies to me is that maybe BUCY is a value investment and not what I am looking for currently. Its revenue sources are diversified, it's building diversification in its business model and the sector it serves are irreplaceable, for quite some time. BUCY's EPS trends are inline with this estimate.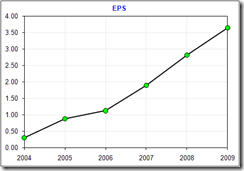 Looking at the technical indicators, the market definitely has been bullish on BUCY. However, its beta is 1.6 which indicates it's 60% more volatile than the market. Its 80-day resistance level is at 78 and it'll be interesting to see if a breakout happens or not. Hard to tell…
What others are saying:
Jim Cramer's

hot on BUCY. He expects BUCY to double.
In mid-May, Capital Markets downgraded BUCY from "buy" to "hold." In the research note they mention that though BUCY's share price has appreciated by 54% since February, and the company's risk/reward profile is deteriorating. BUCY is not completely immune to margin pressure. Additionally, there's concern around the negative impact of input cost inflation on the company's performance
My decision:
BUCY's stock, just like the industry sectors it services, is itself a mixed bag. There's a scene in Pixar's latest movie WALL-E, when WALL-E the robot is confused whether a spork is a spoon or a fork– in the end, he decides that it's neither. BUCY is my spork! And it goes into my WATCH bin, for now.
Disclosure: none