Durect Corporation (NASDAQ:DRRX) is a small/micro-cap biopharmaceutical company that specializes in the development of pharmaceutical products with improved delivery methods. According to its website, the company's vision is to: "develop proprietary products in chronic care areas with an approach that minimizes development risk and maximizes speed to market."
Durect minimizes development risks commonly associated with biopharmaceutical companies by entering partnership agreements in order to minimize research and operational expenses. Current partnership agreements include: Pfizer (NYSE:PFE), Zogenix (NASDAQ:ZGNX) and Pain Therapeutics (NASDAQ:PTIE).
Two of Durect's leading candidates for FDA approval are:
Remoxy: An extended release, tamper and abuse resistant form of oxycodone.
Posidur: An extended release form of bucivacaine administered during surgery, intended to provide up to three days of pain relief from a single application.
Durect Corporation entered into a partnership agreement with Pain Therapeutics concerning the composition and commercialization of Remoxy in 2002. Since then, Pain Therapeutics has sublicensed commercialization rights to King Pharmaceuticals which was then acquired by Pfizer in 2011.
(Note: Durect's involvement with Remoxy is as "supplier" of patented chemical ingredients used in the composition of the drug. They have also aided in the design and research of Remoxy and will receive reimbursements for their efforts upon FDA approval. However - their percentage of royalties are significantly lower than those of either PTIE or PFE.)
From Durect's second quarter earnings release, it appears that the only issue with the approval of its lead candidate, Remoxy, is related to manufacturing. According to Durect, Pfizer is working diligently with the FDA in order to address these concerns.
The potential financial implications, for both Durect and Pain Therapeutics, of the approval of Remoxy by the FDA can be seen from Pain Therapeutics Q1 press release -
Pfizer is our exclusive, worldwide commercial partner for REMOXY and three other abuse-resistant prescription pain medications (except in Australia/New Zealand).
(For PTIE) - Upon the commercial launch of REMOXY, we will receive from Pfizer a royalty of 20% of net sales in the United States, except as to the first $1.0 billion in cumulative net sales, which royalty is set at 15%. Outside the United States, the royalty rate is 10%.
(For DRRX) - In addition, we will receive from Pfizer a supplemental royalty fee payment of 6.0% to 11.5% of net sales, depending on the range of total dollar sales in each year. This supplemental payment is equal to the full amount of our financial obligations to Durect Corporation , our exclusive supplier of certain excipients in REMOXY.
The current total world-wide market for extended release oxycodone is $3B. A release of a safer, abuse resistant form of this drug could mean a sizable portion of the market share for Durect, Pain Therapeutics and Pfizer.
In June of 2010, Durect entered into a production and commercialization agreement of Posidur within the US and Canada, with Hospira (NYSE:HSP). In November of 2006, Durect entered into a development and commercialization agreement with Nycomed (now owned by Takeda Pharmaceutical) concerning Posidur, within Europe and other foreign countries.
In January of 2012, Nycomed terminated the Posidur agreement. Then, in March of this year, Hospira terminated their contract and forfeited all commercialization rights back to Durect Corporation - as did Nycomed. The exact reason for Hospira and Nycomed backing out of the agreement remains unknown due to confidentiality agreements. Though, many speculate it is related to the questions surrounding the safety of Posidur. Due to the termination of these licensing agreements, Durect recognized roughly $27M in deferred revenue from the agreements during the first quarter of 2012.
The company intends to submit their new drug application with the FDA concerning Posidur (and go over all clinical trial details and drug information they have received back from Hospira and Nycomed) during the last half of 2012 or first part of 2013. Phase III results from a patient study conducted by BESST indicate that Posidur failed to meet statistical significance versus a placebo. However, the drug achieved results of a 20% increase in pain reduction versus currently available bucisvacaine drugs used in the study.
Durect is highly optimistic concerning approval of Posidur, despite results shown versus the placebo. The fact remains - Hospira and Nycomed backed out for a reason. A lack of statistical significance versus a placebo seems like it could be a good reason.
From Durect Corp's website with regards to potential benefits of Posidur -
Potential Product Benefits:
Reduction in use of narcotics for post operative pain, which should in turn reduce opioid-related side effects such as nausea, vomiting, GI upset, cognitive impairment, etc.
Improve post-operative analgesia in a wide variety of procedures.
Reduce post-operative recovery time.
Potential to reduce the duration of hospital stays and may allow some inpatient procedures to become outpatient procedures.
Reduce the amount of time surgeons, nurses and other hospital staff spend managing post-surgical pain.
Operating expenses for Durect in the second quarter have decreased a total of $4M versus operating expenses occurring during the same quarter last year. For the first six months, operating expenses have decreased almost $9M year over year. This is due to a reduction of "head-count" related expenses and the fact that strategic partnership agreements minimize operating expenses.
Durect currently has two product lines that have reached commercial and marketing levels:
The Alzet product line that includes miniature, implantable osmotic pumps and accessories for lab research with mice and other small laboratory animals.
The company's most important current asset - their patented Lactel biodegradable polymers used in controlled release medications and other medical applications. Lactel is currently being used by several third-party customers in research applications and is also used in several FDA approved drugs.
The combined gross revenue from available commercial products was $2.5M for the second quarter and $5.4M for the first six months. Total revenues for the first six months were $45.9M (mostly due to milestone achievements) whereas operating expenses for the first half of 2012 totaled $19.5M.
Durect currently operates with cash and short term investments of $23.7M and has no debt obligations whatsoever.
Durect's "development-pipeline" looks extremely promising and the next twelve to eighteen months should set the tone for Durect's financial future.
Possible licensing and commercializtion agreements in upcoming 12-18mo -
POSIDUR - described above (New drug application expected to be filed during late 2012 or early 2013)
TRANSDUR-sufentanil - (currently seeking partners for licensing development and commercialization rights and in mid-to late stage development) A transdermal patch intended to provide sefentanil to chronic pain sufferers for up to 7 days from one application. Currently available patches are commonly larger in size and have an effective time-frame of 2-3 days.
ELADUR - (currently seeking partners for licensing development and commercialization rights and in mid-to late stage development. The previous agreement with Alpharma Ireland, acquired by Pfizer, was terminated early 2012) A transdermal patch that delivers bupivacaine for up to three days with no required "rest period." This rest period is where most patients experience what is referred to as breakthrough-pain, due to the current dosing pattern of typical lidocaine patches of 12 hours on - 12 hours off.
ORADUR_ADHD Program - (completed several Phase I pharmacokinetic studies) An extended release, once a day, attention-deficit-hyperactivity-disorder drug that will have additional tamper resistant and abuse deterrent benefits when compared to currently available products. Prescription amphetamines are one of the most commonly abused and misused drugs available - second to pain medications as a whole.
RELDAY - (recently began Phase I trial, Durect has established a partnership agreement with Zogenix) A once-monthly injectable formulation of risperidone intended to treat patients with chronic or stable schizophrenia or schizoaffective disorders. The drug will use Durect's patented SABER controlled release formulation and Zogenix's DOSEPRO needle-free, subcutaneous drug delivery system. The competition for which achieved $1.6B in global sales last year and requires twice-monthly, 2mL intramuscular injections with a 21 gauge or larger needle.
Though Durect's drug-candidate pipeline looks promising, licensing agreement terminations by Pfizer, Hospira and Nycomed should be reason for concern. Finding and creating new partnerships for POSIDUR and ELADUR will be a monumental obstacle for Durect.
To me, Durect seems to be a "bio-tech-pharma." Their focus is on improving technology of delivery methods and creating a more convenient and user-friendly version of pre-existing drugs. Basically, taking a good drug, tweaking the chemistry - and making it better. Because of this strategy, I don't see them finding a cure for a currently untreatable disease, finding a cure for cancer or in any way significantly altering the course of modern medicine.
What I do see, is a unique biopharmaceutical company that is highly under-valued. When you look at Durect's current cash and investment flow, income from their polymer sales division and Alzet product line, strategic research and development partnerships, I see a relatively "safe" company to invest in - In the biopharmaceutical field, anyway.
The firm C.K. Cooper just initiated coverage on shares of Durect. They have listed Durect as a current "Buy" rating - along with a $3.00 per share target.
Shares opened today (8/29/12) at $0.98 per share and were up to $1.02ps towards the end of the day. As you can see, just a couple months ago shares were close to $1.20 a piece.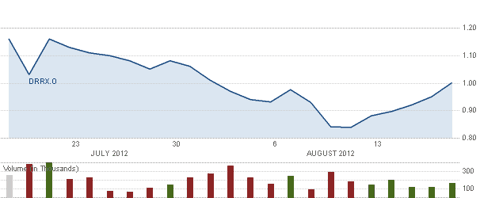 As with any pending FDA approval and small drug-development company, investments can be risky - and the situation surrounding the approval of Posidur is a mess. However, in the case of Durect Corporation, I see a strong strategic approach in the development process and because of their polymers - a promising pipeline. While a non-approval from the FDA would be devastating, Durect has done their job to minimize losses.
Disclosure: I have no positions in any stocks mentioned, and no plans to initiate any positions within the next 72 hours. I wrote this article myself, and it expresses my own opinions. I am not receiving compensation for it (other than from Seeking Alpha). I have no business relationship with any company whose stock is mentioned in this article.