Vivus, Inc. (NASDAQ:VVUS) has been in a bit of a swoon for over a month now. After touching highs of just over $30 on the FDA approval of its anti-obesity drug Qsymia, the equity settled down to about $20, essentially giving up about 33% of its value.
This has been a classic case of pent-up excitement on the news that only the second weight loss drug in over a decade had got FDA approval. It was the moment that everyone had been waiting for...Only to be followed by the realization that there was still plenty of work to do prior to getting the drug to market.
Thus we have an equity that ran to new highs on very positive news, followed by an equity that dipped down on the realization that patience was still needed. Therein lies an opportunity.
There is oft debate between investors in Vivus and investors in Arena Pharmaceuticals, Inc. (NASDAQ:ARNA). After all, these are the only two players that have approved drugs for anti-obesity. It would seem that a rivalry of sorts would be bound to develop. The reality is that the potential market for an anti-obesity drug is huge. Even with differing approaches to defining that market, the numbers can be staggering.
In a recent piece about Arena, I noted a quick glance at the market. In many ways (if not most), the potential market Vivus is identical. EFS Investment wrote about market potential as well and came to the conclusion that Vivus is undervalued at current levels and could have 50% upside.
I am an investor that likes to dig into the fundamentals and identify the potential of a company. Once satisfied on that level, I then seek out what my best entry point may be. For that I use some technical analysis. I like to look at volume, support and resistance levels, and Exponential Moving Averages (EMAs). I find that the combination of these three indicators helps me get a good sense of what may be transpiring. In looking at Vivus, I am see real potential in this equity reaching its bottom and getting ready to make a positive move.
Volume
When looking at volume levels, I actually look at the corresponding levels of the Exponential moving averages. I use 5, 13, 20, 50, and 200 day averages. The shorter-term volumes give me the current trending, intermediate levels give longer-term trading, and the 200 gives me the overall volume I like to use as a baseline.
Essentially, volume is easy to monitor. If an equity moves on high volume, there is strength and conviction behind the move. If volume dries up, it is the end of that move and either the beginning of a reversal or an indication of consolidation. Simply stated, watching volume can assist an investor in understanding the market dynamics at play.

With Vivus, we see that volume is well below the baseline at 200, slightly above the 5 day average, and below the 13 and 20 day averages. Essentially, the equity is behaving like it is consolidating. We are not seeing heavy volume in either direction, and the equity is moving sideways. What we want to see is a move on volume greater than 2.8 million shares.
Support and Resistance
Support and resistance are also very basic technical indicators. Investors can get these levels from various sources, and all are primarily the same. What support and resistance show is the level of strength an equity has experienced at a given level. Volume at a level actually helps establish these points.
Click to enlarge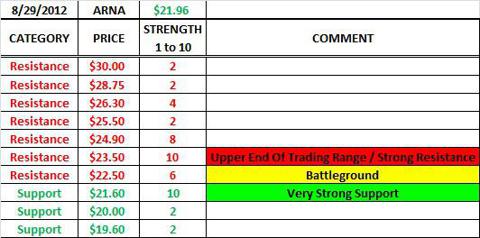 Click to enlarge
With Vivus, I see an equity that is sitting right at a key support level at $21.60. That level is actually very strong, and seems to have established a foundation for the equity to build upon. There is a battle at $2.50, and an even bigger battle at $23.50, but when you have a company with big potential, these levels can be passed. It will take volume, but it can happen. Regardless of that, the sky seems pretty clear above $25. This implies a downside risk of less than $1 and an upside potential of a few dollars for a start. Things get real interesting when we consider the Exponential Moving Averages.
Exponential Moving Averages (EMAs)
At first blush, the Vivus EMA chart looks ugly. In fact, it is a sea of red. Some investors may look at this and run away, but the savvy investor looks deeper. The key with EMA's is that each successive average is above the next. When that happens the signals are bullish. When the opposite is true, the signals are bearish.

Click to enlarge
Vivus closed above the 5 day and 13 day averages. This is bullish and thus the prices are reflected in green. What we are looking for is an entry point. While we would all love to get in at the true bottom, that rarely happens. The goal is to find a point in time when the equity is getting ready to make a run.
Notice that the 5-day average is very close to going above the 13-day average. If that happens, the block below the 13-day average will turn green to indicate bullishness. Take another look, and notice that the 13-day is actually quite close to getting above the 20-day. Essentially, it is my opinion that if Vivus can continue trading above $22, then these technical indicators will begin to move green.
Some traders like to wait for confirmation of signals, and some jump at the first sign of change. Strategies are up to individual investors. What I see is that Vivus is at a good entry point now.
Summary
The fundamental story of Vivus is sound. The company has a compelling new drug that is one of only two that has been approved by the FDA. When it hits the market, it will generate sales to a potentially huge demographic. There is consolidation volume happening now, strong support just below, room to move to higher levels, and exponential moving averages that seem primed to turn bullish. In my opinion, an entry point has been established.
Disclosure: I am long ARNA. I have no position in Vivus. I wrote this article myself, and it expresses my own opinions. I am not receiving compensation for it (other than from Seeking Alpha). I have no business relationship with any company whose stock is mentioned in this article.