It has long been assumed by many investors that acquiring Valueclick (VCLK) would be the first step in "plan B" for Microsoft (NASDAQ:MSFT) if its bid to take over Yahoo  (NASDAQ:YHOO) was unsuccessful. When MSFT's Steve Ballmer recently ruled out a slew of acquisitions of smaller internet players after pulling its bid for Yahoo, ValueClick's stock seemed to lose some of its "takeover bait" premium over the next couple of trading sessions. Since that time, the sell off in ValueClick shares has intensified and the stock has set new 52 week lows three times over the last week as rumors swirl that it is now hunting for some strategic acquisitions of its own. As might be expected, investors appear to be pricing in 1) concerns over dilution that might accompany any acquisition 2) typical "sell the buyer, buy the seller" arbitrage or 3) that an acquisition is signaling the switch of management efforts to acquiring instead of being acquired.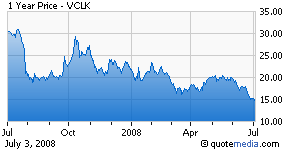 Much of the chatter regarding ValueClick acquisitions has focused on the possibility of their acquiring a company that would gain them entrance to the "Pay Per Click" [PPC] advertising space, the very high margin business that the Google empire was built upon where advertisers bid for placement in search results that are offered when consumers seek information on specific keyword search terms. This business was invented by Goto.com, which became Overture.com and was acquired by Yahoo and is now Yahoo Search Marketing. This space has been dominated by Yahoo and Google (NASDAQ:GOOG), with Microsoft making a late run to gain a foothold in this space and round out "the big three" in the PPC space. While there has always been a "second tier" of companies trying to gain traction in the pay per click space, none have been able to come close to challenging "the big three" for various reasons.

While we are not in a position to know if there is any substance to the rumors, it does seem that the recent upheaval at Yahoo might make a historic opportunity for the right company to make waves in the pay per click space. If a Yahoo/MSFT deal were to reemerge or if Yahoo moves forward with its plans to outsource much of its premium PPC business to Google, the combination of the #2 and #3 players or the #1 and #2 players in this space would leave the door open for another company to slip into the #3 position. While we don't think there is any magic associated with being the #3 player in PPC search, we do think that there are quite a few deep pocketed advertisers out there who view both Microsoft and Google as their most feared competitors and would like to see their advertising dollars flow to someone else, particularly newspaper publishers, magazine publishers, TV, radio and other legacy media companies.

Another factor that could make for a historic opportunity to enter the PPC search fray is the current market valuations of the second tier players. Just over a year ago, all companies in the online advertising space (but particularly the owners of ad networks) were being bid up to new trading highs after the frenzied buying of many of the other players ((ie.Aquantive, Doubliclick, 24/7 Media, Linkshare, Digitas) in this space for large premiums to their trading prices. As the deal volume dried up, much of the money flowed out of these names and many are now trading at historic lows.

The two names we have seen tossed around most often as a ValueClick acquisition targets fit neatly into this category - Miva (MIVA) and Think Partnership (THK).

Miva Media Solutions, previously known as Findwhat.com, is the largest of the second tier networks. With over $100 million in annual click revenue flowing through the company's North American and European networks, Miva stands out as the quickest option for an acquiror looking to gain heft quickly. Miva also owns a number of valuable content sites including the rapidly growing Spill.com, Screensavers.com and WeatherStudio.com in addition to a growing toolbar segment that currently boasts of over 6 million active users.

In addition to offering the possibility of instantly becoming the next largest player in PPC behind MSFT, adding highly regarded content sites and leveraging the possibilities inherent in having an installed base of over 6 million toolbars, ValueClick and others have to look at the current market valuation of MIVA as extremely attractive. With a current market cap of $32.5 million (closing price July 1), no debt and over $22 million in the bank, the same marketplace that one year ago placed a valuation on these operations of just over $225 million is currently placing a value on this same business of less than $10 million. While the $250 million+ valuation achieved during the height of the ad network buying frenzy of a year ago might be on the high side, its hard to imagine that there are not buyers out there willing to pay three or four times the current trading price to take down such a large piece of pay per click market share. ValueClick in particular does seem like a company with the complementary assets, existing clientele and market cache' necessary to take a business like Miva's that is struggling to be profitable and significantly expand the margins by reaching the critical mass of advertisers necessary to ramp profitability quickly. With an existing CPA (Cost Per Action) network and display advertising business that reaches 74% of US internet users, its quite likely that ValueClick's reach and brand name would bring many more advertisers into the fold quickly and also that existing advertisers would be more likely to bid higher and spend more through a ValueClick ad network than they would through Miva owned network.

The company whose name seems to be most frequently mentioned as a takeover candidate for ValueClick is called Think Partnership, (THK). Think Partnership (hereinafter THK) is in many respects similar to ValueClick, albeit a smaller version as it is most widely known for the affiliate marketing platform (Kowabunga) within its "network" segment and the lead generation operations within its "Direct" segment.

THK's Kowabunga is a highly regarded player in the affiliate marketing space that has long been a thorn in the side of ValueClick, whose "Commission Junction" is the largest player in the affiliate marketing space. While Kowabunga is much smaller than Commission Junction, many high profile corporate names have either chosen Kowabunga over ValueClick's Commission Junction when they started their affiliate program (like Microsoft and Yahoo Search Marketing's affiliate programs ) or migrated to Kowabunga after testing the Commission Junction platform (like Intuit). Taking ownership of Kowabunga would make ValueClick's Commission Junction not only the largest affiliate program provider, but also the "go to" provider for the largest names in technology, not to mention that the removal of a competitor like Kowabunga from the playing field might allow them to raise their percentage take on affiliate transactions.

While the lead generation operations within THK's "Direct" segment are much smaller than ValueClick's lead generation ops from a revenue standpoint, THK has actually had more success at maintaining strong margins while steering clear of Federal Trade Commission sanctions. Additionally, the specific niche's served by THK's direct segment (home based business owners and life stage niche marketing) would be complementary to ValueClick's lead generation offerings.

Despite the obvious synergies of the THK businesses above with ValueClick, it is a third aspect that makes it most attractive to ValueClick. THK's ValidClick AdExchange offers ValueClick an entry into the Pay Per Click space with what is arguably the most differentiated offering in the PPC space and also what is likely the fastest growing ad exchange. The ValidClick AdExchange platform combines a unique patent pending technology for eliminating click fraud combined with an exclusive technology alliance with Fair Isaac Corporation (FIC) that uses analytics based on artificial intelligence and patented profiling technologies that adapt to each click and conversion, scoring publishers on their ability to drive conversions for advertisers. This new exclusive partnership with the company whose FICO score has become the standard in the lending industry makes the ValidClick Ad Exchange that much more attractive to a company wanting to differentiate themselves from the pack in the PPC space. It has also caused many of the second tier networks to run their own ads through ValidClick's Ad Exchange to take advantage of its Click Fraud protection.

Recent comments by THK management and our own channel checks in several verticals suggest that the ValidClick exchange is experiencing exponential growth in clicks, searches and revenues generated. In the verticals we tested, we saw more than 100% growth in Q2 over the record clicks and revenue achieved by the network during Q1 2008. This Google-like growth stands in stark contrast to the declines in revenue experienced by most of the other Pay Per Click search networks (including Miva) over the last few quarters as Click Fraud concerns seem to have scared more and more advertisers away from second tier PPC networks. These concerns appear to be making the ValidClick's click fraud prevention technology and alliance with Fair Isaac that much more appealing.

Despite the success of the ValidClick network, THK's stock has recently traded down to a historical low, with a market cap settling in the $27 million range. With its existing business pieced together by acquisitions totaling nearly $90 million over the last three years, several business segments that appear to be flourishing and a company campaign to divest non core assets that could raise cash greater than its existing market cap, we believe that THK might look like a tremendous bargain to ValueClick and more importantly, a quick entry into the PPC space with a unique offering whose technology solves the biggest problem (Click Fraud) plaguing the second tier PPC networks.

We believe that ValueClick is uniquely positioned to make waves in the Pay Per Click space if it should make an attempt to enter the fray. We also believe that the timing is perfect for such an entry. The current Yahoo conundrum that will likely result in only two of the big three Per Per Click networks surviving combined with the capitulation among investors in the small cap online advertising names makes the "perfect storm" and possibly a historic opportunity for a well financed player with a good name to stake a claim to be the new "first tier" player in this highly profitable space. ValueClick's sterling balance sheet (over $160 million with no debt) and scale would likely be attractive to MIVA and/or THK's management team if they are in fact entertaining offers. We believe that they are and note that both have recently announced steps to divest of assets that would not be appealing to a ValueClick or other similarly situated suitor.

We also note that timing is of the essence as there may be some increase in the valuations accorded many of the online advertising assets when Interactive's (IACI) spin off is complete next month and they begin shopping with their $1.5 billion cash war chest and a stock currency whose valuation will be based on the prospects of Ask.com rather than many of the slower growth businesses that plagued IACI's valuation for so long. It will likely take just one deal by IACI, CBS's (NYSE:CBS) recently acquired CNET or one of the other media players who would benefit from owning an ad network to make the valuations move back to historical norms - much higher than where the currently reside.

Disclosure: Long VCLK, THK, MIVA and YHOO.