After watching Toyota Motor Corporation (NYSE:TM), Volkswagen (OTCPK:VLKAY), BMW (BAMXY.PK) and Daimler (OTCPK:DDAIF) pick up most of the luxury-car market share in China, Ford Motor Company (NYSE:F) has finally decided to move into this market with its Lincoln brand. This is exciting for the investors of Ford, as the company has been struggling to make ends meet in all its geographical locations, with the exception of North America. The company will start selling Lincoln cars in China within two years and the company hopes to see a lot of growth in the region.
Lincoln once was a well-admired brand in North America and elsewhere; however, it has lost market share and admiration from fans around the world as the German carmakers and Toyota's luxury brand Lexus started to pursue market share aggressively. Earlier, the company's management refused to market the brand outside of North America until it regains its popularity again. In recent years, Ford has been working hard to reestablish Lincoln as a strong brand name - with partial success. The China move will help in the establishment of this brand.
The fast growing economy of China has attracted a lot of car companies lately. Many car companies are looking at China for growth opportunities, as the economy slows down in the developed nations. Ford has spent $5 billion to enter the Chinese market, and it will have to spend more money onintroducing the Lincoln brand in the country. The company will have to open many dealerships and distribution centers in China to market Lincoln cars in the country.
The Lincoln cars displayed in Beijing look very attractive and the company will make minor changes in its models to make them more appealing to the Chinese people, based on the marketing research done by car companies operating in China. For example, it is said that there is preference for big grilles in front of cars in China.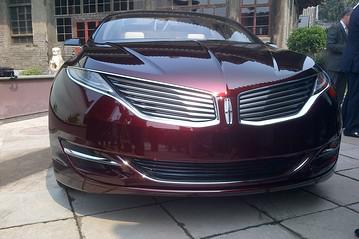 Until Ford is able to produce Lincoln cars in China, it will have to pay an import tax of 25%. This may hurt the company's pricing power significantly and it may be much cheaper in the long run to actually build cars in the country. China's luxury car market is expected to pass the American luxury car market to become the largest in the world by the end of the decade. This is why there is a lot of competition amongst the luxury car brands for the Chinese market. This is also probably why Ford has decided to act quickly on introducing Lincoln to China before it is too late.
According to Bloomberg, Ford enjoys a market share of 2.4% of light vehicles and practically 0% of the luxury vehicles in China at the moment. In turn, the three German car companies BMW, Daimler, and Volkswagen account for more than 75% of the market shares in the luxury cars in the country. While Ford doesn't enjoy much of market share in China, this also means that the company has a lot of room to grow in the country.
Apart from Lincoln, Ford expects to have at least 15 car brands in China by 2015. If Ford's Chinese venture proves successful, this can easily double the company's global earnings within a few years. This means Ford might have a huge upside for the investors in the long term.
On the other hand, I must feel obligated to deliver the risks and potential threats in front of this company in China and elsewhere. First, if the US enters into a recession and Europe doesn't recover from the ongoing recession, Ford's profitability might suffer in these regions. Second, if Ford can't deliver cars to the Chinese fast enough, it might continue to lose market share to competitors. Third, if Ford falls behind in marketing, this might hurt the company's market share. Fourth, if the Chinese economy slows down or crashes like some fear it will, this might hurt the company's growth opportunity in the country.
I personally believe that Ford continues to be a great investment in the long term. If you are planning to invest in this company for only a few months, you can find better value elsewhere (for example, Volkswagen); however, if you want to stay patient for a few years, Ford is a great investment (Volkswagen is still a great investment too).
Disclosure: I am long F, OTCPK:VLKAY. I wrote this article myself, and it expresses my own opinions. I am not receiving compensation for it (other than from Seeking Alpha). I have no business relationship with any company whose stock is mentioned in this article.