Stryker Corporation (NYSE:SYK) is a major orthopedic device maker that also manufactures operating room equipment and hospital beds. Over the past five years, Stryker has lost about 20% of its market value; yet its earnings and sales have risen consistently during the same period. SYK has rising revenue in all three of its segments (Reconstructive, Medical Surgery, and Spine). The research and development expenses have stayed about the same at a healthy 5%-6%, with slight increases.
Stryker has acquired numerous companies over the past several years, which are also shown in its goodwill. As for the balance sheet, Stryker has good levels of cash to cover any short-term liabilities. The net worth of SYK has grown due to retained earnings and some paid-in capital. The long-term debt has also grown in the past two years to about 14% of its liabilities. The debt to equity ratio is still lower than the industry at 0.2 compared to 0.9. SYK's net cash provided by operations (same as operating cash flow) has been stagnant for the past three years rising slightly just like the free cash flow.
Moreover, the valuations look good. As you can see below, SYK is valued better or almost equal to the industry on every statistic.
Click to enlarge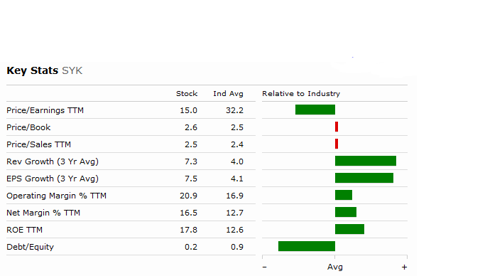 *Provided by Morningstar
Stryker has been aggressively acquiring spine businesses to expand its offerings for the fast growing spine market. In 2011, Stryker acquired Concentric Medical and Orthovita. It also acquired the neurovascular segment from Boston Scientific for about $1.5B. Spine is a largely undeveloped area of surgery, yet the market is approaching that of the knee and hip markets. The low levels of selling of Stryker's product lines or assets is a good sign that the company is not in need of cash and can continue to grow.
Possible Problems
The 2.3% tax on sales of medical devices will hurt the company's earnings. Yet, it will hurt Stryker's competitors' earnings as well. The profit margins in medical devices are large enough to cushion a tax impact, especially if the tax helps increase sales by bringing in more Medicare funding to surgeries. It is too early to suggest any radical ideas. Stryker is adjusting and consolidating its enterprise to accommodate the tax. I think the tax impact is not a big deal, since it affects so many companies, and really will not hurt Stryker any more than other firms.
There has been a bit of insider selling; however, this is not at any unusual level, except for one director, Ronda Stryker. She has been selling 9,000 shares per day for years now and accounts for much of the insider selling. She has declared the selling is not due to a poor company outlook, but for philanthropy purposes instead. There have been numerous articles that highlight her selling as a negative point and a reason to sell. Yet, since it is so regular, I think there is no need for alarm. What is more alarming is the lack of buying or acquisitions of shares by insiders. There has been little buying in the past years. I would like to see more, but the trend is similar to that faced by other medical device manufacturers.
The somewhat recent resignation of the CEO stems from family affairs (or lack thereof) than actual company performance. The CFO has stepped in as the interim CEO and has kept the analysts informed of any changes he plans to make. The firm has confirmed that there is some market share lost in Southern Europe due to lack of action in that area. The company still expects double-digit growth in earnings and I think that is not likely as the weak yen and euro have hurt sales as well and are planned to continue to hurt sales this year.
Recent recalls and studies have shown some infections and adverse tissue reactions for its implants. A new nose implant is suffering from a study showing that is has a risk of infection higher than other types of implants. The hip products Rejuvenate and ABG II also have a recall. The FDA limited a brain stent use which will hurt sales.
Summary
The medical device industry is in a tough place right now. There are pricing pressures and new taxes and regulations. Stryker has lost some market share and posted some recent recalls on products. Yet, though all of that, Stryker has continued to post revenue gains and it currently sits at good valuations.
Do I think that SYK will be the best stock to own in the near future? No, there are better positioned stocks. But I think it will perform better than the industry average, especially if management can turn around and rectify mistakes. The company is positioned well to grow driven by an aging society and international growth, since 37% of its revenue is outside the US. The market is growing and has a stable source for income even in tough economies.
Disclosure: I have no positions in any stocks mentioned, and no plans to initiate any positions within the next 72 hours. I wrote this article myself, and it expresses my own opinions. I am not receiving compensation for it (other than from Seeking Alpha). I have no business relationship with any company whose stock is mentioned in this article.