International Paper Co. (NYSE:IP) is one of my favorite Materials sector stocks. Under the leadership of CEO John Faraci, the company has turned itself around over the past six or seven years. Faraci has promoted a disciplined approach to a rather mundane business. The efforts have restored the business to sound profitability after the 2008-09 recession and returned significant cash to shareholders.
Currently, I believe the stock is at fair value. However, while the stock price may take a short-term breather, the underlying company fundamentals continue to advance. The recent Temple-Inland acquisition is offering cost synergies faster than planned, paving the way to material EPS and EBITDA improvements in 2013. Recent company presentations and management discussion have indicated a large portion of the extra cash will be returned to investors via boosting the already solid cash dividend.
International Paper Co. One-Year Price and Volume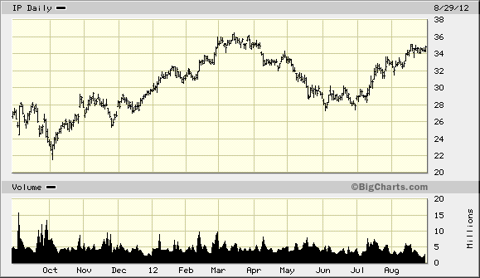 source: www/bigcharts.com
Background
International Paper is a global leader in the paper and packaging industry with manufacturing operations in North America, Europe, Latin America, Asia and North Africa.
For management and financial reporting purposes, the businesses are separated into four segments: Industrial Packaging; Printing Papers; Consumer Packaging; and Distribution.
Fundamentals
International Paper has made great strides over the past several years. The fundamentals remain solid, but fully digesting the Temple-Inland acquisition may take a few more quarters.
Balance Sheet
The balance sheet is generally sound. However, a debt-to-equity ratio of 190% is a red flag; the high debt load was ancillary to the TI deal. The interest coverage ratio (EBIT/Interest Expense) is 2.2X. I would prefer to see coverage of 3x or greater. The 1.8 current ratio and good credit lines indicates ample short-term liquidity.
Company management has stated they intend to reduce debt by $3 billion over the next 24 months, representing a cut in total debt outstanding by over 25 percent. I like the fact that management recognizes the high debt load and openly states their intention to reduce it. IP has an investment grade credit rating. Indeed, senior staff has gone on record stating they intend to keep it, too.
IP holds a respectable $2.81 per share in cash.
Cash Generation and Returns
Return-on-equity and return-on-assets are 15 and 4 percent, respectively. The RoE figure is strong. The weaker RoA number somewhat reflects the TI acquisition: the asset base has increased substantially, but the corresponding return on these assets has not yet normalized post-merger. I went a step further by calculating the ROCE (return-on-capital-employed) based upon year-end 2011 pre-acquisition financials. After stripping out cash and goodwill, the return was 12.6 percent: an acceptable figure.
This compares with the 2012 annualized ROCE of only 6.8 percent.
My view is that management is well on their way to making the Temple-Inland deal work. I expect these return calculations will improve concurrent with the TI business integration. The 2012 second quarter earnings presentation noted that ~$240 million of the anticipated $400 million International Paper/Temple-Inland run-rate cost efficiencies had already been realized.
A corporate strength has been International Paper's demonstrated and consistent operating cash flows. FCF (Free Cash Flow) was $670 million for the three-month period ended June 30. This covered the dividend easily. IP management has stated they will target between 30 and 40 percent of FCF to dividends. Last year, about 27 percent of FCF went towards the cash payout. Anticipated mid-cycle future cash flows of approximately $2 billion annually and the intention to boost the dividend are key takeaways from recent investor presentations. Targeting a 35 percent FCF payout suggest dividends in the order of $1.50 to $1.80 per share. The current annualized dividend is $1.05 per share.
Indeed, the dividend growth investor may find IP an excellent long-term stock to own.
It should be noted that IP has a $2.7 billion pension liability shortfall. However, it was noted at the Investors' Day conference that the 2013 pension contribution will be reduced from ~$500 million to $100 million.
Margins
International Paper chooses to use EBITDA margin as a primary financial metric. On this count, the current situation offers a mixed bag. EBITDA margins have rolled over nominally since 2011.
| | | | |
| --- | --- | --- | --- |
| | 2011 2Q | 2012 1Q | 2012 2Q |
| Sales in $B | $6.6 | $6.7 | $7.1 |
| EBITDA Margin* | 13.7% | 12.5% | 12.4% |
| Cash From Operations* in $M | $648 | $642 | $682 |
| EPS | $0.79 | $0.57 | $0.46 |
*Adjusted for special items.
However, IP has maintained a considerable margin advantage versus their competitors:
Top line sales have improved smartly, but EPS has fallen QvQ and sequentially.
It should be pointed out that despite the recent decline in EPS, International Paper management has not missed analysts' Street estimates going back to 2009. They have a very good record of meeting expectations.
Valuation
International Paper is a well-run company that generates cash. The 3 percent yield is safe and sound. But how about the stock valuation?
Well, here I suggest that the current stock price represents fair value.
The 2012 estimates call for an EPS of about $2.50. My own view is the company will beat the Street and clock in with a figure closer to $2.60. Placing a P/E multiple of 14X on these earnings obtains a target value of $35 or $36. The stock closed today at $34.85.
History indicates management will meet their EPS targets, while the P/E multiple will average about 13 to 15X to the high side. Therefore, I suggest the near-term stock upside is relatively limited.
The daily technical chart shows the stock bumped the $35 ceiling back in March and has flirted with this resistance level again in August. The Fast Stochastic and MACD are looking a bit tired short-term. If the stock does break the $35 ceiling, there is no resistance above that. However, there may not be a catalyst to propel the stock higher until after another positive quarter or two of post-Temple Inland combination earnings.
International Paper Co. One-Year Price and Technical Studies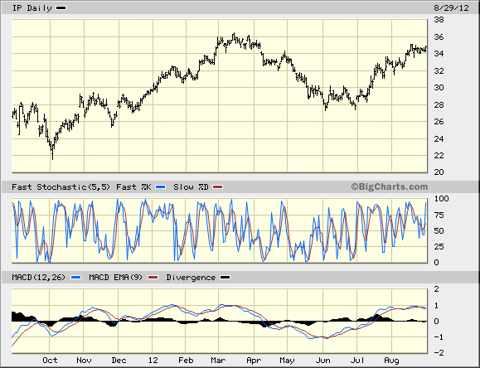 source: www/bigcharts.com
Bottom Line
IP sports a strong management team that has demonstrated their ability to generate forward plans and execute associated operational and financial metrics consistently. Strengths include sound operations, good cash generation, and growing dividends. The three percent yield is safe. The path to substantive increased dividends has been presented to investors for consideration.
Debt management remains a concern, but the company is aware of this issue and has outlined plans to reduce borrowings. Integration of the Temple-Inland business is going well thus far; however, pre-merger historical returns on assets and invested capital have not been realized yet.
The TI deal is the catalyst necessary to drive the company forward; coupled with even a modest global economic recovery. Only about 10 percent of International Paper's EPS is derived from EU crisis countries. Most of the company's international business is concentrated in emerging markets like Brazil and Russia.
While the current stock price does not appear undervalued, the future is promising. A price breakout above $35 would be a welcome signal for technical investors. I believe the fundamentals will take the stock price well above that level, but perhaps not until after another successful quarter or so of post-merger earnings.
Disclosure: I am long IP. I wrote this article myself, and it expresses my own opinions. I am not receiving compensation for it (other than from Seeking Alpha). I have no business relationship with any company whose stock is mentioned in this article.