As of market close on August 29th, the Nasdaq is up +8.6% in the past 3 months, while TiVo (NASDAQ:TIVO) continues to flat-line gaining only +1.6% in the same period. TiVo released an overall positive second quarter earnings report last night after the close, and the Street liked it, moving TiVo 5% higher in the AH market.
The Thing About TiVo
When I last covered TiVo on August 10th, TiVo hovered around $9.00, downside talks were still aplenty, but my article pointed out that the risk versus reward was still extremely favorable for the stock.
We made quite a few predictions earlier this month, so I think it would be worthwhile to revisit our predictions and compare to the actuals released by TiVo yesterday.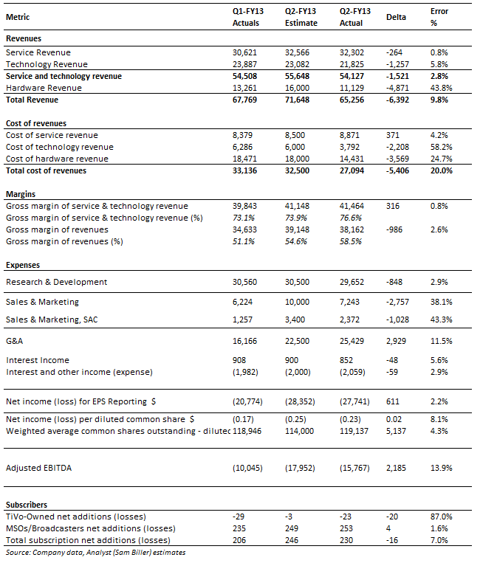 My estimate on service revenue was extremely good (0.8% error), I missed on technology revenue (5.8%) probably due to lower professional service revenue (which TiVo does not disclose), and I missed significantly (44%) on hardware revenue. I was expecting significantly higher retail subscription adds due to the marketing campaign in San Francisco and Boston, but the gross adds were much lower resulting in a reduced hardware revenue number and higher SAC.
From a cost of revenues perspective, it's apparent that the cost of service revenue is easier to estimate than the cost of technology revenue.
The good news is that gross margins continue to improve. The 76.6% margin on service and technology revenue points out how great the margins are on the MSO business where TiVo deploys TiVo software on MSO provided hardware. When hardware revenue is added back into the equation, we see margins drop.
Research and development was slightly lower (2.9%) than I had anticipated and should continue to trend lower for the rest of the year based on management guidance reiterated during last night's conference call.
I missed on Sales & Marketing expenses with my expectations that TiVo had ramped up their marketing efforts approximately 40 percent higher. This number reflects that TiVo continues to take a somewhat conservative approach to retail marketing.
From a G&A perspective, TiVo's litigation expenses were 11.5% higher than my already increased estimate, and there was an unexpected $3.2 million charge related to a lost arbitration on a contract dispute.
TiVo did 2.2% better on net income than I had anticipated and was 2 cents better on EPS (0.23). Adjusted EBITDA was 13.9% better mostly due to operational efficiencies and lower expenses.
Finally, we can turn to subscriber estimates. I had estimated a loss of 3,000 retail subscribers, but TiVo reported a loss of 20,000. This does show a positive trend related to Comcast (NASDAQ:CMCSA) hybrid retail deployment and reflects continued lowered churn metrics. From an MSO subscriber perspective, TiVo gained 253,000 subscribers, which was 1.6% higher than my estimate.
Overall, I am pleased with the fidelity of the model and will continue to tweak for Q3 and beyond.
Earnings Highlights - Lot of positives
On August 29 2012, TiVo announced Q2 EPS of $-0.23, with total revenues increasing 6.7% to $65.3 million, while service and technology revenue, which excludes TiVo's hardware revenue, growing 10% y/y to $54.1 million. The figures were in-line to slightly better than analysts' expectations. It's also important to note that Q2 is traditionally a weak quarter, which has been reflected in recent earnings reports from other TiVo frenemies.
On Sept. 6, TiVo will begin selling its $130 Stream add-on box, which reformats content on TiVo Premiere set-top boxes and uses home networks to stream shows to mobile devices. RCN's Vice President of Engineering and Operations, Jason Nealis, describes the TiVo Stream as a "Game Changer". Dave Zatz provided a surprisingly positive review of the TiVo Stream describing it as "Pretty Killer".
Total subscriptions rose by 230,000, or 41% from the prior-year period bringing total subscriptions to 2.72 million subscribers at the end of the quarter, up from 1.93 million a year earlier.
Net subscriber loss on TiVo's stand-alone (retail) business was only 23,000, 6,000 less than the previous quarter and the lowest level of retail churn that TiVo has reported in over two years. Please see the TiVo Q2 Trend sheet for more details.
TiVo revealed that "momentum is picking up with Suddenlink as they recently had their strongest quarter to date, adding TiVo customers at a faster pace than in prior quarters."
Guidance for Q3-FY13 Improved - Highlights
Service and technology revenues in the range of $57 million to $59 million, which is significantly higher q/q and y/y and reflects continued positive trends in their high-margin MSO deals.
Net loss to be in the range of ($27) million to ($29) million and an Adjusted EBITDA loss to be in the range of ($14) million to ($16) million, reflecting continued pressure being applied by high litigation expenses. With litigation expenses expected to be greater than $10 million in Q3, this conservative guidance reflects that TiVo continues to approach EBITDA break-even and should achieve it (ex-litigation) in the next few quarters.
TiVo acquisition of TRA is expected to be accretive to Adjusted EBITDA in the next fiscal year once planned synergies are realized, but is expected to have a modest Adjusted EBITDA impact of up to $2 million in the second half of this year. TiVo also disclosed during the conference call that TRA is experiencing double-digit revenue growth in the back half of the year from multiple customers.
Other Items Worth Noting
It was also revealed in a TiVo 13G SEC filing yesterday after the market close that Steve Cohen's SAC Capital hedge fund increased their stake in TiVo to 5.2%. This could be viewed as bigger news than the earnings results. More details on the implications of this hedge fund giant taking a larger stake can be found here.
There are some other trends worth recognizing from our updated Subscriber Acquisition Chart (SAC) chart below. MSO hardware revenue continues to decline, reflecting TiVo's continued shift as a primarily a high-margin software user experience provider for advanced television. This also reflects traditional Q2 weakness in the domestic MSO market. I'm glad to see that the MSO hardware subsidy that appeared last quarter reversed, and we see positive revenue of $1.3 million on MSO hardware sales. On the retail front, TiVo's hardware subsidy dropped by over $15 per subscriber which is a very positive trend. The SAC per sub went up due to the increased marketing spend, and I'm concerned that TiVo isn't seeing the ROI on its current marketing dollars. I would suggest that TiVo needs to consider a shift in marketing strategy for retail to improve the penetration rates and gross adds in the TiVo-owned market. I think the TiVo Stream will result in another improvement in retail trends that I will detail in a future report.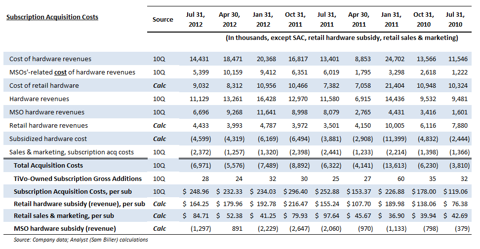 Next Stop: $11.00
I am a believer in TiVo's turnaround story.
In my earlier articles, I had discussed price targets in the late 2013 timeframe near $15/share. Now I am raising the bar for the remainder of the year.
My next stop is around $11.00, and I will revisit the charts and performance hopefully sooner than later in the future. This nearer term speculation is based on a somewhat unproven perspective based on stock price action during the previous 9 reporting periods (see chart below). As can be seen from the chart, TiVo's stock price before and after earnings seems to follow a pattern that may reflect continued positive momentum going into the October Verizon trial. I expect we may be revisiting $11.00 levels within the next few months.

Risks
Macro Risks: TiVo is a high beta stock, so any major sell-off in the Nasdaq would put pressure on the stock in the near term.
Litigation Risks: TiVo is going to trial with Verizon (NYSE:VZ) with jury selection commencing October 1st. An unexpected delay in the trial or an unexpected loss could severely impact the stock price.
Relationship Risks: Tom Roger has hinted at more deals coming, and some analysts are expecting a new European operator to be announced this year. I expect at least one deal on the domestic front with a mid-size MSO and one new deal on the European front from a provider similar in size to Virgin Media (NASDAQ:VMED). There is still some uncertainty as to the timing of the roll out with Charter (NASDAQ:CHTR), so I will continue to closely monitor progress with that important US MSO.
Disruptive Technology Risks: It's possible but not probable in my humble opinion that we will see a big player like Apple emerge as a competitor to TiVo in Advanced Television within the next 12-18 months. I think we are still a few years away from the back-end MSO technology to advance enough to make an OTT player like Apple or Roku a threat to TiVo. Meanwhile TiVo continues to innovate and further embed itself with providers both domestically and internationally.
Conclusion
I believe that TiVo's turnaround is real and I respect the management for their efforts to stay-the-course on their advanced television solution with their MSO partners. At this point, my next stop for reevaluating my TiVo position is now increased to the $12 range. I will likely increase my investment position in TiVo in the next few days.
Disclosure: I am long TIVO, CMCSA, VMED. I wrote this article myself, and it expresses my own opinions. I am not receiving compensation for it (other than from Seeking Alpha). I have no business relationship with any company whose stock is mentioned in this article.