In my January 2012 article "Equal Weighted Versus Valued Weighted: RSP vs. SPY," I demonstrated that equally weighting the 500 constituents of the S&P 500 Index (replicated through RSP) provided a 2.09% annual outperformance between 1990-2011 over owning the capitalization weighted S&P 500 (NYSEARCA:SPY) outright. This same phenomenon extends to equally weighting small cap stocks as well. Standard and Poor's also produces a small cap domestic stock index, the S&P 600 SmallCap Index, in addition to its better known large cap bellwether. This small cap index includes companies with a market capitalization between $300 million and $1.4 billion, annual trading volume of at least 1x market capitalization, and four consecutive quarters of positive GAAP net income excluding extraordinary items. The capitalization-weighted version of this small cap index is replicated through ETFs managed by iShares (NYSEARCA:IJR), State Street Global Advisors (NYSEARCA:SLY), and Vanguard (NYSEARCA:VIOO). The equal-weighted version of the S&P 600 SmallCap Index is replicated through an ETF managed by Guggenheim (NYSEARCA:EWSM).
While the Guggenheim S&P SmallCap 600 Equal Weight ETF has only been around since August 2010, Standard and Poor's has produced an equal-weighted index since late 1995, which provides investors a longer history with which to judge this strategy. The summary statistics below demonstrate that the equal-weighted small cap index has produced annualized returns of 169 basis points more than the small cap index. While equally weighting the small cap constituents produced higher average returns, this strategy also comes with additional risk. A little algebra demonstrates that the equal-weighted version has produced higher risk-adjusted returns historically. If one were to lever the capitalization weighted small cap index to 1.12x, thereby equating the historic standard deviation of returns for the two weighting methodologies, the average return on the levered cap-weighted small cap index would still not be greater than the unlevered equal weighted small cap index, underperforming the equal weighted strategy by 0.38% annually on this risk neutral basis. This 38 basis point alpha is roughly the expense ratio on EWSM (0.42%).

The Fama and French three-factor model incorporates supplementary variables in addition to beta to better describe stock market returns because small cap stocks and stocks with low price to book ratios have historically outperformed the broader market. The equal-weighting methodology leads to a smaller median market capitalization than the capitalization-weighted methodology, biasing the fund to even smaller capitalization stocks. With EWSM not being capitalization-weighted, the equal-weighted nature of the holdings avoids a drift up in the fund's price/book ratio due to increasing weightings to stocks which have produced higher price returns. EWSM is a low-cost way for Seeking Alpha readers to capture both the small cap and value premia in a single fund.
Historical Returns
The cumulative return profiles of the capitalization-weighted and equal-weighted indices are show below since the advent of the equal-weighted index.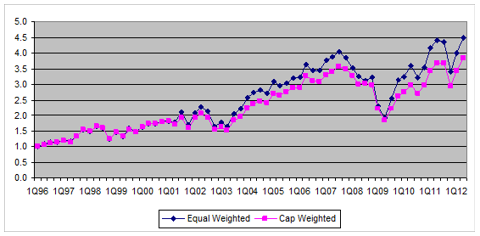 Click to enlarge
Historic quarterly returns of the equal and capitalization-weighted small cap indices are provided below.

Disclosure: I am long SPY. I wrote this article myself, and it expresses my own opinions. I am not receiving compensation for it (other than from Seeking Alpha). I have no business relationship with any company whose stock is mentioned in this article.