This week, BP Prudhoe Bay Royalty Trust (NYSE:BPT) fell to its lowest level since late 2009. BPT was formed as a trust in 1989 by BP Alaska and Standard Oil, two wholly owned subsidiaries of BP PLC (NYSE:BP). BPT holds a royalty interest for 16.4246% of the first 90,000 barrels of daily production from the Prudhoe Bay Field.
BPT is a royalty trust and the company avoids paying corporate tax so long as at least 90% of the trust's profits are distributed to shareholders as dividends. Those distributions are then taxed as personal income, and not at the lower corporate dividend rate. Royalty trusts often own multiple individual claims, though BPT is only involved in Prudhoe Bay, and in the U.S., trusts are not allowed to acquire additional properties once they are formed.
Since royalty trusts are restricted to their initial properties, every royalty trust should be depleted over time, until the trust is eventually dissolved. BPT is one of the largest publicly traded royalty trusts in the United States. Other royalty trusts include the Sabine Royalty Trust (NYSE:SBR), MV Oil Trust (NYSE:MVO) and the Permian Basin Royalty Trust (NYSE:PBT). Unlike most U.S. royalty trusts, BPT is 100% crude oil, where most have a mix of crude oil and natural gas exposure.
According to BPT's 10-K, "it is estimated that royalty payments to the Trust will continue through the year 2027," and though BP Alaska expects continued Prudhoe Bay field production at a declining rate after 2027, "for the economic conditions and production forecast as of December 31, 2011 the Per Barrel Royalty will be zero following the year 2027."
The recent sell-off is appears primarily based upon a fear that BPT's market value was overestimating the present value of this depleting royalty interest, and that investors were bidding up the trust due to retail investor demand for a high present yield. Spreading concern punished shares this week and pushed trading volumes up over twenty-fold on Wednesday. See a 5-day chart for BPT: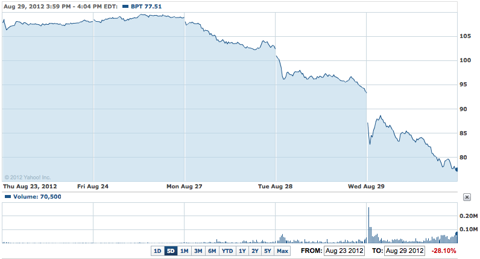 (Click to enlarge)
Much of the problem, here, appears to be based upon the extreme difficulty in evaluating the present value of the future sale of unknown quantities of petroleum for an unknown future period and at an unknown price.
Issues exist regarding the precise degree of oil that Prudhoe Bay, or any field, may produce in the future. With current technology, it is estimated that one could extract about 60% of the oil in Prudhoe Bay, but technological advancements such as fracking could improve the harvest and keep the trust going beyond its forecast. Other factors can also affect future production. For example, since 1998, five satellite fields have been discovered and developed within the unit boundaries of the Prudhoe Bay oil field: Midnight Sun, Aurora, Orion, Polaris and Borealis.
Due to the problem in estimating future production, BPT's estimates substantially change over time, both up and down. While the 2011 estimate was for production through 2027, back in 2009 BPT estimated production through 2023, with production estimated through 2031 back in 2007.
The other real issue in evaluating the future potential payout from BPT is that the future price of oil is unknown. Many investors in BPT may be anticipating that oil prices will increase, where the accounting estimates do not. In reality, predicting the future price of oil is probably even more difficult than predicting the quantity oil that might be coming out of some distant Alaskan oil field.
Yet another issue is affecting BPT. The trust's equity characteristics are contributing to this sell-off, including the trust's usually low volume and generally high level of retail investors. BPT had an average trading volume through the last three months of slightly above 100,000 shares per day, but the trust's trading volume swelled to well over 2.2 million shares on Wednesday. While this trust is normally a pool of long-term investors, with little buying and selling per day, trading activity has become far more frenzied.
Moreover, BPT has an exceptionally large level retail ownership compared to most equities. This is largely because it is an unusual equity, being a mid-cap royalty trust that just became a small-cap. BPT receives almost no attention from Wall Street, and even this recent massive sell-off in BPT has hardly registered on the financial news. But where it has registered is with BPT's income oriented retail investors, many of whom may now be forced sellers. Investors may have things like stop-losses set up to automatically trigger sales when an investment has fallen below a designated level. Some of the selling that has occurred is likely based upon such loss limits being breached.
Similarly, retail investors often get themselves in trouble with things like margin calls. While the losses have been substantial in real terms over the last few days, taking the company down by about one-third, on-margin investors would have multiplied their sensitivity to this loss. This issue has likely triggered at least some margin calls this week, and possibly more to come. The result of this is that many once happy BPT investors have become burned and jaded prior BPT investors.
Value investors are often fond of stating that the time to buy is when there is blood is in the streets. Right now, there is blood in the bay, and I have decided to start buying into this selling. While it may be true that BPT was previously somewhat richly valued, this condition has now largely corrected and the risk/reward characteristics of this non-perpetual but still long-term cash machine look better than they have been in the last three years.
Disclosure: I am long BPT. I wrote this article myself, and it expresses my own opinions. I am not receiving compensation for it (other than from Seeking Alpha). I have no business relationship with any company whose stock is mentioned in this article.