Just when you thought there would be no wonder drug for rising levels of obesity around the world, and particularly the U.S., two companies, Arena (NASDAQ:ARNA) and Vivus (NASDAQ:VVUS), received FDA approvals for their obesity drugs, which have the potential of making a turnaround in the market. Arena got FDA approval for its drug Belviq in June, followed by Vivus' Qsymia in July.
Obesity drugs have a large global market. 500 million adults around the world are obese, and the number is expected to grow significantly in the coming years. It is expected that by 2030, over 40% of the U.S. population would be affected by obesity. This would bring an additional burden of $549.5 billion in the shape of medical expenditures. The importance of an obesity drug has increased over the recent years, as people all over the world suffer from health problems caused by obesity. Furthermore, the obesity drug market is expected to reach $6 billion a year.
Arena (Belviq)

Vivus(Qsymia)

FDA Approval

Granted
27th June 2012

Granted
17th July 2012

European Approval

Pending

Pending

Expected Launch in U.S.

4Q2012

1Q2013
The drugs by Arena and Vivus were the first ones to get an approval from the FDA in the U.S. since 1999. In 2010, both drugs were rejected by the FDA due to safety concerns. Belviq and Qsymia are expected to be the primary sources of revenue for Arena and Vivus, respectively. The futures of both companies are dependent on these drugs. The share prices of Arena and Vivus have increased by ~380% and ~120% respectively YTD. Arena's stock was down by ~10% on the day that Qsymia got FDA approval. Both companies have high growth potential; Arena is expected to grow at a rate of 25% and Vivus at 51% per annum for the next five years.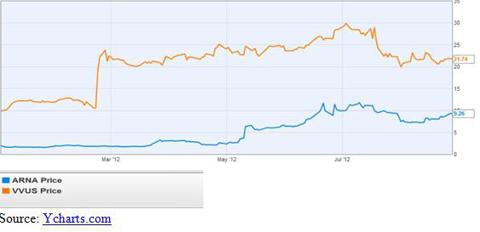 Click to enlarge
Qsymia is a more effective, but risky obesity drug, as compared to Belviq. Qsymia helped in losing weight around an average of 8.9% over those taking placebo, in contrast to Belviq's average weight lose of nearly 3.5% greater than those taking placebo. Due to being more risky, Qsymia has to follow an REMS program, under which it will have certain conditions attached to it. This means patients using Qsymia will have to go through specified testing and paper work due to its safety issues. Qsymia will be distributed by mail order through certified pharmacies, whereas Belviq will be available from any pharmacy. These factors might adversely affect Qsymia's target market, giving Belviq an edge to tap a greater market share.
Belviq might be a popular choice for customers in future due to being less risky. Risks associated with obesity drugs are important catalysts for these stocks; Abbot (NYSE:ABT) pulled out its obesity drug Meridia due to health safety issues.
Vivus will have an edge over Arena, as Qsymia is expected to be in the market by the fourth quarter of 2012, whereas Belviq is expected to be launched in early 2013. This will give Vivus an advantage to build a strong customer base for its obesity drug, ahead of Arena. Both companies are waiting for European approvals for their drugs, which are expected in the first half of 2013. Arena has executed a distribution and sales contract for the U.S. market with Japanese company Eisai. It still has to decide on its marketing rights for markets outside the U.S.
Arena's 0.67% and Vivus' 4.9% of shares are held by insiders. Institutional holding for Arena is up by 18.5 million shares, meaning 29% of shares are held by institutional investors; on the other hand, Vivus experienced a net decrease of 5.7 million shares, representing 64% shares held by institutions for the quarter ending June 30. Vivus does not have debt on its balance sheet, which gives it an advantage to get debt financing in future for any unexpected events. Separately, Arena debt-to-equity is 69.
Orexigen (NASDAQ:OREX) is another company that is working on its weight reducing drug, Contrave. Contrave is still to get FDA approval, which is expected in 2014. After the recent weight loss drugs approval by the FDA, the probability of Contrave being approved is high. Orex offers a decent growth rate of 15% per annum for the next five years.
| | | |
| --- | --- | --- |
| | Arena | Vivus |
| EPS 2014 | $0.12 | $1.86 |
| EPS 2015 | $0.38 | $3.45 |
| EPS 2016 | $1.45 | $4.8 |
| S&P Average P/E | 15x | |
| Target Price | $17.4 | $41.4 |
We discounted the earnings of both companies by 20% due to uncertainty associated with both.
Using the S&P average P/E of 15x, we estimated Arena's price target of $17.4 based on expected 2016 discounted earnings. Using the same P/E multiple, we estimated Vivus' price target of $41.4 based on expected 2015 discounted earnings. We think the P/E multiple used can be greater than 15x, considering the high growth forecasts for the companies.
Disclosure: I have no positions in any stocks mentioned, and no plans to initiate any positions within the next 72 hours.
Business relationship disclosure: The article has been written by Qineqt's Healthcare Analyst. Qineqt is not receiving compensation for it (other than from Seeking Alpha). Qineqt has no business relationship with any company whose stock is mentioned in this article.