The notoriously difficult hard disc drive ("HDD") industry has recently undergone major consolidation: Seagate (NASDAQ:STX) absorbed Samsung's HDD business on December 11, 2011; and Western Digital (NYSE:WDC) acquired Hitachi Global Storage Technologies ("HGST") on March 8th, 2012.
In this piece, we are going to focus on one half of this duopoly: Western Digital. For those interested in Seagate, I've written about them here.
Founded in 1970, Western Digital has been crowned the largest hard disc producer in the world. As of last quarter, Western Digital's share represented approximately 44% of HDDs shipped. (Seagate's share represented approximately 42% of all units shipped.) In addition to the large market share, the flooding in Thailand created a supply and demand disequilibrium that forced up the price of HDDs generally - and both companies have benefited.
Industry Cycle
The industry has typically had a two-year product cycle. This is to point out that overall industry gross margins will probably fall in the near term, before, subsequently, rising again - that is, if the past is any guide to the future: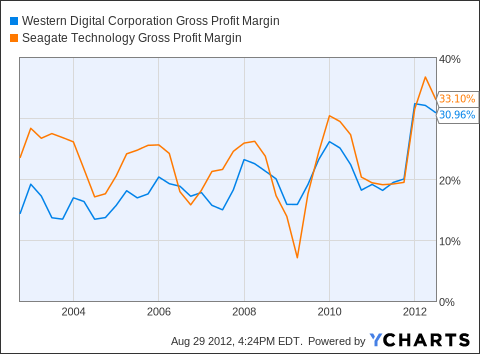 WDC Gross Profit Margin data by YCharts
Further, cash generated from operations follows a similar pattern - although, Western Digital mitigates it more than Seagate: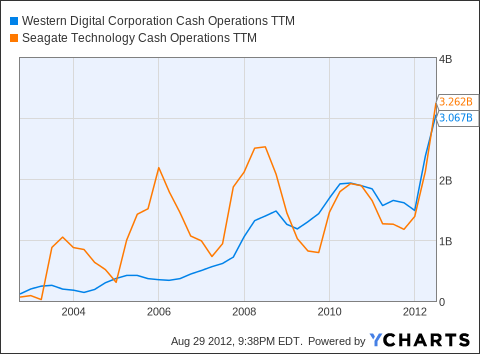 WDC Cash Operations TTM data by YCharts
All this is to say that we need to be careful when valuing Western Digital because of where we are within broader industry trends.
Thailand
We also need to be careful because this past year has allowed for greater than normal prices, or higher average-selling-prices ("ASPs"), due, again, to the supply disruption. In Western Digital's recently released fiscal 2012 10-K, we find:
"Fiscal Year 2012 Compared to Fiscal Year 2011

Net Revenue. Net revenue was $12.5 billion for 2012, an increase of 31% from 2011. Operations from HGST contributed $3.1 billion in net revenue. Total hard drive shipments in 2012 decreased to 202 million units as compared to 207 million units for the prior year. The increase in net revenue resulted primarily from a $17 increase in ASP from $45 to $62, partially offset by lower shipments. These changes were as a result of the severe supply constraints across the hard drive industry brought about by the Thailand floods." (p. 38)
Therefore, when looking forward, we have to view the world as it was before this current blip in supra-profitability.
Price Erosion
HDDs are interchangeable products: most people probably do not know which company made the HDD in their computer. They are also a "commodified" product, or a product which has the trait of increasing unit volumes and decreasing unit price.
Before the supply and demand disruptions due to the flooding in Thailand, the trend of prices was quite a bit different:

(source: Western Digital 2011-10-K, p. 34)
As you can see, average selling price was declining before the start of fiscal 2012. While this past year was a break from this trend, we can be assured that such a declining trend will continue. A notable quote from Seagate 2011 10-K:
"To the extent that the disk drive industry builds capacity based on expectations of demand that do not materialize, price erosion may become more pronounced. Conversely, during periods where demand exceeds supply, price erosion is generally muted." (p. 6)
So ASPs will re-enter their decline once supply catches up with demand. And to express how different this past year was, let's remember that Western Digital had a fiscal 2012 ASP of $62 per unit. The last time they had an ASP like that was in 2004, in which they had an ASP of $63 per unit (see Western Digital fiscal 2004 10-K, page 18).
Industry Growth
The HDD industry shipped 599 million units this past year, down from the fiscal 2011 count of 657 million. In late summer 2011, before the Thailand floods, it was projected that the HDD market would grow about 4% that year. If those demand projections were correct, we ought to watch for ASPs to re-enter their decline when industry supply finally catches up with the projected demand, or, rather, when Seagate and Western Digital (and the remaining 14% of manufactures) produce 683 million drives cumulatively (657 million * 4% growth). But on top of the current supply and demand dislocation, significantly more demand is expected by Western Digital. According to page 4 of their 2012 10-K:
...[Western Digital] believes that the annual growth of petabytes stored will be approximately 33% between calendar 2011 and calendar 2016.
Some Basic Details
To finance their purchase of HGST, Western Digital issued 25 million shares of common stock to Hitachi (HGST's old parent) - who now owns 10% of Western Digital. The purchase price was $4.7 billion in cash, the issued shares, and also new debt. Illustrated in the hockey stick graph below: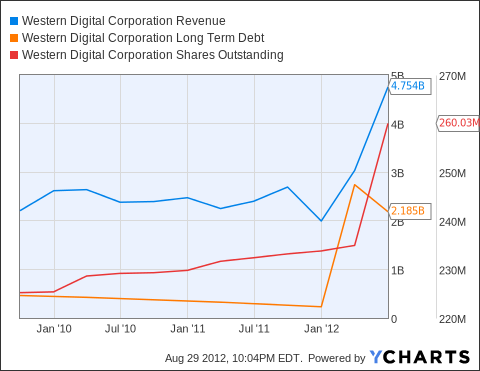 WDC Revenue data by YCharts
While the stock issuance diluted the stockholders, the debt is no problem - their cash position greater than the total debt. And as you can see above, the combined revenues make for a pretty picture.
Valuation
Using standard P/E, we see that, for two companies who just secured themselves a duopoly, they have rather low P/Es: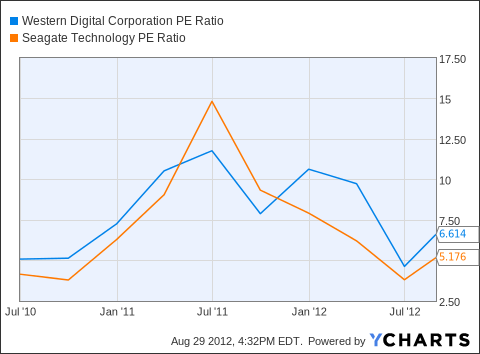 In inverse proportion to the low P/E, we see that their FCF1 yield has increased with their lower share price: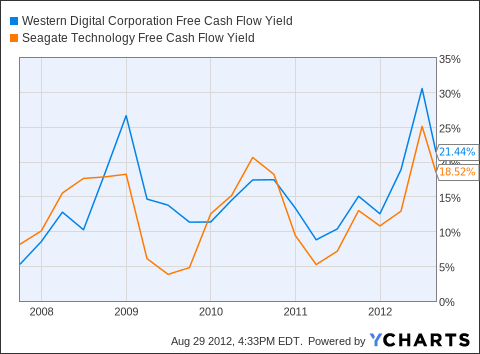 Conclusion
Those free-cash-flow yields are fantastic - no question about that. So the question is can these rates of earnings continue? While I hope that I demonstrated that the profitability Western Digital and Seagate achieved last year is unique in many respects, it is likely that the industry consolidation has put them on a powerful new footing.
As stated earlier, we will likely continue to see the characteristic fluctuations in the gross profit margin due to the industry's product cycle. So, with both (1) the resumption of a declining trend in ASPs and (2) the end of peak gross profit margins in the near term, I still believe that the duopoly that these two companies have forged is incredibly valuable.
Perhaps the market is taking into account the unique results of the past trailing twelve months, but the current market price may not be taking into account the fact that the industry is now mainly split between two parties.
FCF = Operating Cash Flow - Capital Expenditures
Disclosure: I have no positions in any stocks mentioned, and no plans to initiate any positions within the next 72 hours. I wrote this article myself, and it expresses my own opinions. I am not receiving compensation for it (other than from Seeking Alpha). I have no business relationship with any company whose stock is mentioned in this article.