Oil continues to be a major factor in the overall profitability of airlines, and its unpredictability hampers any meaningful analysis. Nonetheless, we believe that US Airways (LCC) has strong fundamentals and is currently undervalued in the market; analysts estimate an upside potential of ~70% for the stock. A lot seems to be going the company's way of late, with its un-hedged positions being paid off with a fall in fuel prices (in Q2 2012) and US Airways' interest in a possible merger with American Airlines (AAMRQ.PK) has recently made analysts more optimistic.
In fact, the industry as a whole has steadily transformed into one that is implementing effective cost control methods since its largest determinants of performance, the general economy and fuel prices, are unmanageable and volatile. Since other airlines, such as Alaska Airline (NYSE:ALK) and JetBlue (NASDAQ:JBLU), failed to express their intent for a merger, US Airways remains the lone contender for the transaction that will propel the company to becoming one of the largest airlines along with competitors Delta (NYSE:DAL), United Air Lines (NYSE:UAL), and Southwest Airlines (NYSE:LUV). An upward trend of oil prices coupled with weaker demand in the economy will lead to lower estimates for US Airways, but analysts have maintained their rating on the stock.
Click to enlarge images.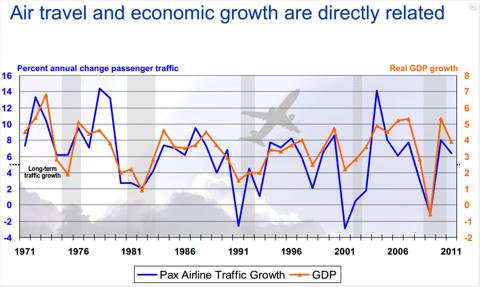 Oil prices picked up in late June this year amid falling inventories and the deteriorating geopolitical situation in the Middle East. Furthermore, the escalating civil war in Syria and a possible confrontation between Iran and Israel have scared traders, which has pushed oil prices up. Crude oil inventories fell in the week ended Aug. 17 by 5.4 million barrels, according to the EIA weekly petroleum status report. But the report also notes that while inventories have in fact fallen over some weeks, the current inventory levels of 360 million barrels are above the upper limit of the average range for the year.
With the world economy slowing down (including nations such as China), the peak season for demand near its end, and the oil supply -- being much more abundant than most traders would like to think -- the market should be making a correction, and theoretically oil prices should come down. This could be a particularly lucrative scenario for US Airways, which had left its oil exposure un-hedged and benefited from the last decrease in prices. But logic doesn't seem to prevail in the oil market, and news from the Fed relating to quantitative easing might be the ultimate driving force, which will only prolong the upward trend. If prices continue their climb (based on falling supply and anticipated further Fed quantitative easing), and they are just away from their six month high of $106, the oil conundrum will weaken the outlook for US Airways.
Earnings Review
Total operating revenue for the second quarter ended June showed an improvement of 7.17% quarter over quarter. Fuel and other related expenses represented 27% of total operating expenses and declined by 4.4% quarter over quarter. Diluted EPS stood at $1.54 against a year ago figure of $0.49. The company fully benefited from the decline in fuel prices in the second quarter. Average price per gallon of fuel was $3.18 as compared to $3.29 for the same quarter last year. Revenue per available seat mile (RASM) improved by 6.1% and stood at 16.3 cents. Table I compares RASM and load factors of US Airways' competitors.
Table 1 (figures are for second quarter ended June 2012)
| | | | |
| --- | --- | --- | --- |
| | US Airways | Alaska Air Group | JetBlue Airways |
| RASM (cents) | 16.3 | 15.23 | 12.82 |
| Load Factor (%) | 86.5 | 83.4 | 85.3 |
Source: SEC filings.
Tables 2 and 3 (see below) show revenue growth and OCFs, and compare debt figures for US Airways with those of its competitors. They reveal that although the airline has not been managing its debt levels efficiently, the company's strength can be gauged from its strengthening operating cash flows and revenue growth over the quarters. Estimates provided by Bloomberg show a mean EPS of $3.373 for 2013 and $4.056 for the following year.
Table 2
| | | | | |
| --- | --- | --- | --- | --- |
| | Q3 2011 | Q4 2011 | Q1 2012 | Q2 2012 |
| Rev Growth (%) | 8.08 | 8.53 | 10.30 | 7.17 |
| OCF(thousands) | (104,000) | 7,000 | 417,000 | 436,000 |
Source: Y-Charts.
Table 3
| | | | | |
| --- | --- | --- | --- | --- |
| | US Airways | Southwest Airlines | Alaska Air Group | JetBlue Airways |
| D/E (mrq) | 877% | 48% | 89% | 157% |
| Int. Coverage | 1.8x | 6x | 8x | 1.9x |
Source: Reuters.
The stock has been flying high ever since news broke of a possible merger with American Airlines, and is now trading at $10.81, up by almost 95% YTD. The proposed merger could help US Airways in several ways, including an improved top-line performance, expanded geographical reach, and expected (and much needed) cost synergies in a highly competitive environment.
Valuation
It's true that sluggish economic growth and geopolitical concerns can hurt the broader Airlines Industry, but analysts remain convinced that the industry will continue its path of profitability this year and extend it well into 2013. US Airways is currently trading at 4.5 times EV/EBITDAR (NTM), below its historical average of 5 times, and at a P/E ratio of 3.4 times (NTM). It is also trading below JetBlue's EV/EBIDTAR multiple of 4.8 times. Analysts' mean estimated price target is $17.05, and none of the analysts have rated the stock a sell.
Disclosure: I have no positions in any stocks mentioned, and no plans to initiate any positions within the next 72 hours.
Business relationship disclosure: The article has been written by Qineqt's Consumer Discretionary Analyst. Qineqt is not receiving compensation for it (other than from Seeking Alpha). Qineqt has no business relationship with any company whose stock is mentioned in this article.