Transportation services company FedEx (NYSE:FDX) faired reasonably well in its previous quarter, in spite of slowing business in Europe. But, can FedEx continue to perform well with slowing in China as noted by Caterpillar (NYSE:CAT), discussed here, in addition to slowing in Europe? Engine maker Cummins (NYSE:CMI), discussed in this article, confirmed slow growth in China, as well as slow growth in Brazil and India in its Q2 2012 earnings call held on July 31, 2012. It doesn't sound too good for FedEx with slow growth in Europe, China, Brazil and India.
In FedEx's 2012 Annual report (pdf), 30% of the company's total revenues were generated internationally, so slowing growth in Europe, China, Brazil and India could put a pretty big dent in the company's earnings results to be reported in the upcoming quarterly earnings release/call scheduled for September 18, 2012. Additionally, in order to reduce costs and improve efficiencies, FedEx recently announced an offer for voluntary buyouts to eligible employees. Sounds like FedEx is preparing for a slowdown in business.
FedEx's stock price is about where it was two years ago, after taking a plunge a year ago as shown below: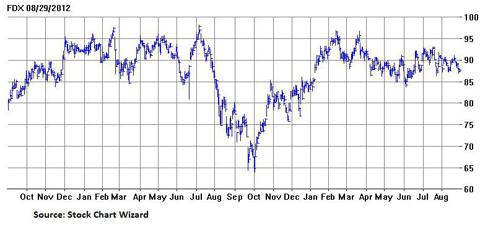 With slow international growth and FedEx's upcoming earnings release/call, an investor in FedEx might consider entering a protective position for the company such as a collar/protected covered call. The protected covered call can be entered by selling a call option against a stock and using some of the proceeds from selling the call option to purchase a protective put option. The protected covered call positions for a potential return, even if the price of the stock remains stagnant, and protects in case the stock's price takes a dramatic drop.
Using PowerOptions, a variety of protected covered call positions are available for FedEx as shown below: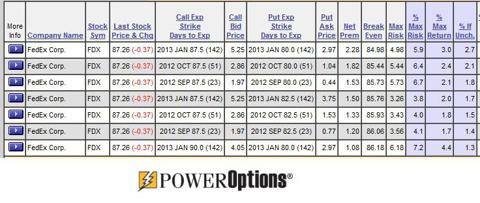 The top position with expiration in January of 2013 looks attractive with a potential return of 2.7% (6.9% annualized) and a maximum potential loss of 5.9%. The returns in the table above do not include consideration for expected dividend payments. The top position when considering expected divided payments has a potential return of 3% (7.7% annualized) and a maximum potential loss of 5.6%. So, even if the price of FedEx's stock drops all the way to zero, the maximum loss which can be sustained is 5.6%. The specific call option to sell is the 2013 Jan 87.5 at $5.25 and the put option to purchase is the 2013 Jan 80 at $2.97.
FDX Protected Covered Call Trade
FDX stock (existing or purchased)
Sell FDX 2013 Jan 87.5 Call at $5.25
Buy FDX 2013 Jan 80 Put at $2.98
A profit/loss graph for one contract of the FedEx protected covered call is shown below: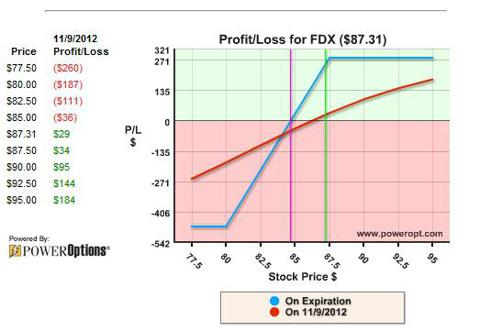 For a stock price below the $80 strike price of the put option, the value of the protected covered call remains unchanged. For a stock price above the $87.5 strike price of the call option at expiration, the position experiences the full potential profit of 3% (7.7% annualized). If the price of the stock increases to above $95, then the position can most likely be rolled in order to realize additional potential profit.
Disclosure: I have no positions in any stocks mentioned, and no plans to initiate any positions within the next 72 hours. I wrote this article myself, and it expresses my own opinions. I am not receiving compensation for it (other than from Seeking Alpha). I have no business relationship with any company whose stock is mentioned in this article.