In this article, we'll analyze Goldman Sachs (NYSE:GS), the diversified investment firm. We'll examine Goldman Sachs as an equity investment: We'll research the valuation, industry, financial position and performance.
The preliminary reading of U.S. gross domestic product was released on Wednesday: The reading came in at 1.7 percent. Growth in the world's largest economy is slow which is negative for the earnings and cash flow of Goldman Sachs. Further, the most recent release of the pending home sales report came out on Wednesday: The reported showed further signs of healing in the housing market. The improved outlook of the housing market is a positive for earnings and cash flows at the investment bank. Additionally, personal spending was up 0.4 percent m/m.
Industry
There is disagreement as to what industry Goldman Sachs belongs. Some sources say diversified investments and others say money center bank. For the purpose of identifying competitors I'll use my knowledge: Goldman Sachs competes with JPMorgan (NYSE:JPM), Bank of America (NYSE:BAC), Morgan Stanley (NYSE:MS), and Credit Suisse (NYSE:CS). The firm's competitors are too numerous to list. Clearly the industry categorization as a diversified investment firm, meaning they compete with NYSE Euronext and Intercontential Exchange, is incorrect. Further, Goldman Sachs isn't really a money center bank. The investment services industry would probably be the best category for Goldman Sachs, although the sources I used don't place the firm in that industry.
Anyway, the firm's principle business activities are investment banking, securities and investment management. Goldman Sachs is cyclical: The firm's revenue, earnings and cash flow are strongly correlated with the economic cycle. Goldman Sachs is a mature company that primarily operates in mature markets, however, the firm does benefit from sales in high growth, less developed markets.
Also, the firm faces some headwinds from government influence. The regulatory environment is unfavorable. The increase in required capital buffers and the ban on proprietary trading should weigh on revenue, earnings and cash flow going forward. The firm's investors will have to adjust to the new normal. Further, the de-leveraging consumer should weigh on revenue growth for some time to come. The industry is dominated by a few large players and there is competition among the investment banks to provide the highest valued service to clients. There is a threat of new entrants: As financial service firms grow they will have the ability to compete with the major investment banks. Currently, the industry is concentrated with strong pricing power.
Rating System
Buy - Be long
Neutral - No Position
Sell - Be short
(The ratings, research and analysis in this article should be considered as starting point for further research.)
Goldman Sachs - Sell or Neutral
Investment Thesis
Principally, this isn't the time to be investing in financial services firms: We are in the middle or nearing the end of the economic cycle and financial are early cycle leaders. Further, Goldman's financial performance is poor. Professional investors should look into short selling the firm during a broad market decline.
Financial Position and Performance
In 2012's second quarter, revenue declined 10 percent, compared to the year-ago quarter, to $8.59 billion. Operating income declined 12 percent to $1.42 billion. The operating margin went from 16.9 percent to 16.5 percent. Net income declined 11.5 percent to $962 million. The profit margin went from 11.4 percent to 11.2 percent.
Cash and short-term investments was $58.91 billion. The firm has $722.7 billion of long-term investments. That said, total assets increased from $923.23 billion, at the end of 2011, to $948.64 billion, a 2.8 percent increase. Goldman Sachs has $221.68 billion in accounts payable: Roughly $200 billion of accounts payable is standard operating procedure for Goldman Sachs. Total liabilities increased 2.7 percent to $875.78 billion. The long-term debt to equity ratio declined from 2.58 to 2.42. Debt to equity declined from 4.13 to 3.84. The financial leverage ratio went from 13.12 to 13.02: Goldman Sachs uses a relatively large amount of financial leverage.
In the first six months of 2012 earnings were high quality. Further, Goldman generated enough cash from operations to cover capital expenditure, cash used in investing activities, and cash used in financing activities. Cash flows are relatively stable. Cash flow from operations was 18 times the size of the dividend payment and 1.68 times the size of the debt payment. The debt coverage ratio is 0.03 and the cash to income ratio is 1.24.
Overall, performance was weak. Goldman Sachs is highly leveraged and I don't consider the financial position to be strong. However, cash management performance was excellent.
Segment Data
Revenue from the institutional client services segment, the largest segment by revenue, increased 10.6 percent to $3.89 billion compared to the year-ago quarter. Revenue from investment banking, and investing & lending declined. Revenue from investment management increased 4.6 percent.
The decline in total revenue is caused by a decline in revenue from investing and lending. Further, the weakness in the firm's performance is coming from the North American unit.
Litigation
Goldman Sachs is involved in a substantial amount of litigation: The outcome of the litigation could have a short-term adverse material impact on earnings, and cash flows.
Some of the litigation stems from the housing crisis and others stem from the bursting of the technology bubble.
Company v. Industry [TTM]
Return on Assets: 0.39 v. 0.32
Return on Investment: 0.68 v. 0.62
Return on Equity: 5.17 v. 0.82
(The company versus industry data is courtesy of Reuters.)
Valuation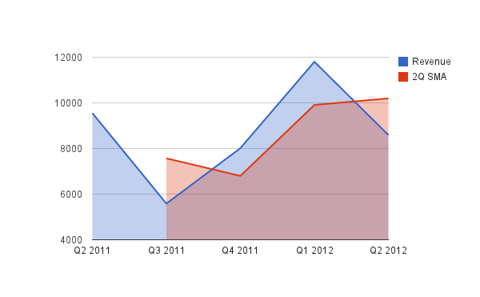 Click to enlarge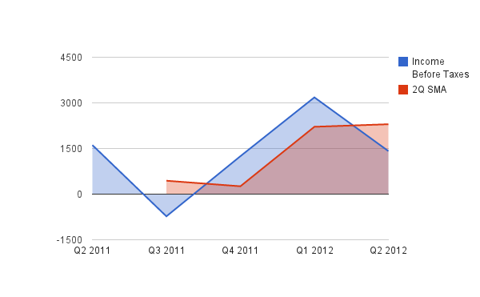 Click to enlarge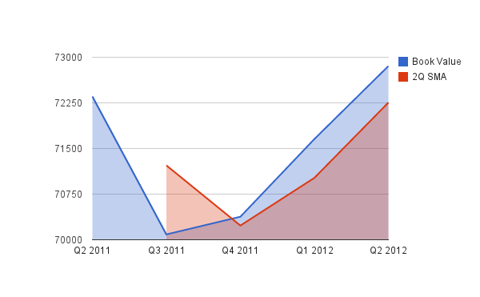 Click to enlarge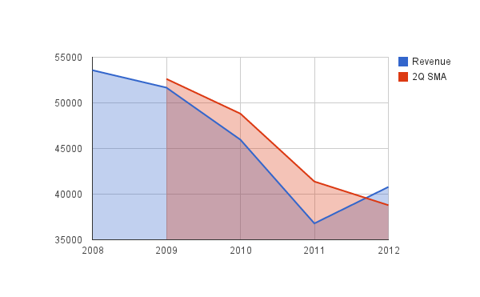 Click to enlargeRevenue has declined since 2008, however, I am expecting revenue to increase this year. Although revenue is declining, the firm has increased book value.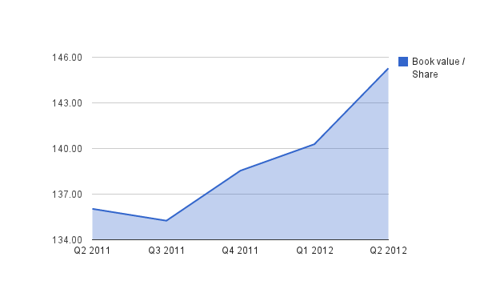 Click to enlarge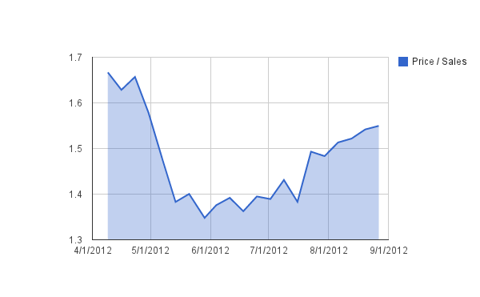 Click to enlarge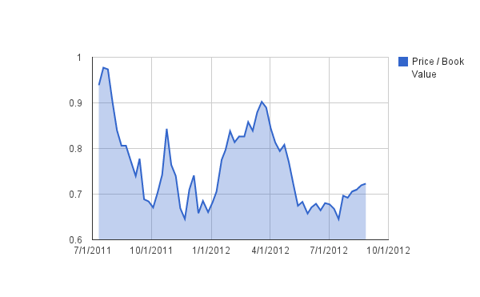 Click to enlarge
The price-sales ratio suggests the firm is fairly valued. The price-book value ratio suggests investors don't believe the company's growth prospects are favorable.
Disclosure: I have no positions in any stocks mentioned, and no plans to initiate any positions within the next 72 hours. I wrote this article myself, and it expresses my own opinions. I am not receiving compensation for it (other than from Seeking Alpha). I have no business relationship with any company whose stock is mentioned in this article.
Disclaimer: This article is not meant to establish or continue an investment advisory relationship. Before investing, readers should consult their financial advisor. Christopher Grosvenor does not know your financial situation and ability to bear risk and thus his opinions may not be suitable for all investors.