Serious losses were already in the offing for struggling pulp, paper and wood products producer AbitibiBowater Inc. (ABH), with a consensus forecast among analysts of a $2.29 per share loss for the second quarter. But even that dreary consensus may be optimistic, Citigroup Global Markets analyst Chip Dillon wrote in a recent research note.
He wrote:
With many fossil fuels costs now up 30% and more from first quarter levels, we are taking our 2Q estimate down by $(0.75) from $(2.25).
That adds up to a new loss estimate of $3 per share in the coming quarterly results.
The reason, Mr. Dillon wrote, is not failed company policy, which has worked to boost prices for its products, and seems largely to have worked.
He wrote:
We believe ABH's price increase initiatives are meeting with complete success. However, we see unit costs up close to 5% 1Q to 2Q, which is wiping out most of the benefits from price increases and synergies.
Using the same logic, he also slashed his 12-month price target for the stock from $35 to $28.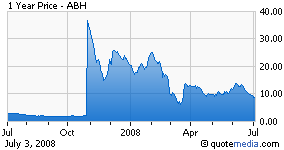 With all of that negative sentiment, then, it may come as a surprise to hear Mr. Dillon has maintained a 'speculative buy' rating on the company, based on what appears to be a hope that energy prices will subside and the industry's woes will result in a better market for its goods.
He wrote:
Although ABH is a high risk stock, the upside is huge, especially if the cost stranglehold is broken while pricing momentum is maintained.