White knuckles and shaky knees abound as the bear's growl grows louder.
While on the road in Switzerland (where even the gnomes are gloomy), I have put together a table of global stock markets' performance – over various measurement periods and in both local currency and U.S. dollar terms. The numbers speak for themselves and can best be summarized in a single sentence: "Nowhere to hide." The Wall Street "leash effect" remained paramount, and decoupling nothing more than a theoretical myth.
The terrible performance during June, with especially the previously high-flying Chinese and Indian markets bearing the brunt of the selling pressure, was well-covered in the financial media.
Notwithstanding the poor showing in June, the second quarter was not all that bad as shown by the fairly flat performance of both the MSCI World Index ( 2.5%) and the MSCI Emerging Markets Index (-1.6%). Some indices such as the Nasdaq Composite Index (+0.6%) and the Russell 2000 Index (+2.2%) managed positive returns, but it was the Russian Trading System (+12.9%) the Brazilian Bovespa Index (+6.6%) and the Japanese Nikkei 225 Average (+7.6) that showed the rest a clean pair of heels.
The year-to-date performances (i.e. first six months of 2008) were all negative by double digits, with the exception of the Russell 2000 Index (-8.9%). But the really interesting figures were those since the respective bourses' bull market highs. These numbers show the vast majority of stock markets to have entered bear markets, at least as far as the somewhat arbitrary "official" definition of a decline in excess of 20% is concerned.
As a result of the slide of the U.S. dollar over the different measurement periods, the performance of those stock markets where the local currency strengthened against the greenback (pretty much all markets) obviously look better once expressed in U.S. dollar terms (see second table).
A tradeable rally is probably not too far off, but the primary trend of most global stock markets remains down. Trying to squeeze out a few basis points from a bounce could turn out to be a high-risk strategy, particularly as long as the oil spike persists, causing sentiment and other overbought/oversold indicators to become even more oversold before a meaningful rally manifests itself.
Bill King (The King Report) said:
Stock market technicals are so horrid that one should not attempt to play for a rally even though stocks are extremely oversold. In a bear market an extremely oversold condition with horrid and degenerating fundamentals creates the conditions for an abnormal storm – hint, hint, hint. Numerous pundits and analysts have been calling for a market bottom for weeks if not months due to sentiment readings. They don't understand the environment now is far different than a couple years ago.
In short, this is a DANGEROUS market in which to try to pre-empt short-term movements. In the words of Doris Day: "The future's not ours, to see, Que Sera, Sera."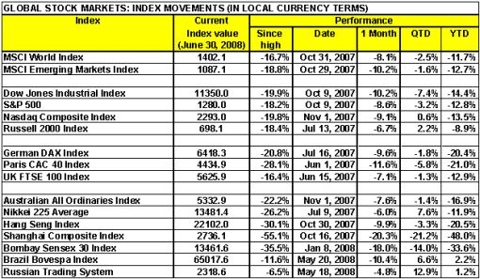 Click to enlarge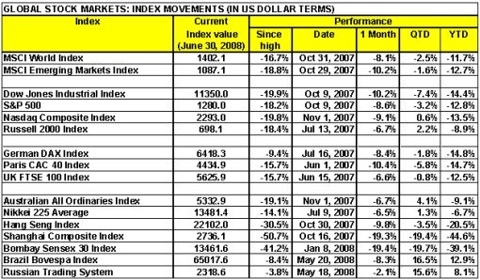 Click to enlarge