Since Starbucks (NASDAQ:SBUX) missed its earnings estimates on July 26, shares have had a tough time regaining traction. The stock price fell from roughly $52 to $44 within days after the announcement, and is now currently resting just under $50 as of this writing. The argument between value stock and value trap is getting quite high. Bulls think the sell-off has given buyers a huge opportunity to get into a great stock, while bears think this fall is just the first leg of an even bigger correction. So who is right?
Click to enlarge image.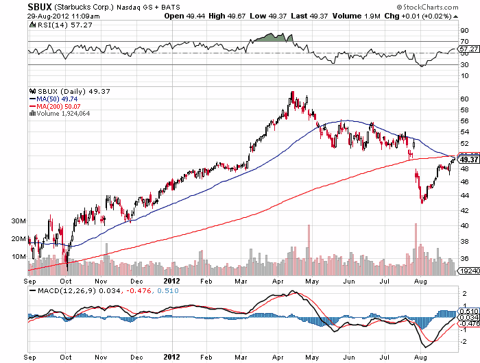 Source: One-year chart of Starbucks from Stockcharts.com.
I can see both sides of the tape on this one. Bulls have a good argument, but I think the bears have a better one. My first consideration is that Starbucks is lagging the overall market this year. While the S&P 500 is up a little over 12%, Starbucks is up only 7%. Though some may argue this comparison has little relevance to either buying or selling, a momentum-based growth stock should not be underperforming the overall market when it is up 12% for the year.
This leads me to my second thought with regard to the overall market and Starbucks. With the S&P 500 trading just off its highs for the year, a pullback is certainly in the cards, and nearly inevitable. What happens when the market corrects 5%? How about 10%? With Starbucks' weak price action, it will likely get sold off with the market too, since it hasn't outperformed the market so far -- why would it start to now?
After Starbucks' recent earnings announcement, the 15% decline in the stock price still couldn't bring the value down low enough. Currently, Starbucks has a P/E ratio of 27, much too high in a market filled with this kind of uncertainty. When growth is abundant and consumers are spending like mad, names like Starbucks are the ones investors want to own. But should we get a moderate pull back in equities, growth names with high multiples are going to feel the pinch.
Technically speaking, the chart doesn't offer a lot of reasons to get long either, in my opinion. As one can see above, the 50-day simple moving average is crossing the 200-day simple moving average, to the downside. The chartists will quickly point this out as the "kiss of death," meaning this pattern signals downward momentum, with expectations for Starbucks to decrease in value over the coming weeks and months.
Both moving averages are just above Starbucks' current price, which should also provide a fair amount of resistance, giving more fuel to the bears who are looking to climb on board as well as provide a safe entry point. Another glance at the chart will show that Starbucks was trading in the mid-$30 price range not even a year ago, with its 52-week low at just $35.12. Should Starbucks even come close to that, that's still another potential fall of at least $10 per share, or close to a 20% decline.
Howard Schultz, Starbucks CEO, had this to say after the latest earnings announcement:
I'm pleased to report the record third-quarter results that Starbucks announced today, reflecting 19% EPS growth, 13% revenue growth, 7% U.S. comp growth, and 6% global comp growth. While these numbers reflect a very strong quarter and on their own merit will be viewed positively. The fact is they fell short of our expectations, while unacceptable for me personally, and I can assure you to all of us at Starbucks, the quarter does however demonstrate the strength of Starbucks business and brand around the world and provide insight into the enormity of the global opportunity that lies ahead for all of us.
Herein lies the problem with Starbucks. It depends heavily on global and domestic growth. In America, Starbucks is already well known -- it's a way of life for many. In countries like China, it's new, it's exciting and it's full of growth. The only problem is that China isn't expanding as rapidly as everyone else in the world had hoped, and as Schultz would point out (in the above earnings call transcript), Starbucks only sported 7% growth in the region. Chinese growth recently fell to a three-year low, prompting government officials to create stimulus.
Without global growth, Starbucks' sales will inevitably slump. In a recession or an economic boom, people will still buy diapers, groceries, laundry detergent, and a slew of other things. Heck, they'll still even buy coffee. But they're not as likely to shell out $5 for a cup of java every morning in a recessionary environment. When times are good, a value as high as Starbucks' is acceptable because of the high growth and momentum it will be carrying. But when times are bad, such as now, with U.S. and European fiscal cliffs nearing and global growth grinding to a halt, richly valued "momo" names like Starbucks will get hurt.
There is a chance that the Fed will deliver more QE, kicking the can down the road. Names like Starbucks will likely get a refreshing "hit on the bid" and rally along with the overall market. But even so, the markets are due for a pullback and Starbucks will not be exempt. Fundamentally and technically speaking, I think shares will decline in the coming weeks and months.
It's not that I don't like Starbucks. I like its coffee and the company. I just don't think the share price is at a fair enough value to purchase right now, especially with its recent weak action and market underperformance. It's a great company with plenty of growth, but the world needs to be growing as well for Starbucks to succeed. I am not bearish enough to short the name just yet, though I am looking at using longer-dated put options to do so. Furthermore, I will be a buyer at or below $40.
Disclosure: I have no positions in any stocks mentioned, but may initiate a short position in SBUX over the next 72 hours. I wrote this article myself, and it expresses my own opinions. I am not receiving compensation for it (other than from Seeking Alpha). I have no business relationship with any company whose stock is mentioned in this article.