On Thursday, as I was scanning the list of top % gainers on the NYSE, I came across Ecolab (NYSE:ECL), which closed at $44.48, up $2.04 or 4.81% on the day. I do not own any shares or options of this stock.
Let me share with you my thoughts on this company that led me to the conclusion that:
ECOLAB IS RATED A BUY
What does the company do?
According to the Yahoo "Profile" on ECL, the company
...develops and markets products and services for the hospitality, foodservice, healthcare, and light industrial markets in the United States and internationally. The company offers cleaning and sanitizing products and programs, as well as pest elimination, maintenance, and repair services primarily to hotels and restaurants, healthcare and educational facilities, quick service units, grocery stores, commercial and institutional laundries, light industry, dairy plants and farms, food and beverage processors, and the vehicle wash industry.
And how did they do in the latest quarter?
On April 24, 2008, Ecolab reported first quarter 2008 results. Revenue for the quarter increased 16% to $1.46 billion from $1.25 billion in the first quarter of 2007.  Net income increased 15% to $102.9 million or $0.41/share, from $89.5 million or $0.35/share the prior year same period.  The company beat expectations with this result as analysts polled by Thomson Financial had been expecting earnings of $0.39/share.
What about longer-term results?
Examining the Morningstar.com "5-Yr Restated" financials on Ecolab, we can see that revenue has been steadily increasing from $3.76 billion in 2003 to $5.47 billion in 2007 and $5.67 billion in the trailing twelve months [TTM].  In an equally impressive fashion, earnings have been increasing steadily from $.99/share in 2003 to $1.70/share in 2007 and $1.76/share in the TTM.  Also convincing is the fact that the company pays a dividend and has increased the dividend each year during the past five years from $0.30/share in 2003 to $.48/share in 2007 and $0.49/share in the TTM.
This is not enough. Insofar as maintaining a stable number of outstanding shares, the company has been regularly decreasing the shares from 263 million in 2003 to 252 million in 2007, with a slight increase to 253 million in the TTM.
Free cash flow has been solidly positive and steadily growing.  Morningstar.com reports $321 million in free cash flow in 2005 increasing to $491 million in 2007 and $529 million in the TTM.
The balance sheet appears solid with $220 million in cash and $1.67 billion in other current assets, adequate to cover the $1.6 billion in current liabilities.  The company has another $1.57 billion in long-term liabilities reported on the books.  
What about some valuation numbers?
Reviewing Yahoo "Key Statistics" on this stock, we can see that this is a large cap stock with a market capitalization of $10.99 billion.  The trailing P/E is a tad rich at 25.34, with a forward P/E of 20.59.  Thus the PEG (5 yr expected) also comes in a bit rich at 1.68. (I prefer to see stocks with PEG's in the 1.0 to 1.5 range...but with everything else looking nice, I can live with this PEG!)
Using the Fidelity.com eresearch website for some more statistics, we can see that valuation as measured by the Price/Sales [TTM] is more reasonable with Ecolab coming in at a 1.84 ratio compared to the industry average of 4.12.  In terms of profitability, as measured by the Return on Equity [TTM], ECL also is a bit more profitable than its peers are with a 24.19% ROE reported on Fidelity compared to the industry average of 22.8%.
Finishing up with Yahoo, there are 247.16 million shares outstanding with only 172.15 million that 'float'.  Currently there are 5.06 million shares out short (as of 10-Jun-08), representing a short ratio of 5.6 trading days.  This is ahead of my own '3 day rule' and may present opportunities for a 'squeeze'.
The company, as I have noted, currently pays a forward annual dividend rate of $.52/share with a 1.2% yield.  The last stock split was a 2:1 June 9, 2003.
What does the chart look like?
Looking at a 'point & figure' chart on Ecolab from StockCharts.com, we can see a strong rise in price from September 2001, when the stock dipped to $13.50/share.  Since then the stock has been strongly moving higher, peaking at $52/share in December 2007, only to dip down to $42 recently.  The chart looks strong and 'optimistic' to me.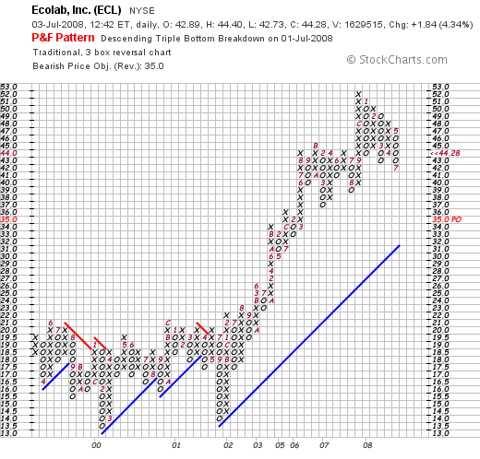 Summary: What do I think?
My search for stocks of potential interest involves identifying companies with strong price momentum with associated steady and high quality financials - this company fits the bill. 
It moved ahead nicely on Thursday, and has been reporting steady revenue and earnings growth while maintaining a stable outstanding share count.  The company pays a dividend and has been steadily increasing it.  
Its valuation is reasonable although PEG is a bit steep; however, when compared to similar companies, its Price/Sales ratio as well as Return on Equity is solid.
The chart looks good with only a recent pull-back reflecting the overall bearish environment of every stock.  There are even a good number of shares out short waiting to be squeezed.
This is the kind of stock I would be buying if I had a 'signal' from my own portfolio indicating that it might be time to be moving into additional equities.  Meanwhile I shall be adding this to my 'watch-list', waiting for the right time to be adding to my own portfolio.  Hopefully, I shall be able to 'clean-up' with this stock one day!
Disclosure:  The author does not own ECL.