We were hunters and foragers. We were bounded only by the earth and the ocean and the sky. The frontier was everywhere. But as we have collectively evolved to push the limits of these frontiers, we as individuals are confronted with seemingly ever-narrowing daily boundaries - our cars, our cubicles, our couches. Last year, the Red Cross announced that for the first time, obesity had been the root cause of more deaths than malnutrition. Obesity is an issue facing many developed nations of the world, but in the United States, with nearly 70% of adults overweight or obese, it's become an epidemic. Why? How? Study after study reveals an X-factor, but there is no one culprit.
Over the past 50 years, we've witnessed significant changes to our food supply, our food habits, and our lifestyles. These primary factors have converged to propagate a culture that is largely sedentary and, while overfed, under-nourished. What does this mean for society at large? What trends are driving this and are they reversible? Are we prepared to treat the wave of obesity-rooted ailments? Will change come from the top down or bottom up, some combination? Or are we doomed?
Time will tell, but we are responding. And in this response, there exists investment opportunity. Reflected in the markets are the efforts of minds hard at work to treat obesity's ailments, to help trim the fat, and to provide more nutritive foodstuffs. Our team will take you through the factors contributing to obesity, the outcomes of obesity, and the investment opportunities the obesity trend presents.
Obesity in America: An Investor's Perspective
Before we dive in, let's set the…stage. We know we are big getting bigger - the numbers very clearly show it. Check out this time progression illustrating the percentage of "obese" residents by state sourced from the CDC. And in graph form: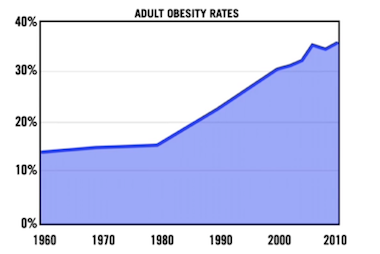 Over the course of thousands of years, man evolved from nomadic communities to agrarian-based societies to a state of industry. And he did so with major changes to diet yet little change to body mass. But as he embraced the office environment, particularly over the last 30 years, his mass has grown disproportionate to any other feature, with the obesity rate doubling from 15% to 30% since 1980. This represents a wholesale change that the human body simply cannot adapt to quickly enough, if ever, and the trend continues to increase.
Causal Factors
Food Factors
Fast food, packaged and frozen food, and snacks are ubiquitous - anyone can see that. But the presence of high fructose corn syrup, hydrogenated oils, and soy byproducts are little more than afterthought, at least compared to after-effects. As corn and soy yields continue to increase (except this summer), prices in real dollars are declining - and until the mass market demands otherwise, the typical food manufacturer will continue to include these as filler.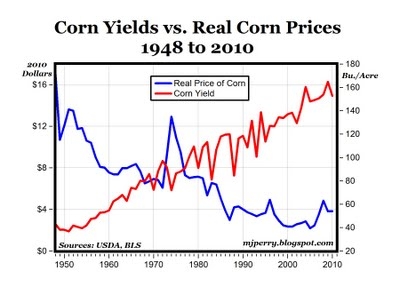 It's not just ingredients that have changed but also our portion sizes. Consider the graphic here from the CDC. Portion sizes for soft drinks and food alike have increased appreciably over the course of the last few decades. All told, the average American consumes roughly 500 incremental calories per day as compared to 1980.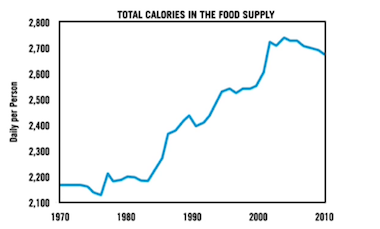 With physical activity declining concurrent with caloric intake increasing, the net result is significant weight gain.
Lifestyle
Speaking very broadly, when it comes to our lifestyles, it's a tale of two tales. On one hand, as a 24/7 society we are more "active" than ever before, but on the other, less than 5% of adults meet guidelines for physical activity. Unfortunately, the "activity" constitutes more time in sedentary work environments, more time sitting in traffic, more time consuming media, and less time sleeping. Television is just one facet of the sedentary lifestyle, but the amount of time the average American household spends watching television each day is pretty telling.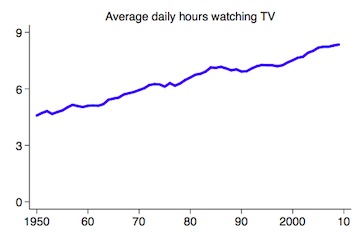 These create a time premium for food - with many turning to the convenient: fast food, unhealthy snacks, and packaged and frozen foods. We don't mean to imply that all food consumed outside the household is unhealthy - it certainly isn't - but a large amount of it is, and the reality is that 55% of our food spend is on food consumed outside the home. Consider that in 1970 restaurant revenues were $43 billion. Today, they have increased to $538 billion at a well-above inflationary clip.
Outcome
Over the course of the last century, what's ailed us has changed markedly. In the early part of the 20th century, influenza, TB, and pneumonia were some of the leading causes of death - today, the leading causes are heart disease, cancer, stroke, diabetes, and kidney disease. These can't be directly attributed to obesity, but it's no great leap of faith to connect many of these to obesity. Here are a few statistics, according to prominent studies:
If you're obese, you're 83% more likely to develop some form of kidney disease.
Asthma rates increase by 52% in obese persons.
36% of adults have some sort of cardiovascular disease.
Fatty livers are found in 25% of the population. This can be caused by excess alcohol intake, but deposits also come from excess fat intake stored in the liver.
Diabetes is growing at an alarming rate, with approximately 20-25 million people diabetic and an estimated 57 million classified as pre-diabetic. Type II diabetes, which is caused by a combination of lifestyle factors and genetics, accounts for 90-95% of all diabetes cases. Barring a significant change, this troubling figure is only expected to rise.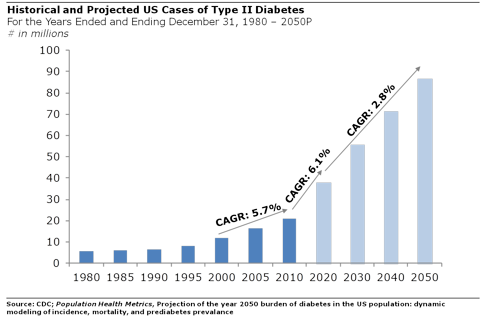 More troubling, we're still learning about the long-term effects of obesity particularly the long-term effects stemming from childhood obesity. A recent study indicated that obese children end up suffering from diabetes later in life roughly 1/3 of the time - today, childhood obesity stands at approximately 20%, a figure that has tripled since 1980. Compounding this trend is the fact that many children consume a significant portion of their daily caloric intake at schools. A recent USDA study showed that while 89% of parents believed school lunches to be healthy, 94% of them failed to meet USDA guidelines with 80% of them including excess fat and saturated fat content.
Action
Treatments
As with any other ailment facing humans, treatments have been developed and new and improved treatments are in the works. Below are a few of the major providers of obesity-related treatment:
Novo Nordisk A/S (NYSE:NVO) - a Danish pharmaceutical company with a global presence, one of the top insulin companies in the world. The company is organized into two divisions: (i) diabetes and (ii) biopharmaceuticals with diabetes accounting for nearly 80% of the company's revenue and almost 100% of the company's growth. More than 40% of the company's revenue is from North America, which also accounts for more than 60% of the company's growth. But as much as we've focused on the US, there are others facing diabetes epidemics, including southern Europe, China, and India, where Novo has either a strong foothold or has demonstrated strong growth potential.
DaVita, Inc. (NYSE:DVA) - leading provider of kidney dialysis services. Procedures are rendered in both outpatient centers and contracted hospitals. The company increased its network of patients serviced in the US by 13% in 2011 and recently commenced international operations. A long-term, secular play.
VIVUS, Inc. (NASDAQ:VVUS) - pharmaceutical company focused on obesity in addition to diabetes, sleep apnea, and sexual health. The company recently received approval for its obesity drug, Qsymia, and is ramping for launch in H2 2012. As a relatively small company (as pharmas go), this is a riskier play. While it's encouraging the company received approval to sell Qsymia (the FDA is normally none too kind to obesity drugs) and there have been recent strong insider buying trends, a setback in the drug's launch or a discovery of adverse side effects, would prove a major negative impact to the company's valuation.
Preventative
If we're ever to reverse the trend, it will come not only from treating obesity's consequences, but also from preventing it in the first place. And there are signs of that all around us. A walk down a city block reveals gyms, organic grocery stores, and a comeback of the local farmer's market. "All natural," "organic," "cage free," and "farm to table" have become in a relatively short time, mainstream terms used to describe our food. But the relative shortage of public companies in this space reflects its nascence - and we think that bodes well for growth prospects. We like these companies that promote a healthy lifestyle.
Conclusion
In an age where one could make a strong case for a number of forces as modern society's single threat - HIV/AIDS, terrorism, deep and prolonged economic depression - history may ultimately show it to be the fight against calories. With healthcare costs mounting, childhood obesity at an all-time high, and life expectancy declining, we are nearing a watershed moment. Which way the river breaks, though, will be a function of education and awareness, thoughtful leadership, personal accountability, effective treatment, and diet makeup.
Disclosure: I have no positions in any stocks mentioned, and no plans to initiate any positions within the next 72 hours. I wrote this article myself, and it expresses my own opinions. I am not receiving compensation for it. I have no business relationship with any company whose stock is mentioned in this article.