Credit and debit card providers such as Visa (NYSE:V) and MasterCard (NYSE:MA) have turned out to be some of the best growth stocks in the last year. Yet their share prices may put them out of the value sector. On August 28th, MasterCard was trading at $424.38 per share, while Visa was trading at $127.94 per share. That, of course, places them outside of most people's definition of a value stock.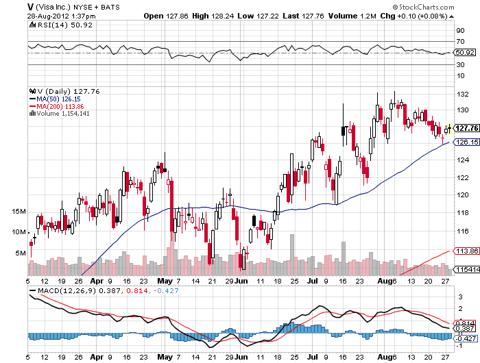 Click to enlarge
Yet there is one credit and debit card company that is a value buy with strong growth potential. It is Discover (NYSE:DFS), the fourth largest credit card servicer in the U.S. Discover has shown strong margin price increases lately, and it is still a bargain when compared to MasterCard, American Express (NYSE:AXP), and Visa. On August 28th, Discover was trading at $38.65 per share. More importantly, its share price has gone up by nearly $8 per share since mid-June. On June 11th, Discover was trading at $30.79 per share.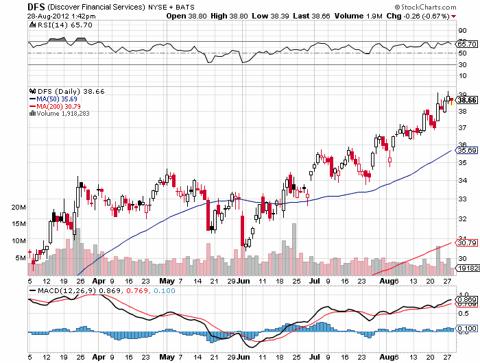 Click to enlarge
Discover's share price is going up because the company has entered into an interesting deal that has the potential to greatly increase its cash flow. Discover and eBay (NASDAQ:EBAY) have entered into a deal that will let 50 million PayPal users in the U.S. pay for purchases at seven million retailers that accept Discover. The PayPal users will have the ability to make PayPal purchases by using a special Discover card.
The deal will let eBay enter the world of brick and mortar retail and enable Discover to tap online profits. It will also let Discover offer services to individuals that might not qualify for a normal Discover card, such as persons with low credit ratings. The deal can help Discover generate more revenue by generating more electronic payments. Bloomberg Business Week reported that the volume of PayPal transactions increased by 20%, or $34.5 billion in the last year.
Part of the reason why the deal might be a win-win for both companies is that merchants will not have to buy new equipment. They can use the existing Discover card swipe device already in their stores to accept a PayPal payment. The customer will simply have to enter a pin to pay with PayPal through the Discover card. This means merchants can get more business without having to invest money, so they will have an incentive to accept the PayPal card.
Another reason why this deal might increase the transaction volume for both companies is that it will allow customers to pay with PayPal via Discover through their smartphones. That means Discover will be able to process payments for PayPal account holders that don't even have a Discover card.
Discover and eBay will make money off this arrangement by charging a small fee for every transaction. Discover will apparently charge eBay a fee for every PayPal transaction made over its network. The amount of these fees has not yet been disclosed to the public.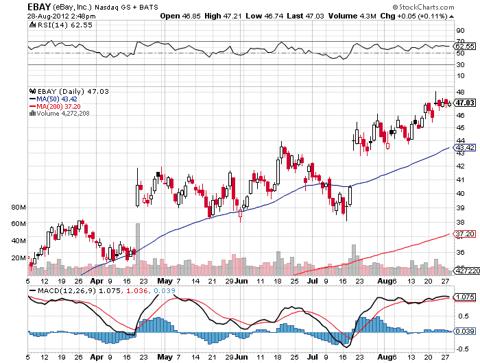 Click to enlarge
So far, the PayPal/Discover team up will be confined to the U.S., but it has the potential to generate even more revenue worldwide. PayPal currently has around 113.2 million active accounts all over the globe.
PayPal Might Help Discover Overcome Acceptance Gap
Teaming up with PayPal may help Discover overcome what is called the "acceptance gap." The gap is the difference between the number of merchants that accept the Discover card and those that accept Visa and MasterCard. Only about 95% of the retailers that accept MasterCard and Visa take payment via Discover.
The volume of payments on Discover's network has been increasing without the PayPal deal. In the first quarter of 2012, the number of Discover transactions worldwide rose by 9.4% to $78.4 billion. This shows that Discover is able to increase its revenue with or without PayPal.
Discover Faces Legal Problems over Deceptive Marketing
Discover does face one problem that might limit its ability to expand in the U.S. The company faces potential lawsuits that might increase its legal costs by $110 million, according to The Chicago Tribune. The newspaper reported that attorney generals in Missouri, Hawaii, and West Virginia have filed lawsuits against Discover because of what they allege is deceptive marketing. The marketing involved optional fee based products that were supposed to operate like insurance policies, but didn't.
The FDIC and Uncle Sam's new consumer watchdog, the Consumer Financial Protection Bureau, have notified Discover that they plan to take action over the same issue. A Discover shareholder named James Groen has also filed a lawsuit against 17 Discover executives over the same issue.
Although these legal troubles may give Discover a black eye, I think they will have little or no effect on the company's stock value. Discover is still a great value buy because it has an opportunity to greatly expand its market share and revenue in a changing marketplace.
Disclosure: I have no positions in any stocks mentioned, and no plans to initiate any positions within the next 72 hours. I wrote this article myself, and it expresses my own opinions. I am not receiving compensation for it (other than from Seeking Alpha). I have no business relationship with any company whose stock is mentioned in this article.