While the market continued to head higher over the past couple of months the economic numbers call into question the strength of the rally as we push back toward 2012 highs.
The release last week of the HSBC Flash China Manufacturing PMI for August should give investors pause. The overall PMI came in at 47.8, contracting from 49.3 in July. Even more disconcerting, the New Export Orders and Stocks of Finished Goods both contracted at a faster rate, confirming a signal coming from Long Beach Port Data showing that empty containers outbound to Asia fell by 12% in July from a year ago.
The empty outbound container number serves as a gauge of future demand. If fewer containers are going over to Asia to be filled up that means fewer goods being shipped back to the U.S.
These numbers are a bit disconcerting and serve as a warning for the upcoming Holiday shopping season. If retailers are not placing orders now then we may be in for a weak holiday season.
A final confirmation about a potential weak holiday season is coming from the Inventory-to-Sales Ratio shown below. The bump up in July's number may be another sign that retailers are holding back placing new orders.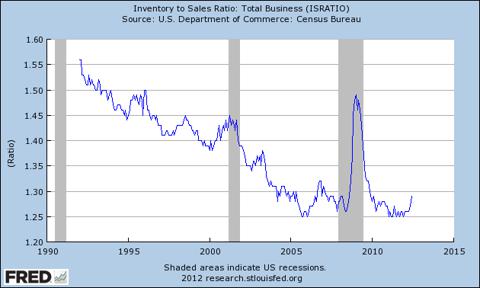 Click to enlarge
If inventories continues to build that indicates a slowing retail environment and retailers will be less likely to place major orders for the holiday season. The latest retail sales number was a positive development after three straight months of declines but more needs to be done to inspire confidence.
European GDP data is not inspiring much confidence at the current time. Italian and Portuguese GDP fell by 0.7% and 1.2% respectively in the second quarter of 2012 while German GDP rose by only 0.3% and France was flat for the second consecutive quarter.
The problem of weak economic data goes much deeper than the numbers shown above. Weak retail sales and GDP data does not inspire much confidence in employers to add new hires. If businesses are seeing flat sales they are unlikely to staff up.
As the election and fiscal cliff approaches expect very little to be done between now and then leading to an interesting lame duck session post-election. If many members of Congress are not re-elected they will have little inspiration to tackle the problem that they caused by not coming to an agreement on the fiscal problems facing America.
The positive in all this? After we see a sell-off that is likely to last through the end of the year we can begin to look for signs of a recovery early next year as inventories are rebuilt after the holidays.
The S&P 500 (SPY currently trades for 16 times earnings but third-quarter earnings estimates are in the single digits. That is a lot of premium to pay for earnings and Federal Reserve jawboning in the face of a global recession.
The gains in the NASDAQ (NASDAQ:QQQ) are being driven by the share price of Apple (NASDAQ:AAPL), which has run up ahead of the iPhone5 and mini iPad.
Investors should be preparing for the coming sell-off by reviewing their portfolios and looking at stocks at are overvalued relative to the economic climate and act accordingly.
Right around the end of this year and early next we should see a turnaround in the markets when some new easing measures by the Federal Reserve are released. Until then, investors should stay cautious and defensive.
Disclosure: I have no positions in any stocks mentioned, and no plans to initiate any positions within the next 72 hours. I wrote this article myself, and it expresses my own opinions. I am not receiving compensation for it (other than from Seeking Alpha). I have no business relationship with any company whose stock is mentioned in this article.
Additional disclosure: I am short the market through SXPS while being long gold through DGP.