In prior articles I've talked about Synergy Pharmaceuticals (NASDAQ:SGYP) as a fantastic under-the-radar biotech stock for 2012. I'm not going to go into detail about Plecanatide, a potential treatment for Chronic Constipation (CIC) and Irritable Bowel Syndrome (IBS). You can find the details of Plecanatide in my prior article on May 24th. Today, August 30th, 2012, Ironwood (NASDAQ:IRWD) received FDA approval for Linzess. Plecanatide and Linzess both share the same origins and mechanism of action, so today's approval removes some of the potential uncertainty of a future potential FDA approval of Plecanatide.
Let me be clear ahead of time, there is no way to be certain that SGYP's Phase II/III trial will be a success, or that it will continue to show fewer side effects than IRWD's Linzess, as was shown in a prior small study by SGYP.
Here is the simple math of why SGYP is severely undervalued:
Ironwood has a $1.36B market cap as of August 30th, 2012
Minus out the cash and short term investments on hand of $157M as of June 29th, 2012
So, $1.360B - 0.157B = $1.203B value for their drug pipeline which is solely Linzess.
Ironwood is a 50/50 partner with Forest Laboratory (NYSE:FRX), so to find the true value of the drug, we must multiply by 2.
Value of $1.203B x 2 = $2.4B value for Linzess
Now we are assuming here that Plecanatide is a better drug, and has fewer side effects, including no diarrhea. But just to be conservative, let's put the same $2.4B value on Plecanatide, even if it is perceived to be a better drug.
Currently there are roughly 65 million shares outstanding in SGYP.
Let's use an overly conservative 35M new shares of dilution to get Plecanatide to market in 2014 or 2015. They currently have $43M in cash. If they need to run another Phase III trial I would expect the costs to run $50M-75M.
So for these calculations we'll use 100M total shares outstanding in 2014/2015 time frame. (Much higher than I truly anticipate, but for the purpose of being conservative)
$2.4B divided by 100M shares is $24/share for SGYP in 2014/2015 on approval.
Now this $24/share estimate doesn't mean SGYP will go straight up between now and 2014/2015. With all biotech stocks there will be major bumps along if the overall market sells off significantly or with future capital raises that are necessary for SGYP. The estimate also doesn't include any value to the rest of the drug pipeline that SGYP has started to build.
Buying SGYP today after IRWD approval still makes sense just above $5/share. Retail investors have been pounded when trying to play bank-shots off of competitor FDA approvals in recent months. As we saw with Arena Pharmaceuticals (NASDAQ:ARNA), Amarin (NASDAQ:AMRN), and Vivus (NASDAQ:VVUS) they all traded down sharply after approval as investors gamed the stocks ahead of time. This surprise approval was 1 week ahead of the expected PDUFA date, not allowing retail investors to "buy the rumor, sell the news" in SGYP. Later in December 2012 SGYP should be announcing Phase II/III results from Plecanatide. I believe shares of SGYP should be trading closer to $8-10 as institutional investors barely hold SGYP since it recently made a move from the pink sheets in Dec. 2011. As for IRWD, I would not be a buyer, and would not expect a significant bounce off of approval.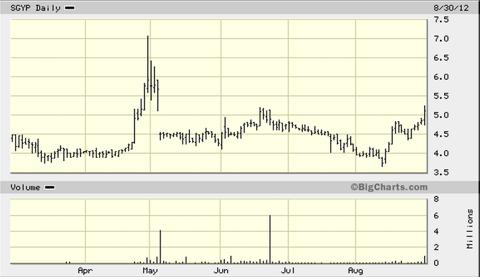 Disclaimer: This article is intended for informational and entertainment use only and should not be construed as professional investment advice, but rather my opinions as a writer only. Trading stocks are risky always be sure to know and understand your risk tolerance as in any given trade/investment you can incur substantial financial loss. By reading this article, you agree and understand that I am not giving recommendations on stocks to trade. Any trade you make - wins, losses, or break even - are entirely your decision and responsibility. You also agree and understand that I have no material insider information - just opinions. Always do you own complete due diligence before buying and selling any stock, and/or consult with a licensed qualified broker dealer and/or certified financial adviser.
Disclosure: I am long SGYP. I wrote this article myself, and it expresses my own opinions. I am not receiving compensation for it (other than from Seeking Alpha). I have no business relationship with any company whose stock is mentioned in this article.