Commodity Chart Of The Day
Daily S&P
(click image to enlarge)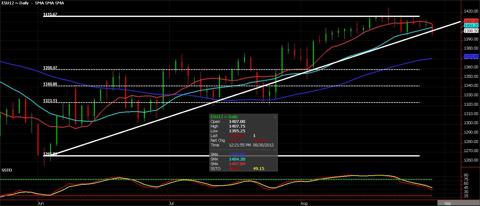 Click to enlarge
The story all summer has been the relentless run higher in the stock market, and those that tried to pick a top were run over as prices moved one way, appreciating 13% in the last three months. Is a 4/5 year high justified?
I say no, but the saying is "the trend is your friend," and as seen on the chart above, it looks like we finally get a break of the trend line that has supported since June. The S&P has closed below its 9 and 20 day MA, and on a break of that trend line near 1400 in the September contract, my prediction would be a trade to the 38.2% Fibonacci level at a minimum. Use the white Fib levels on this chart as targets on depreciation in the coming weeks.
Those not comfortable taking a speculative trade forecasting a down move are advised to lighten up on their long equity positions and be willing to buy back in at lower levels.
Risk Disclaimer: The opinions contained herein are for general information only and not tailored to any specific investor's needs or investment goals. Any opinions expressed in this article are as of the date indicated. Trading futures, options, and Forex involves substantial risk of loss and is not suitable for all investors. Past performance is not necessarily indicative of future results.
Disclosure: I have no positions in any stocks mentioned, and no plans to initiate any positions within the next 72 hours. I wrote this article myself, and it expresses my own opinions. I am not receiving compensation for it. I have no business relationship with any company whose stock is mentioned in this article.