Microsoft (NASDAQ:MSFT) has been a big winner of the Samsung (OTC:SSNLF) vs. Apple (NASDAQ:AAPL) case. MSFT's stock has shown a steady growth rate over the last 10 years. The company also has a regular stream of dividend payments, offering a dividend yield of 2.6%. The prospects of the Windows 8 and Windows Phone 8 are brighter in the post-Samsung vs. Apple verdict world. Microsoft expects the future of computing to be linked with tablet computers; therefore we believe Windows Phone 8 will have a major impact on the future of Microsoft. Samsung has already announced its first WP8-based phone. The new ATIV S was launched this Wednesday in a shocking move by the Korean tech giant. This in our opinion is a start of a major shift in the smartphone/tablet industry when it comes to a smartphone platform. Microsoft will aim to build an ecosystem similar to its OEM/Widows system in the PC market. We believe that considering steady dividends and growth, as well as chances of further growth in light of the smartphone/tablet market entry, the stock is a buy.
Overview
Apple just won a huge victory in one of the most closely followed cases of the Technology Industry. The technology giant, Samsung, was asked by the jury to pay $1.05 billion in damages to Apple, with a chance of 3x damages, as the jury ruled that Samsung was guilty of 'willful' infringement. Apple has also decided to call for a ban on Samsung products; an injunction hearing is set for September 20. Microsoft was not directly involved in the case, but remains one of the biggest beneficiaries of this outcome. There are a number of reasons why this result can affect Microsoft, the most important one being its October Windows 8 and the release of WP8 release. Over the last few years, Microsoft has seen some big failures when it comes to branching away from its Windows ecosystem, most notably, Bing. However, this time around there is little room for failure. Microsoft is betting its entire ecosystem on this one release. The company is taking a big risk by going into competition with its very own OEM (Original Equipment Manufacturers) by launching its own tablet. The CEO of Acer has already publicly voiced his discontent, hinting at looking for alternative platforms.
Only a little while back, Microsoft was the largest capped stock in the market; until Apple surpassed it. MSFT's current market cap is $256 billion. The stock has traded in a range of $24.26-$32.95 during the last 52 weeks; and has a beta of 1.13. MSFT has given a 17% return over the last 10 years. Comparatively, the NASDAQ composite has given a 126% return. Considering the huge amounts that MSFT spends on R&D, these growth rates are poor at best. The company spent $8.5 billion on R&D in 2011, which is approximately 12.5% of its revenues. We have already compared this dismal inefficiency to its competitors.
S&P 500, Nasdaq Composite, MSFT 5 year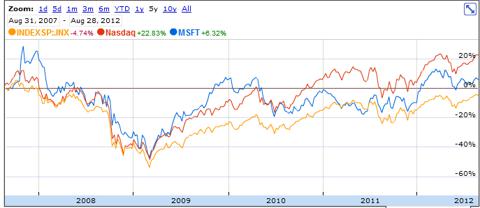 Source: Google Finance
Segment Analysis
Microsoft was built around the Windows OS, which was the building block of the global village we live in today. The Windows, as an operating system for personal computers, is in the mature stage of its product life cycle. Microsoft has made attempts to diversify its revenue stream both inside and outside its Windows ecosystem.

Figure : Segment Revenues as Percentage of total Rev
Looking at the table reveals that MBD (Microsoft Business Division) has been the biggest contributor to total revenues of the software giant. The contribution of MBD has increased from 31% in 2010 to 32% in 2011. On the other hand, Windows' revenue contribution was neck-to-neck with MBD in 2010, but fell behind considerably in 2011; falling from 31% to 27%. This again goes on to show the stagnant growth in the Windows PC platform. The online services division of the company has been MSFT's 'Achilles heel', posting huge losses in both 2010 and 2011. In 2010, the online services division posted a loss of $2.3 billion, and in 2011 the amount was $2.5 billion. The Entertainment and Devices division shows solid growth behind the success of the Xbox 360. The revenue contribution of the Entertainment and Devices division has increased from 10% in 2010 to 13% in 2011. Servers and Tools also showed a YoY decline of 1% of total revenue.
The segment analysis shows the considerable reliance of Microsoft on its Business and Windows division. The office suite is the primary product of the MSFT Business Division. Google (NASDAQ:GOOG) has launched its online spreadsheet tool, which is free of cost and works on a cloud computing principle. The amount of competition Google's 'Cloud' spreadsheet tools give to Microsoft Office Tools remains to be seen. In the near future, this competition could be negligible due to the reluctance of most professionals to try 'something new' when it comes to business applications. It can however affect growth as most startups opt for cheaper business tools, and Google offers these products for free.
Impact of Apple Verdict
For the time being, it is difficult to monetize the impact of the Apple vs. Samsung case on Microsoft. There is, however, little doubt that this impact will be considerable and long term. If we analyze pre-24th August market, there seems to be little room for a new smartphone/tablet platform. The free availability of the Android, a market leader, really limits the entry prospect of a new 'priced' platform. However, in a post-verdict world, these chances seem much more realistic. It is still too soon to evaluate the eventual outcome of the iOS vs. Android litigation war; however, it can be said for certain that even if current Android partners don't switch to the Windows 8/ WP8, there won't be new ones queuing up to board the Android bandwagon. By announcing its own entry into the tablet market, Microsoft has seriously disrupted the status quo of its Windows ecosystem. Its OEM partners like HP (NYSE:HPQ), Dell (NASDAQ:DELL), Lenovo and Acer are tech giants themselves, and they are not too happy with Microsoft's strategy to bypass them and reach consumers directly. The CEO of Acer, in a recent statement, made his displeasure public, by saying:
'We have said [to Microsoft]: think it over. Think twice. It will create a huge negative impact on the industry and other brands may take a negative reaction. It is not something you are good at so please think twice.'
This is where the Apple verdict has been most effective. It significantly reduces the risk of OEMs breaking away. Microsoft is in a much better negotiating position in the post-verdict world. From a functionality point of view, Microsoft has already acquired patents to features that the jury found Samsung guilty of infringing. This will make future Windows products superior as compared to Android-based devices, at least with regards to the features in question. This has also increased the chances of the success of MSFT's upcoming tablet, Surface. The tablet gives Microsoft's view of future computing in a nutshell. The 'metro' (for the time being we will call it that) has been built around this view. Surface (much like metro) at first look seems a hybrid between a PC and a tablet; whether it is able to provide the functionality of both remains to be seen.
Windows 8
The new Windows 8 has received mixed reviews from technical experts thus far. While there is much appreciation for its layout, there is concern as to whether PC users will want to re-learn how to do routine tasks. Considering that a significant portion of Windows users still use Windows XP, and there is not a lot of difference between XP and Windows 7, it would not be easy to convince an average PC user to re-learn how to use a PC. On the other hand, it should also be noted that Windows 7 will continue to be available to users. The Windows 8 is aimed at a world where 'touch' is a key computing feature, therefore, for the time being, tablet and smartphone(through WP8) users seem to be the company's its primary target market. Windows 7 will continue to be a parallel platform, and users can upgrade from Windows 7 to 8 for $40.
Valuations
As we have discussed, the company has failed to achieve adequate growth, which its mammoth expenditures on R&D should have brought. The stock is currently trading at forward P/E of 9x, whereas its 10-year average P/E is 18x. If we look at the graph plot, we can see MSFT's 10-year P/E. If we look at the P/E movement between 2008 and 2009, we can see a significant increase; it almost doubles. During this period, Windows 7 was being introduced in the market, though there was also an earnings decline due to the recession. We believe that the P/E will improve upon the release of the Windows 8.
Graph: MSFT 10 year PE ratio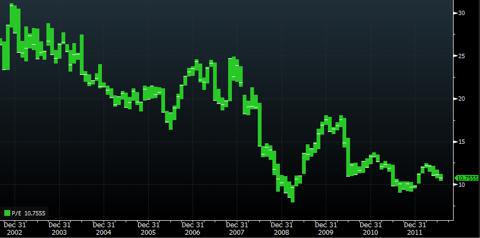 Source: Bloomberg
If we look at the P/S ratio over the last 10 years, it gives a similar trend.
MSFT 10 year P/S ratio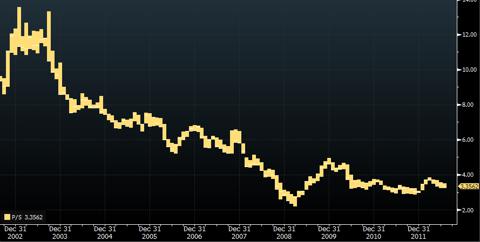 Source: Bloomberg
2013

2014

2015

EPS (millions)

$3.014

$3.328

$3.651

NASDAQ P/E

15x

$45

$50

$55

P/E 10 year Average

18x

$55

$61

$67
We have formulated target prices using both the NASDAQ P/E and the 10-year average; on 2013-15 earnings estimates of Bloomberg. According to these valuations, the stock is undervalued.
Conclusion
An Android hostile environment will be hugely beneficial to the Windows 8/WP8. Samsung, with its Galaxy series, is a major player in the Tablet Industry. Any blow to Samsung is positive news for the Surface Tablet. There are speculations that the Surface will be priced at $200, which will make it a competitor of the Kindle and Nexus tablets, rather than the iPad or Galaxy Tab. There is still no concrete evidence about any such rumors being true. At this point, a near or breakup plus price of $300-$400 seems more realistic. Considering the regular stream of MSFT dividends (a payout ratio of 39% and yield of 2.61%), combined with expected growth in its Windows sales, we give a buy rating for MSFT.
Disclosure: I have no positions in any stocks mentioned, and no plans to initiate any positions within the next 72 hours.
Business relationship disclosure: The article has been written by Qineqt's Technology Analyst. Qineqt is not receiving compensation for it (other than from Seeking Alpha). Qineqt has no business relationship with any company whose stock is mentioned in this article.