Pep Boys (NYSE:PBY) shares got absolutely pummeled in an abbreviated week, getting chopped 18% to a new 52-week low of $7.39 before making a feeble comeback to close at $7.56 in a shortened session. To say that this sell-off was "perplexing" is an understatement, as the Dow lost a mere 1.3% for the week, making PBY's "beating" 14 times worst than the DJIA. PBY's beta is nearly flat at 1.06, signifying it should be only 6% more volatile than the overall market. Its relative strength was just horrendous.
It is certainly a mystery why the shares lost so much value this past week, especially when PBY issued no news or SEC filings. Its volume was also nothing out of the ordinary, tallying about 10% higher than normal. The shares, in the past twenty years, have only touched prices this low one time, just after 9/11.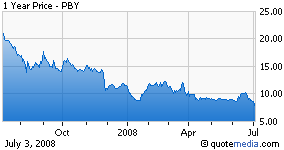 One plausible explanation for the plunge: An institution or fund could have been forced to sell in order to satisfy redemption requirements, and they simply hit the bid repeatedly, at any price in order to accomplish that feat.
One possible seller: Pirate Capital, a hedge Fund with a 4% ownership position, could be the culprit, as its managed assets have have recently dived from $1.8 billion to $375 million. Pirate's swift loss of capital might be forcing it to liquidate positions at ill opportune times. This type of aggressive selling can produce a devastating impact on the share price of a smallcap equity.
The good news: Once this mystery seller abates his selling, the stock should rally up just as fast as it fell because its metrics have become even more compelling after such a sell-off.
The numbers: (1) selling at a price to sales ratio of 0.20 (2) real estate holdings that value near $1 billion (3) trading at 0.83 times book value (4) Reduced its long-term debt by $60 million to $340 million (5) 3.1% dividend yield (6) selling at only 19 times 2010 conservative EPS estimates of $0.39.
New Management is on the right track: They produced a decent first quarter that exceeded expectations. The management team has been effective at cutting costs and focusing on customer service and their core products. PBY's service segment has seen a boost in gross margin and its retail operations have shed most of their non-core inventories. Management seems to have taken a direction that reflects a "sense of urgency" necessary for an effective turnaround.
Putting their money where their mouth is: PBY has a $100 million stock repurchase program in effect and PBY insiders have been buyers of their own shares, acquiring almost 2 million shares in the past year. They seem to understand that their shares represent compelling value.
The bottom line: The shares simply dropped too much in too short of a period. The lower the shares drift, the more incremental pressure is eventually applied to the Board and Management to enhance shareholder value. It's only a matter of time before there is a "big pay day" for shareholders. The shares traded as high as $30 just four years ago so I wouldn't be surprised at all to see a sale be consummated that yields a potential take-out price as high as the $20 mark. Buy into the weakness and let another holder's loss become your gain.
Disclosure: Long