Iron ore prices have recently touched their three-year lows, as the macroeconomic depression continues to dampen steel demand. Moreover, July's iron ore output in China has declined the most steeply for the last four years, as Chinese steel mills defaulted on supply contracts or deferred shipments of up to 4 million tons this month. We expect a possible rebound in iron ore prices by 4Q2012, as Chinese steel mills are expected to seek cheaper imports from iron ore mining giants like Brazil's Vale SA (NYSE:VALE) and UK's Rio Tinto Plc (NYSE:RIO), rather than relying on low-grade domestic production, as the current trend of destocking is not sustainable for long. All these factors, coupled with its high dividend yield of 6.9% and low forward P/E of 5x , make us upgrade VALE from NEUTRAL to BUY for only long-term investors. Short-term investors are advised to stay away from the stock, as the share price can continue to plunge if iron ore prices keep moving down.
The stock is a buy for long-term investors because of the huge upside expected once iron ore prices start to rebound. Even if they don't do so in the near-term, at least its high dividend yield can be availed before the realization of capital gains at a later stage.
Industry Trends
Iron ore spot prices have continued their downward spiral, as they are currently hovering around 3-year low levels. The price for the benchmark 62-percent grade dropped by 5% yesterday to $90.30/ton, the lowest since November 2009.
The primary reason for this persistent decline is waning demand for the metal - used primarily as a raw material in steel - as a result of depressed global economic conditions. The most notable impact in this regard is that on China, the biggest consumer of both iron ore and steel in the world, where slowing economic growth has hampered the steel sector. Consequently, iron ore prices dipped as Chinese buyers kept their inventories low, and instead of ordering fresh cargoes, purchased smaller lots from port stockpiles.
According to a recent press release, a senior official (Zhang Dianbo) at China's largest steelmaker, Baoshan Iron and Steel Co. Limited, proclaimed that global iron ore demand is projected to drop in 2H2012, as compared to the first six months. In addition, he pointed out that global seaborne iron ore supply will increase by more than 50 million tons in H2 relative to H1, which will put a further strain on prices.
Is a Rebound in Sight?
Despite the downward trajectory of iron ore prices, some factors have made us expect a potential bottoming in the near future. Iron ore output has declined by 8.1% in China, which is the largest decline in July since 2008. In addition, due to a drop in metal prices and shipping costs, iron ore companies outside China are expected to experience higher demand from the world's largest iron ore consumer, as it is cheaper for Chinese mills to import high-quality iron ore from Brazil rather than use low-grade domestic material. This will act as a catalyst for iron ore prices, which are expected to gain by as much as 41% in Q4, according to analyst consensus estimates.
Moreover, analysts are expecting iron ore stockpiles to increase in the fourth quarter, as freezing weather disrupts ports in the winter months . Chinese mills are trying to preserve cash and reduce operating expenses amidst tough conditions in the steel market, but this destocking trend is unsustainable, which will be beneficial for market prices in the future.
According to Reuters market analyst Clyde Russell, the iron ore industry is facing the following trends:
Fundamentals are currently weak, with rising supply and glowing demand. In addition, market sentiment is probably the most bearish post-the 2008 recession.
Technical indicators are sending positive signals of a possible rebound. As a paradigm, the relative strength index (RSI) has dropped to 4.23, way below than this-year's high of 84.3 on April 13. The current RSI is very close to its October 19, 2011 levels, when it bottomed at 1.01. In addition, the shape of the iron ore futures curve has changed from mild backwardation to contango, reflecting the extremely bearish market segment.
Currently, the bearish factors overweigh the bullish ones, and may do so for upcoming months as well. However, iron ore will rebound in the near future, and when it does, huge rallies are expected.
VALE SA
VALE is the second biggest mining company in the world, and is the leading producer of iron ore and pellets. It is also the largest producer of manganese and ferro-alloys, while it is the second largest nickel producer. The company is headquartered in Rio de Janeiro, Brazil. The following chart shows its FY2011 revenue's appropriation to different segments.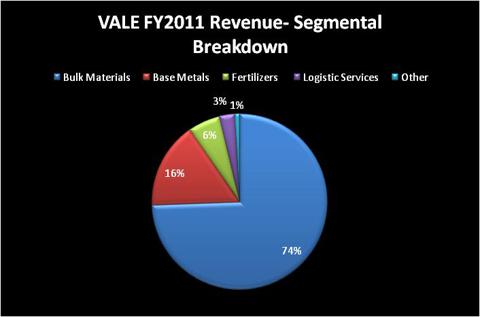 VALE is expecting an iron ore rebound this year, as it feels that the current low prices are not profitable for iron ore producers, who will be forced to cut production to underpin prices. According to its Investor Relations Director Castello Branco:
The iron ore price is below the cost for marginal producers, not only in China, but also in other countries. If you are a producer with high costs, you won t continue producing at a loss; you will stop your operations.
The company has recently lifted force majeure at an Australian coking coal mine, Carborough Downs, which was previously closed on May 31 following the leakage of poisonous carbon monoxide gas. Subsequently, the mine will resume production and deliveries to clients.
In addition, the fact that VALE is offering a high dividend yield of 6.9% (its 5-year dividend growth is more than 30%) makes it a lucrative investment for dividend-seeking investors. Its margins have declined as a result of dipping iron ore prices, but we expect them to improve once iron ore prices start their rebound phase.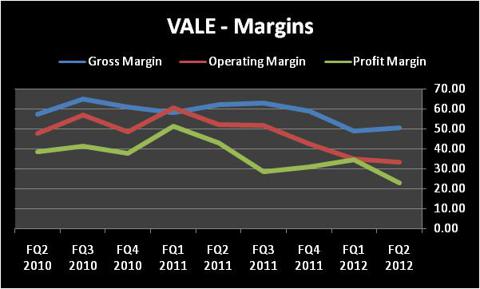 Valuation
The following chart shows that historically speaking, VALE is trading at relatively cheap price-to-earnings and EV/EBITDA multiples.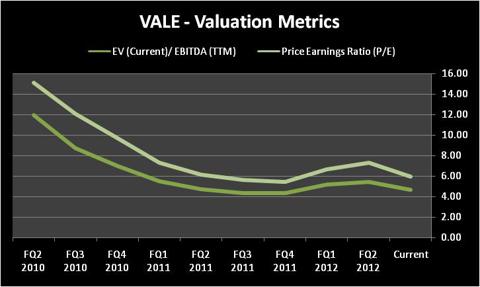 From a valuation's perspective, the fact that its share price has dropped by a whopping 25% and its low forward price-to-earnings (P/E) of 5x makes it an inexpensive stock at present. The 5-year average P/E is 10x, twice its forward P/E.
| | | | | |
| --- | --- | --- | --- | --- |
|   | VALE SA | CLF | BHP | RIO |
| Forward P/E (1 year) | 5.08x | 4.68x | 8.74x | 5.63x |
| Dividend Yield | 6.90% | 6.70% | 3.30% | 3.20% |
| Share price Performance (YTD) | -24.94% | -40.90% | -4.62% | -10.33% |
Source: Yahoo Finance
Disclosure: I have no positions in any stocks mentioned, and no plans to initiate any positions within the next 72 hours.
Business relationship disclosure: The article has been written by Qineqt's Basic Materials Analyst. Qineqt is not receiving compensation for it (other than from Seeking Alpha). Qineqt has no business relationship with any company whose stock is mentioned in this article.