Yelp Inc. (NYSE:YELP) provides a service where people share their experiences through reviews on a wide variety of local businesses. Internet companies have sprouted worldwide, offering services that let us know what our friends have been up to and what they like. Yelp allows us to get a taste of the local businesses beforehand, through ratings and anecdotes.
The company went public in March of this year, and the stock is up 50% since its IPO. Currently, Yelp has more than 25 million reviews of local businesses in various markets in the U.S., Canada, and other countries in Europe. It generates revenues from advertisements, display ads, and a few other deals.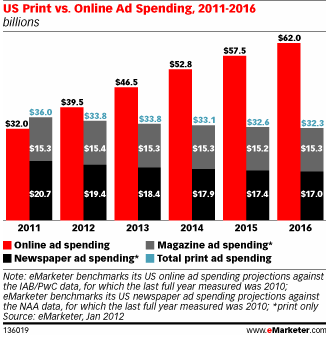 Data extracted from eMarketer reveals that online ad advertisement is expected to reach $62 billion by 2016. Total U.S. online advertisement spending is expected to touch $39 billion this year, up by 23.3% from last year, surpassing the aggregate spending on print newspapers and magazines. eMarketer further notes that advertisers' admiration of online ads stems from the ever-growing amount of time consumers spend on digital platforms, and from the view that the Internet is a more measurable medium.
Recent Developments
Short-sellers were disappointed with the post-lockup expiration rally of the stock. Hoping the stock would emulate Facebook (NASDAQ:FB)'s dive in a similar scenario, the stock jumped nearly 22% and now trades at $22.37, with nearly 53 million shares freed into the market. Several factors seem to be at play with this surprise. Short covering has definitely kicked in, but most importantly, several of the big insiders have decided to hold on to their stocks (does this spell confidence in the company?). The news seems encouraging in light of the recent plummeting of other stocks, such as Facebook and Groupon (NASDAQ:GRPN). What investors actually foresee in the company is a mystery to us. Venture capital backers like Bessemer Venture Partners, Benchmark Capital, and DAG Ventures have decided against selling. In the table below, you can see some of the big holders. These holders collectively own roughly 80% of the stock.

| | |
| --- | --- |
| Bessemer Venture Partners | 11,664,006 |
| Elevation Partners | 11,625,810 |
| Benchmark Capital | 8,406,084 |
| Max Levchin | 7,144,090 |
| Jeremy Stoppelman | 5,912,889 |
Additionally (and this might explain the rally), there has been considerable hype surrounding the deal with Apple (NASDAQ:AAPL), announced a couple of months ago, which promises to integrate Yelp, along with Siri, into its anticipated new operating system, the iOS 6. The collaboration is purported to bring in millions of new customers very quickly, and with the deal only a few months away, investors probably had wished to sit on the sidelines and wait for the plan to materialize before going on a selling spree.
On the other hand, Yelp is having trouble monetizing its mobile application. Consider this: With nearly 40% of Yelp usage now coming through mobile devices, and since the company is currently not making any money on its mobile app, Yelp must quickly find a way to turn this around. Yelp has, like Facebook, been testing small banner and text-based ads, but nothing concrete has been done to address the question of monetization.
Yelp registered net revenues of $32.7 million in the second quarter, showing an improvement of 67% year over year. It also posted a net loss of $0.03 per share (up from a loss of $0.08 last year) when analysts were expecting a loss of $0.06. Analysts expect full-year revenues of $136 million in 2012 and $197 million in 2013, and net losses of $0.04 and $0.32 for the next quarter and full year ending December 2012, respectively. Like most other Internet companies, Yelp is also facing problems monetizing the ever-increasing mobile user base. Cumulative reviews stood at 30 million for the quarter, and average monthly unique visitors jumped by 52% to 78 million year over year.
Also, the company must find a way to convert its "free riding" local business into paying customers. As yet, only 4% of businesses with profiles on Yelp actually pay for the services. Consumers can access reviews for free and, moreover, local businesses have the option of spending money on advertisements. Whether businesses will prefer paying instead of enjoying free traffic through the site remains a question.
Valuations
Yelp offers a nice service, but nice ideas do not necessarily generate nice profits. It remains to be seen whether Yelp can translate an idea into a profit machine. Can the company generate acceptable margins in an industry that will get more competitive with the passage of time, as rates eventually come down? There is a lot of uncertainty surrounding the business model, the methodologies the company employs to filter reviews and assign ratings, and how it plans to address the increased mobile user base.
We maintain that the stock is grossly overvalued at this stage and should be sold short. Trading at above 200 times its forward earnings and above the industry average P/S ratio of 11 times, we recommend shorting the stock. EV/Sales multiple paints a similar picture, one of overvaluation. Yelp has yet to prove how its business model could lead to sustainable growth for its owners. Until and unless Yelp can present solid plans to address the issue of monetization, and explain how it expects to turn local businesses into paying customers, investors should avoid the stock.
| | | | | | |
| --- | --- | --- | --- | --- | --- |
| | Yelp | Facebook | Angie's List (NASDAQ:ANGI) | LinkedIn (NYSE:LNKD) | Average |
| EV/Sales | 9x | 3x | 4x | 15x | 8x |
| P/S (NYSE:TTM) | 13x | 9.5x | 5x | 16x | 11x |
Disclosure: I have no positions in any stocks mentioned, and no plans to initiate any positions within the next 72 hours.
Business relationship disclosure: The article has been written by Qineqt's Technology Analyst. Qineqt is not receiving compensation for it (other than from Seeking Alpha). Qineqt has no business relationship with any company whose stock is mentioned in this article.