Carrefour (OTCPK:CRRFY) released today its first-half earnings and the new CEO, Georges Plassat, unveiled his vision for the company's future. As I discussed in my previous article "Carrefour: high upside potential in case of successful turnaround," over the last years, Carrefour has struggled to be competitive and systematically failed its business goals, implemented three turnaround plans but failed to improve the business performance.
Although investors have reasons for being skeptical, the first reaction to the CEO's vision was positive judging by Carrefour's share performance of the French stock exchange. The shares rose 7% today, and since the bottom reached in July they have had a huge rally of more than 30%.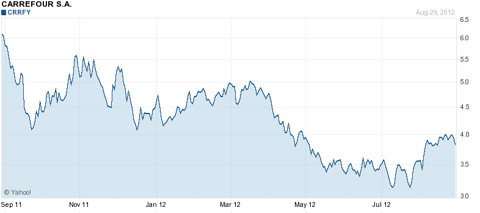 Source: Yahoo Finance
2012 Half-Year Results and CEO's Vision
Carrefour released better than expected results, with sales growth and earnings above analysts' estimates. The group's sales rose by 0.9% year-on-year (yoy) to €38.8bn ($48.5bn), driven by emerging markets. In Latin America sales increased 5.3% yoy, and in Asia it also had a good performance with sales growth of 9.5% yoy. Emerging markets were responsible for 30% of the group's sales but almost 50% of its profit due to higher profitability for these markets.
In France, Carrefour's domestic market and where it has most of its fundamental issues, sales fell by 0.5% yoy and EBIT declined by 6.7 reaching a 1.65% margin, a 10 bps decline from last year which is good performance given that Carrefour cut prices to attract consumers. Elsewhere in Europe, sales were down by 1.8% yoy evidencing the region's economic woes, especially in the south. According to the company, a large part of the decrease is attributable to Spain.
Prior to the presentation of Carrefour's new vision, the company had already taken some steps to restructure its assets. In June, Carrefour sold its stake in its joint-venture in Greece to its local partner. More recently, it also announced the decision to seize its activity in Singapore where it has two stores.
Regarding Carrefour's strategy going forward, it was expected to unveil a new plan with concrete measures and financial targets. Instead, Mr. Plassat outlined his vision for the company without giving numbers or specific targets, only promising to simplify and make Carrefour more efficient. The only exception was the decision to cut 500 to 600 jobs within corporate functions in France. Given that Carrefour has struggled over the last few years due to fierce competition, this clearly seems not enough to turn around the business.
Conclusion
Although business performance showed some signs of stabilization, the macroeconomic environment in Spain and China remain challenging and should continue to hurt Carrefour's results going forward.
Moreover, Carrefour has failed consistently over the last few years to improve its business and today's presentation doesn't seem enough to overhaul the business. Carrefour trades at 12.7x forward earnings which is above the European retail sector average, reflecting a recovery premium that could fail to materialize.
I opened a long position recently on Carrefour expecting a new strategic plan, to be presented today with clear financial targets and measures to turn around the business, which clearly was not delivered. Although I didn't yet sell the shares I intend to do it shortly, as I don't see management bold enough to successfully deliver where previous managers have failed.
Disclosure: I have no positions in any stocks mentioned, and no plans to initiate any positions within the next 72 hours. I wrote this article myself, and it expresses my own opinions. I am not receiving compensation for it (other than from Seeking Alpha). I have no business relationship with any company whose stock is mentioned in this article.