China is facing a huge inflation problem, led primarily by rising food costs. Food makes up 30% of Chinese CPI and 20% of the average household budget. China is the world's biggest consumer of soy oil and is a heavy user of soybeans, which are imported mainly from the U.S. and Latin America. The immediate threat is that the U.S. may run out of soybeans before the start of the South American harvests in February. China rolled the dice earlier this year when it released grain from its strategic reserves. Now, rationing in China is in full effect. The choke off of the grain supply is also impacting its livestock industry. China supplies half the world's pork, and producers have been liquidating their stock, according to The Chicago Tribune.
Reports The New York Times:
If you look at corn and soy meal prices in China, the cost of feeding animals is already reaching a record," said Jean-Yves Chow, a senior feed industry analyst at Rabobank in Hong Kong. "We expect pork supplies to decline by early next year if profitability remains depressed, resulting in higher prices, which will fuel food inflation.
U.S. food prices have exploded and are getting worse. Rain brought by Hurricane Isaac is too late to benefit crops. Instead, the 10 to 15 inches of rain in non-drought states such as Mississippi and the Louisiana Delta will harm soybean crops, which farmers hoped to sell for $17 a bushel (Chicago Tribune).
Goldman Sachs ran the following chart showing the year-over-year change in soybean prices and its impact on food inflation in China. Soybeans prices have increased 7 percent since Aug. 3 (the date of the chart) indicating parabolic inflation and social unrest.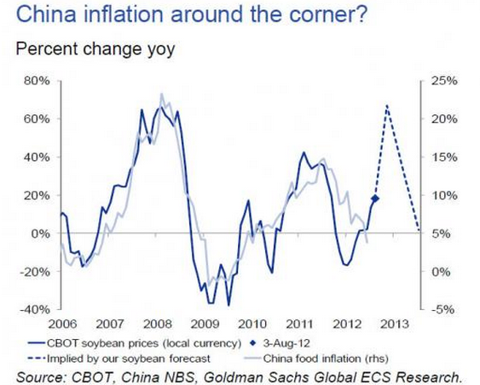 Click to enlarge
China has no monetary or fiscal options because of overbuilding and shoddy infrastructure projects, unless you consider the repair of collapsed infrastructure (see podcast, Yes, China is Truly Different). It's difficult to comprehend why materials stocks are so elevated -- other than rote algo trading the day's headlines (rather than true analysis). The current conditions, combined with a -5.4 percent decline in rail shipments (in yesterday's blog) and a sudden drop off in steel and ore prices, point to extreme weakness in industrial demand. In China, July electricity demand grew only 3%. Don't believe the false Chinese soft landing story that disinformation pushers are still trying to sell. Given the disconnect, I have shorted XLB and XLI.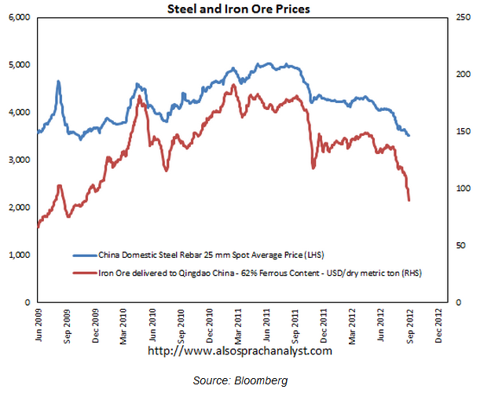 Click to enlarge
Disclosure: I am short XLI, XLB. I wrote this article myself, and it expresses my own opinions. I am not receiving compensation for it (other than from Seeking Alpha). I have no business relationship with any company whose stock is mentioned in this article.